Contact

Home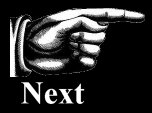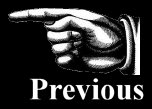 Border Watch (Mount Gambier, SA)
Date: May 15, 1873
Page Number: 3
"The wild man whose eccentricities created some consternation among the residents of Steiglitz and the Anakies, was brought before the Geelong Police Bench on Tuesday," the Advertiser states, "only to be recognised as Owen Murray, a lunatic who escaped from the Yarra Bend Lunatic Asylum on tne 26th January last. Murray has been several times in the asylum, and on the last occasion was arrested in the scrub near Drysdale, where he had been wandering for weeks together, subsisting mostly upon herbs. He was remanded back to his old quarters in the asylum."
The Argus (Melbourne, Vic.)
Date: May 21, 1873
Page Number: 2 S
of the Creswick ranges has been captured, and, the Ballarat Courier Bays, turns out to be a lunatic named Edward Dowling. No less a sum than £265 18s. 3 1/2d. was found upon the unfortunate follow when he fell into the hands of the police.
THE BLACKS IN THE NORTH.

The Queenslander (Brisbane, Qld.)
Date: October 11, 1873
Page Number: 2
...

Besides the outrage referred to it seems the blacks presented themselves in force at the Etheridge, about a fort night since, near the Lighthouse Crushing Mill, and as several of the people there were so imprudent as to approach them, unprepared for violence, in the meek idea of trying, in their way, to civilise the wild man, they had their foolish temerity returned by a shower of spears, resulting in the death of two whites, and other two dangerously wounded...
South Australian Register (Adelaide, SA)
Date: October 30, 1873
Page Number: 5
A Wild Man.— The Wallaroo paper states :— 'The wild man whom the police frequently searched for near to Point Riley was reported to have been seen on Sunday by P. Welsh and another person of Part Wallaroo, near to Tickera. They were gathering native peaches, and suddenly came upon him, when he ran away. His hair and beard were stated by them to be very long— reaching nearly to his waist, and he had no other clothing than a pair of old trousers on.'
THE WISDOM OF THE SEA-SERPENT.

Rockhampton Bulletin (Qld.)
Date: March 21, 1874
Page Number: 3
(New York Times.)

PERSONS conversant with the procession of natural phenomena have confidently predicted a reappearance this season of the sea-serpent. Of all the obliging monsters who, from time to time, appear to cater to the general appetite for the marvellous, the sea-serpent has achieved decidedly the most enduring popularity and fame. And this he has earned by a surprising self-restraint in the way of exhibition, which distinguishes him honourably from all his associates, and, indeed, from almost all artists who seek in a similar way to entertain the public. His appearances have been few, but correspondingly striking since the good Captain Laurent de Ferry, sailing from Trundkin to Bergen, in the month of May, 1746, first discovered him basking peacefully on the waves. He had then "a horse's head, which rose two feet over the surface, and was of a grey colour." He had "a dark brown mouth, black eyes, and apparently a long mane floating over the neck." Beyond this, at a considerable distance, could be seen "seven or eight coils, each of enormous size." Altogether, a very satisfactory and attractive monster, and it is difficult to understand how the captain could have had the heart to fire upon it. Fire he did, however regardless of the interests of posterity, and the nineteenth century had a narrow chance of losing its most agreeable marvel. Fortunately the aim was unsteady. The animal plunged, "evidently wounded," and did not reappear, and the honest mariners, much marvelling, returned to puzzle the good people of Bergen with their story.

Probably it was his experience of man's perfidy that kept our sea-serpent so long in retirement, and led him, when finally, in 1808, he did "emerge, to present himself in much more terrifying fashion. Mr. McLean, in June of that year, was sailing about on the coast of Coll, when he discovered an extraordinary creature, of enormous size-seventy or eighty feet long-moving toward him "by progressive undulations up and down." Not unnaturally, Mr. McLean and his men were thoroughly frightened, and fled with promptness. The monster pursued them leisurely to the shore, "frightened the crews of thirteen fishing boats," and returned slowly and majestically to its native deep.

For some time past nothing has been heard of him, and the apprehensions of his admirers were excited lest he should have died of old age, or taken a final leave of public life. These fears were dissipated by his recent triumphal appearance in three different parts of the world almost simultaneously. On October 21, Captain Charlesworth saw him in a cave near Diego, California. He was then "about thirty feet long, with three sets of fins, a tail like an eel's, and a head like an alligator's. The fins were shaped like those of a sea-lion, each between three and four feet in length." This was the harrowing tale which the captain unfolded to his friends, when, having come to his assistance, they arrived in time to see "the marks in the mud left by the monster's form," and to fire their guns vaguely at that vanishing form, flirting back to them a malicious and serpentine farewell.

lt will be observed that Captain Charlesworth's sea-serpent differs in some respects from Captain Laurent de Ferry's. His versatility of expression, indeed, is one of our monster's greatest charms. Still more artistic was his "get-up" when he disclosed himself, in a brief intervew, to Mr. Joass, of Golspie, in England, who, in a rather round-about way, through the medium of several other gentlemen, got his story into the London Times. Him that simple and guileless sea-serpent of San Diego--laughing, no doubt, in his fin as he did it--has had the art to make believe that he is a "saurian, allied to the plesiosaurus, and feeding with teeth of the oolitic type on terebratula and trezonieir, also oolitic molluscs." His "large ears, similar to a horses," however, reveal his identity with Captain de Ferry's friend ; and his appearance on October 21, in Bellhaven Bay, with a hundred feet or so of coils and undula- tions, at once confirms the supposition, and show its possession, together with amazing versatility, of a most incredible rate of speed.

The history of the sea-serpent is instructive, and furnishes an admirable lesson to giddy and weak-minded monsters, which sacrifice popularity to the temporary gratification of variety and hunger of applause. That the sea-serpent is still so universally admired and sought after is due to his avoiding the snares that have betrayed so many of his weaker brethren. The care with which he has timed his appearances, and the high-bred reserve of his demeanour, have kept up the interest and curiosity of the public. Wiser than some of his rivals, he has never cheapened himself by tiresome iteration, or earned contempt by permitting familiarity. Many other monsters, with as many natural advantages, have been ruined by their obtrusiveness, or, still more fatal error, by allowing themselves to be found out. The brief wonder of the wild man, for example, speedily resolves itself into commonplace reality of the escaped lunatic. The notorious Western ghost, with his stale tricks of stone-throwing and plate-smashing, has become more tedious than the familiar war-whoop of a certain semi-intellectual and bog-trotting contemporary. After an acquaintance with the Fiji impostor, who will care again for the most bewitching and tuneful of mermaids? Let monsters who essay hereafter to amuse the public, borrow some of the wisdom of the sea-serpent, and practice the virtues of modesty and self-restraint. So will they long remain as dear to the hearts of their admirers as the sea-serpent is to the artless and convivial mariner.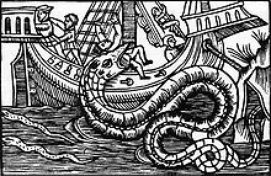 The South Australian Advertiser (Adelaide, SA)
Date: August 26, 1874
Page Number: 2
A report has been brought into Port Augusta that a white man, in a state of nudity, has been seen roaming about the country on the western side. The police have been out on the search some days, but without success. It is supposed that an old resident of the Port, named Gough, has been drowned. He was last seen alive on Wednesday week, when he stated that he was going from Port Augusta to the western side to attend to his horses. It was at first thought that the wild man referred to was the same person, but it is now generally believed they are different individuals.
SIX DAYS IN THE MOUITAINS OF COWLEY
BY THE EDITOR.
NO VII.
Queanbeyan Age (NSW)
Date: April 24, 1875
Page Number: 2
…

THE HAUNTED CAVE.

Not more than three years ago, the remains of a large-sized man were found in the mouth of one of the Cooleman caves, and further in, those of a smaller person, supposed to be a woman. An inquest was held, which resulted in a finding that the remains were those of a man and woman who had travelled together as hawkers. That particular cave has ever since been known as the Murderer's Cave, and superstitious stockmen and boundary riders believe it to be haunted; and indeed the same impression exists as to all the other cases. I was not much surprised, therefore, to hear from some of the men and boys in our party such exclamations as "Look out for the hairy man," "Take care of the ghost," &c., &c.
…
Reports of the Wild/Hairy Man part 7
Yowie / Bigfoot
ANOTHER MYSTERY.

The Sydney Morning Herald (NSW)
Date: September 16, 1872
Page Number: 5
For the past eight or nine days (says the Braidwood Monitor) an animal has made its appearance at the place known as the Giant's Cave, at the Pound Creek, which has caused nearly as much excitement as the much talked of but seldom seen bunyip. Some of the persons who have seen it pronounce it to be a monstrous wombat, others say it is a native bear, while others again say it is a gorilla. However, whatever it is, none have been able to get within reach to have a cut at it with a stick or a shot from a gun. It is to be seen generally of an evening sitting on one of the rocks in which this place abounds, and upon the approach of any individual makes a chattering noise and immediately disappears amongst the rooks or into a hole, while those who have been in pursuit cannot find its secreting abode. Last evening there were many lads and others who were on the look-out for it with the hope of a capture-dead or alive.
Hairy man:

SOUTH COAST,
SE NSW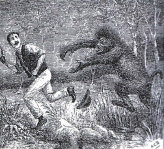 Contents