Contact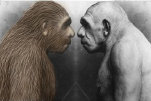 The Naked Yowie Project
Coming Soon:


Current Articles:
2017:



The almas is not simply a story, nor is it just an ape-man running around in the mountains. The almas means different things to different people at different times, providing a nexus for researchers between the past and present and between science and myth.
Behind Toutuki, be may explore the mountain dreaded by the natives on account of its being the favourite residence of the mairoero. This is a wild man of the woods, strong, cunning, and mischievous, and addicted to running off with young people and damsels. His body is covered with coarse and long hair, which also flows down from the back of his head nearly to his heels. To compensate for this excessive quantity behind, his forehead is said to be bald. He was vividly described to us by a Maori who had seen one long ago, when he was a little boy, and was of opinion that "there is not a more fearful wild-fowl than your mairoero living."
Some portion of this aboriginal race may have long survived in the Northern Island, and maintained its independence amongst the mountain ranges, where they are still remembered as the maero, or wild man of the mountain ; they are supposed even yet to survive on the Tararua range, but their existence is imaginary...
The Moriori Myth can be seen to have been created from the interaction between Pakeha and Maori scholars, and indeed between Pakeha, Maori and Moriori in general. Once the Myth became solidified in Pakeha literature, in the official education system and Pakeha popular culture it changed and became a tool in the discourse of ideas used by Pakeha to reinforce control by the coloniser. The political utility of the Moriori Myth as a justification for Pakeha colonial take-over guaranteed that the story would last in various forms right into the late twentieth century.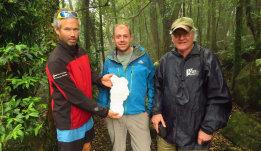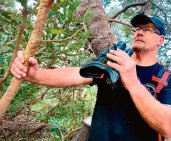 "When you put that costume on, you're not you anymore, you're that character, and that allows you to violate those norms a little more," Westfall said...

There is now, in the River an astonishing large Hairy Wild Man, caught four hundred miles from the Cape of Good Hope, brought over in the Rambler, South Sea Whaler; he is of astonishing muscular strength...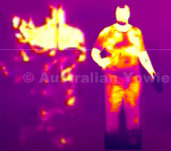 (From the Lancaster (Ohio) Gazette.)— The bones of the nondescript, lately discovered in a swamp near New Orleans, were last week exhibited in this place. The Mammoth, the remains of which have heretofore caused so much speculation among naturalists, must have been a mere pigmy in comparison with this monster…

Hairy Kuriles (1818), Expedition West of the Rocky Mountains (1832), A Very Terrific Animal (1834), Wild Child Covered With Hair (1836)...

"I noticed movement in the scrub some 400m away via the zoom lens. I stopped filming and re-adjusted the focus onto the area and filmed," he wrote."The distance (along with no tripod) made the zoom very shaky but I reckon I got at least one upright, very tall figure moving tree branches around, possibly feeding."
Yowie? Why didn't he simply walk over for a better look (and a better pic)?

A group of Bigfoot hunters have made it their mission to travel across America and protect residents against the creature. The Gulf Coast Bigfoot Research Organization, which will appear Saturday in Destination America's new show 'Killing Bigfoot', responds to reported Sasquatch sightings, hunting down each specimen.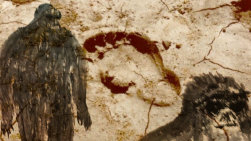 "It's sad that we have to do this, that they don't have the ethics, that UNM doesn't have the ethics to stop this," Sen. Munoz said. "And now we have to draft bills to stop something that is not morally right," Sen. Munoz said. The senator had a little fun with the bill. It also bans publicly funded searches for Pokemon, leprechauns and the Bogeyman.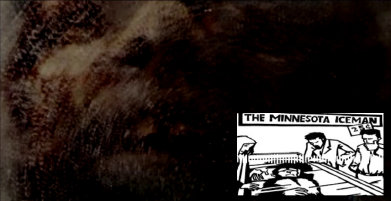 "It's eyes are glowing, it's got sort of dreadlocked, matted hair. It's looking at the apples with intrigue."
What? Really? This old chestnut again?
Macdonald River Yahoo (1857), The Hunters of the West (1861), The YO-YO - A Legend of the Lachlan District (1861).

A powerful sensation has lately been created in the town of Liverpool, by a report of a dreadful monster having been seen in its vicinity, and to satisfy the mingled feelings of alarm and incredulity which had spread among the inhabitants, two men came before the Magistrates, and voluntarily made affidavit, that they had seen in the bush, about two miles and a half out of town, a tremendous snake, which, to the best of their belief, was at least forty five feet in length, and three times the circumference of the human body ! ! !

"The objective of the project is to document, in a serious and meaningful way, Bering Strait residents' knowledge about, experiences with, and beliefs about supernatural phenomena," the group said. "We think that this information is important to understanding how people relate to their environment and that there are culturally specific understandings of these phenomena which have not been previously documented."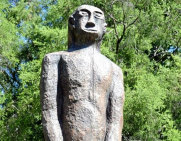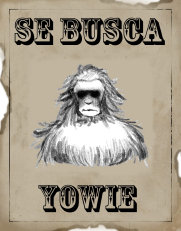 "My hair stood on end and I felt extremely anxious. I distinctly heard what sounded like some soft 'mooing', much like a cow. However there are no cattle anywhere near Bendigo to the best of my knowledge," James wrote...