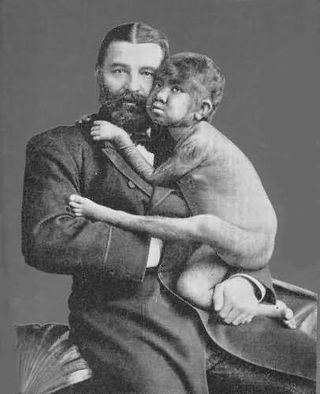 Contact

Home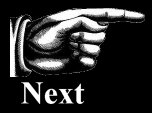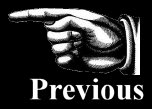 Yowie / Bigfoot
The Colac Herald (Vic.)
Date: October 13, 1882
Page Number: 3
It is stated that an animal covered with hair, and manking a noise like a child crying, was seen by several persons on Saturday with the aid of a telescope on Treachery Headland, from Seal Rocks, New South Wales. This is the third creature seen resembling a hairy man.
Hairy man:

CENTRAL COAST,
NSW
...
Blunders in natural history may perhaps be pardoned in one whose only purpose is to raise fun at the expense of the animals at the Zoo; but sometimes Mr. Robinson blunders in other ways, as when he tells us gravely that the first half of "ourang-outang" is "a title implying an especial measure of wisdom." "Ourang" is simple Malay for "man," and "ourang-outang" is wildman, as the critic of monkeys might be expected to know.
...
The Argus (Melbourne, Vic.)
Date: June 24, 1882
Page Number: 13
...
Its geographical knowledge is very obscure, in regard to the position of stations here, as shown by its remarks about a station on the Upper Murchison, which is within easy reach of the Upper Gascoyne, natives often crossing from one river to the other, to enjoy the "simple pleasure so dear to the wild man" of killing and eating a few sheep,—and this they have been doing for a long time, almost with impunity. But I trust their race is nearly run. The pioneer squatter, as a rule, is gifted with wonderful powers of endurance ; in this capacity he has been most thoroughly tested, but the romantic wild man is about to find the limit to his forbearance. We are told to "study the value of the black man," and endeavour to rule him by acts of kindness. We have studied him, and know that, before he will appreciate kindness in its true sense, he must be first taught to fear the hand that bestows it, or he will surely mistake kindness for weakness.
...
THE PRESS AND THE NATIVE QUESTION.
The West Australian (Perth, WA)
Date: September 8, 1882
Page Number: 3
THE new animals brought from Singapore by Mr. Dudley Le Souef, the assistant director of the Zoological and Acclimatisation Society's Gardens, have arrived, and will in a week or so be on view. The most curious and interesting of these animals is the orang-outang, or wild man of the woods (simia moria).
...
THE NEW ANIMALS AT THE MELBOURNE ZOOLOGICAL GARDENS.
The Brisbane Courier (Qld.)
Date: October 20, 1882
Page Number: 3
William Henry Dudley Le Souef (1856-1923)
...
A primitive sort of negro dwells in the mountain heights—a veritable wild man of the woods, and but one remove from the gorilla. He lives on roots and vegetation, and is akin in that respect to the Veddah, an aboriginal and similarly untameable race now rarely met with in Ceylon's interior. These primitive men—the Negritos of the Philippines and the Veddahs of Ceylon— go a great way to support the unpalatable Darwinian doctrine of man's development from monkeys. The "missing link" is a very small one indeed between the gorilla and the Negrito.
...
A CALL AT MANILLA.
The Argus (Melbourne, Vic.)
Date: October 27, 1882
Page Number: 9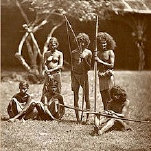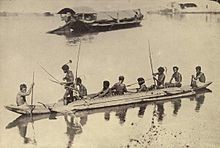 Veddah
Negritos
Yowieocalypse does not endorse racism yet it does no good to pretend it doesn't exist.
So far the wild man, seen lately at Noradjuha, has not been captured. Constable Coffey is still in pursuit. The man was seen quite naked, near a waterhole in the scrub, and as tracks have been discovered leading to the hole, it is believed the man has been drowned. The hole is to be dragged.
The Horsham Times (Vic.)
Date: November 7, 1882
Page Number: 2
THE police have been unsuccessful in their search after the wild man seen in the vicinity Noradjuha. The man is supposed to be a shepherd from a mallee station, and was seen at Tooan, Vectis Bridge, and Noradjuha. He had been drinking heavily, and was evidently suffering from a severe attack of delirium tremens. Constable Coffey, of Horsham, and Constable Robertson, of Natimuk, searched the scrub and also the dams in the locality, but without making any discovery.
The Horsham Times (Vic.)
Date: November 10, 1882
Page Number: 2
THE NATURALIST.
AUSTRALIAN APES.
Australian Town and Country Journal (NSW)
Date: December 9, 1882
Page Number: 23
REPORTS occasionally reach us through the medium of the press of strange animals of the monkey tribe being seen in different parts of the colony, but such reports seem to attract little or no attention, and in many instances the truth of them is gravely doubted, if not entirely disbelieved.
The general belief amongst Australian naturalists seems to be that the nearest approach we have in this colony to the monkey is the native bear. Now I am in a position to state, and if necessary to prove, that a more egregious and unpardonable error does not exist. The mere fact of no apes being found in the Sydney Museum does not justify us in rushing to the conclusion that there are none in the colony, for it is extremely improbable that any ape will be foolhardy enough to present itself at the museum to undergo the somewhat delicate operation of stuffing ; and beyond the fact that there are, none to be found in the Sydney Museum there is not one scintilla of evidence to prove that they are not to be found in the colony, while there is abundance of evidence to show that they are. A few days ago I saw one of these strange animals in an unfrequented locality on the coast between Bateman's Bay and Ulladulla. My attention was attracted to it by the cries of a number of small birds which were pursuing and darting at it. When I first beheld the animal it was standing on its hind legs, partly upright, looking up at the birds above it in the bushes, blinking its eyes and distorting its visage and making a low chattering kind of noise. Being above the animal on a slight elevation and distant from it less than a chain, I had ample opportunity of noting its size and general appearance.
...
Hairy man:

SOUTH COAST,
NSW
THE NATURALIST.
AUSTRALIAN APES.
Australian Town and Country Journal (NSW)
Date: October 20, 1883
Page Number: 27
...
The curator of the Museum, last December, offered me a bonus of £100 if I brought him either alive or dead an indigenous ape, and I think it is highly probable that before many months elapse I shall be in a position to claim his bonus.
...
THE NATURALIST.
AUSTRALIAN APES.

Australian Town and Country Journal (NSW)
Date: November 3, 1883
Page Number: 23
...
the proofs I shall shortly bring forward will conclusively demonstrate that the Australian ape is something more than a myth.
...
These are the letters of 19th century bushman and naturalist H. J. McCooey.
FRITZ'S MENAGERIE.
Launceston Examiner (Tas.)
Date: January 13, 1883
Page Number: 2
This exhibition was well patronised last evening, and those present seemed highly pleased at the sights the interior of the tent disclosed. The show includes a large boa constrictor, a number of snakes of different species, a wild man (who alone is worth the admission to see), a leopard, performing dogs, and a collection of rare animals. Madame Fritz gives a "snake charming" performance, handling several large forbidding looking reptiles with great ease and coolness. There is also a variety troupe with the show, and their entertainment affords pleasure to those who delight in ethiopian songs and dances. The tragedy of "Punch and Judy" concludes the programme, and altogether those who patronise the exhibition get the worth of the money paid for admittance.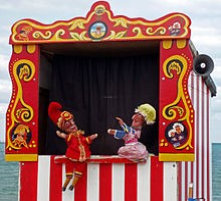 Punch and Judy is a traditional, popular puppet show featuring Mr. Punch and his wife, Judy. The performance consists of a sequence of short scenes, each depicting an interaction between two characters, most typically the violent Punch and one other character.
The South Australian Advertiser (Adelaide, SA)
Date: April 7, 1883
Page Number: 1 S
There is on view at the Westminster Aquarium just now a little hairy creature which, under the name of "Krao," or the "missing link," is advertised largely as "a living proof of Darwin's theory of the descent of man." This small specimen, human or animal, which takes the shape of a small child—a little girl about six years of age—is covered nearly all over the body with silky black hair. She is very scantily clothed, and reminded me of some of the monkeys I have seen in the Zoological Gardens, but altogether the little thing spoke and acted more like a child than any monkey I ever saw. She has many of the characteristics common to an undeveloped race. The facial conformation strongly resembles that of the monkey tribe. The cheeks have a sort of pouch, in which Krao, after the fashion of a monkey, stores away tid-bits for future delegation, a habit which Mr. Farini strongly discourages. She has a very dark skin, thick black eyebrows, and her scalp is one mane of hair, which grows over her back, arms, and legs, and envelops her at in a natural coat of fur. The eyes are fine and lustrous. She runs about readily on all fours, and is equally at case in an upright posture. I copy from the pages of a contemporary the following information, which, coming from the pen of an eminent naturalist I give verbatim as more valuable than any worked-up information supplied by myself. "The special interest attached to this species of humanity is to ascertain exactly whether her peculiar conformation and hairy covering be only an accident, i.e., a freak of nature, such as has been seen before in a Frenchwoman who exhibited herself in London some years ago— 1834—she having a covering of hair, and also a beard and whiskers; or whether she be the child of a race of hairy ape—like ancestors now living in the kingdom of Siam,and but seldom seen by travellers. Farini, the exhibitor of this and other specimens of the human race, if it be lawful and right to class Krao, as belonging to that of mankind, says that he had heard of this tribe of beings, and determined at great expense to bring them to England. His messengers soon found out the hairy family at Ava, and endeavored to induce some of them to travel west. This was in effectual, as the King of Burmah would by no means allow it in 1881. Mr. Farini offered to share the expense of the transport with the celebrated traveller Carl Bock if he could accomplish the capture of a hairy man. Of course we must allow for the exaggeration of travellers' tales, and only believe half we hear, but very amusing it is to read how Mr. Bock finally inveigled little Krao and her parents. Both adults are anxious to accompany their captor to a land where they were made to understand they would have plenty of food and kind treatment. The King of Siam, however, interfered and refused to let the mother leave his dominionship, and the father unfortunately died before the journey was commenced. It required some diplomancy, and not a little persuasion to enable Mr. Bock to carry off his prize. Her name, Krao, as nearly as possible resembles the cry of warning which the parents gave to the little one when they first caught sight of the white man. The child is docile and affectionate; she calls her exhibitor Papa. The more widely diffused and credited the theory of evolution becomes, the more interesting will be this daughter of a tribe of hairy and monkey-like men and women."
Northern Argus (Clare, SA)
Date: May 8, 1883
Page Number: 3
The St. Petersburg Times publishes a curious account of an exhibition that is being held in the museum of that city, the particular attraction of which is "the wild man of the wood," pronounced to be the wonder of the world. This half-savage peasant-boy, of 14 years of age, is a native of Koskama, and despite the mass of hair covering his whole body, including also the face, is, besides being in possession of all his senses, considered to be even intelligent. The features of the wild man are almost bear-like in appearance.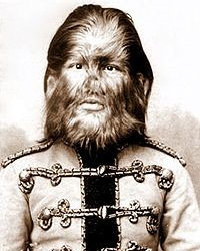 Fedor Jeftichew (1868 - January 31, 1904), better known as Jo-Jo the Dog-Faced Boy (later Jo-Jo the Dog-Faced Man), was a famous sideshow performer who was brought to the United States of America by P.T. Barnum.

Barnum created a story that involved a hunter in Kostroma who tracked Fedor and his father to their cave and captured them. Barnum described Adrian as a savage who could not be civilized. Barnum made a point of stressing Fedor's resemblance to a dog, and explained that when he was upset he would bark and growl. In the show, Fedor obliged by doing so.
The Lost Boy Boles.

South Australian Register (Adelaide, SA)
Date: May 10, 1883
Page Number: 4
With reference to the boy Boles, who some few days ago was missing from his home at Gordon, the Adelaide police have received a telegram from the Inspector of the district stating that the boy has not yet been discovered. The message further says there are a number of rumours in the district concerning his disappearance, one of which is that he has been stolen, and another that there is a wild man in the hills who has in all probability carried him off. The local police, however, are careful to state that the latter rumour especially is without foundation.
Reports of the Wild/Hairy Man part 11
1882 to 1884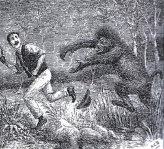 Contents
18.03.2016
18.03.2016
18.03.2016
18.03.2016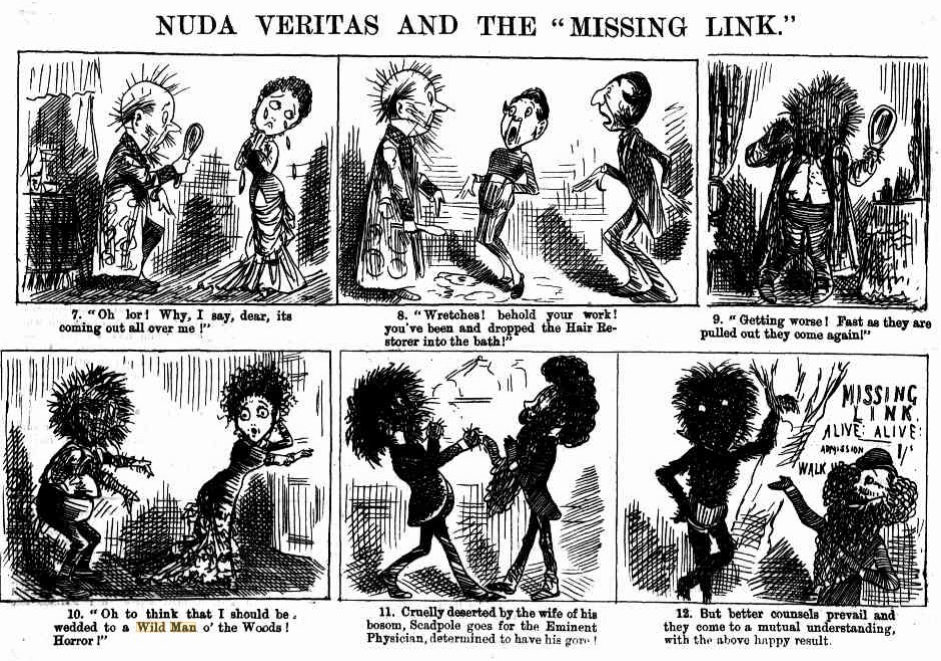 24.04.2016
Also see:

THE "MISSING LINK" AGAIN.
Australian Town and Country Journal (Sydney, NSW)
Date: 21 April, 1883
Page Number: 17
(Added: 19.02.2017)

Queensland Figaro (Brisbane, Qld.)
Date: 14 June, 1884
Page Number: 8
Another bunyip or yahoo, or some other weirdly creature:— A correspondent writes from Tumut to the Gundagai Times:—Not far from the Brungle Bridge is an "uncanny" spot where some years ago a traveller's swag was found, and near at hand in the river a lifeless body was subsequently discovered. A young lady, in company with several friends, was recently riding by this place, rather behind her companions. The time, of course, was the witching hour of night; and suddenly a strange looking creature stopped the way and approached the terrified girl. The unearthly-looking object resembled in some points a huge black dog ; it had flaming eyes and mouth, and horrible grinning teeth. The young lady felt inclined to faint, when the monster jumped into the river and disappeared. No elucidation of the mysterious occurrence has yet transpired.
Cootamundra Herald (NSW)
Date: October 28, 1882
Page Number: 2
13.05.2017
Old Times in Portland.
Mount Alexander Mail (Vic.)
Date: 22 November, 1884
Page Number: 4
...
Once I went to move the sheep-yard and took my gun, keeping a bright look-out when suddenly I heard a "yahoo," and turning round, saw a mob of blacks on the hill. I showed my gun and they fled...
13.05.2017
A BRUSH WITH THE BLACKS IN 1854.
By White Myrtle.
Queensland Times, Ipswich Herald and General Advertiser (Qld.)
Date: 24 December, 1884
Page Number: 5
...
"Yahoo ! Yahoo !" screamed some creature from the opposite bank.
I wish that I may never hear such a sound again. The voice had a mocking tone, which is simply indescribable, and yet, when it repeated its cry, there was a sort of wailing cadence to it, which I should think could be equalleld only by a lost spirit. We were startledthe—there's no denying it; and Simpson was absolutely terrified.
"What on earth is that ?" I asked Simpson.
It was fully half-a-minute before he seemed able to answer me.
"I don't know," he replied : "but bushmen have told me that it is an evil omen. I hope that nothing is going to happen."
It took some little time for us to compose ourselves, and we were in the act of winding up our fishing lines, when Turner said, "I wonder what smoke that is over there ? It seems to be in the direction of the huts."
He had hardly uttered the words when Simpson shouted, "Get into the hut ! The blacks are on us !"
...
13.05.2017