Contact

Home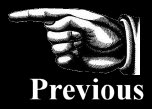 In this section we'll examine what became of the "Marble man" (Where is the statue now?), the various characters invloved (Did Dr McCarthy ever admit that he got it wrong?).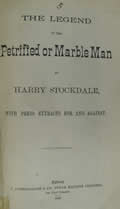 Marble Man - rumoured to be shipped to Chicago in 1892.
Current whereabouts: Unknown.
Seeking further information...
Wilkinson, Charles Smith - Geologist, surveyor, public servant.
"It is quite unnecessary to describe the specimen, as it is unquestionably an artificial production. It consists of white veined marble that has been rudely carved into the form of a human body and smeared over with clayey whitewash. The surface in parts is highly polished, as though it had been washed with some acid solution."
Wilkinson died of carcinoma at Burwood, Sydney, on 26 August 1891 and was buried in the Anglican cemetery at Enfield. He was survived by his wife Eliza Jane, née Leitch, whom he had married at Berry Jerry station, Wagga Wagga, on 4 May 1887, and by their two sons.

MacCarthy, Charles William - Surgeon.
Several well-known experts declare that the specimen is beyond doubt what it is asserted to be, while others incline to the contrary opinion, and quite an animated controversy is going on the subject. "Should it be thus shown that I am incorrect in my opinion, I shall admit my error and gracefully retire."
In the 1890s he belonged to the Royal Society of New South Wales and investigated psychic phenomena.
Prominent in the Catholic and Irish communities, he was chairman of the '98 Centenary Celebration Committee and designed the monument erected over the grave of Michael Dwyer, 'the Wicklow Chief', self-exiled to Australia in 1805. An ardent constitutional Home Ruler and supporter of the Redmonds, he was chairman of the New South Wales Home Rule executive. He deplored the 1916 Easter rebellion.
MacCarthy had a natural talent for music, painting and sculpture. He composed several comic operas including Lady Nora which was staged at Her Majesty's Theatre, Sydney, wrote patriotic war-songs including 'The Toast is "Anzac!" Gentlemen', lectured and wrote on music and in 1912 helped to establish the Tom Moore concerts at which he was an accompanist. His paintings were mainly on religious themes; however, Sarah Bernhardt sat for him for a portrait as Cleopatra in 1891. Although entirely self-taught, he excelled as a sculptor: marble portrait-busts of violinist Mischa Elman, the statuette, 'Ils ne Passeront pas', embodying the spirit of France, and the bas-reliefs at the Waverley monument were among his best works. His life-size bust of Napoleon was exhibited in the 1915 Panama-Pacific International Exposition, San Francisco.
Charles MacCarthy, genial, ever-generous helper of the poor and friend of struggling artistic talent, died at his Elizabeth Street home on 7 June 1919 and, after a requiem Mass in St Mary's Cathedral, was buried in Waverley cemetery near the '98 memorial. He was survived by a son and daughter of his first marriage and by his wife and their daughter Maude, a celebrated violinist, who were both living in England.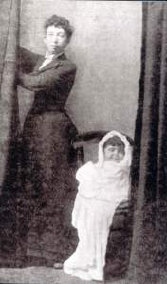 MacCarthy never did admit his error over the Marble man and faced further ridicule after being taken in by psychic fraudster Annie Mellin shown on the left with one of her "spooks".

Yowieocalypse will explore the public's fascination with seances and "spirit rappings" in the future...
Del Vescovo, Luigi - Sculptor.
"Having carefully examined the specimen, I have no doubt it is a genuine petrifaction."
Signor Del Vescovo, an Italian sculptor, arrived in Melbourne from New Zealand in December 1876 after having attained a high reputation for the standard of his work.
Seeking further information...
The career of fellow sculptor, Tommaso Sani, is better documented:
'A man of talent and cultivation, accustomed to the advanced style of architecture', Sani's sculpture was generally realistic in style with an underlying humour that contributed to his unpopularity.

Ford, M. E. D. - Sub-Inspector of Police, Orange, N.S.W.
"I have made very careful inquiries about the so-called petrified man, said to have been found by G. F. Sala and son at the marble quarry at Caleula, about 10 miles from Orange. I am thoroughly convinced that the marble figure was made at Croaker's old public-house at Cow Flat by G. F. Sala, and that the marble was obtained from Bell's quarry, about two miles from Cow Flat."
Ford was promoted to the post of Inspector in May, 1890. Greatly affected by the sudden death of his wife in July 1896, Ford attempted suicide but recovered sufficiently to attend her funeral and continue in his role as Inspector retiring 3 years later after more than 30 years of service.
Bell, Joseph - Quarry Owner, Cow Flat, N.S.W.
"I hereby Certify that i converyed from my

marble

Quarry A large piece of

marble

about one ton to
croakers old publick house at cow flat
for Mr. J. F. Sala wich i afterwards
saw made into a

man."
Seeking further information...
Sala, Guiseppe - Co-owner of Quarry (Caleula) , sculptor, hoaxer.
Stockdale, Harry - Sketcher, collector, explorer and horseman.
Exhibitor of the Marble man.
What became of the Marble Man?
Stockdale left Sydney for Broken Hill in January, 1890, for preliminary work on the Darling River Water Scheme. In July, 1891, Stockdale organised a big game hunting party targeting introduced buffaloes in the Northern Territory. In June, 1901, Stockdale was promoting his display of Australian Curios, collected throughout his extensive travels, at Norwich Union-chambers. Other favourite collectables included race horses including My Peggy and Some Boy.
Lovegrove, William - Co-founder of the Illawarra Steam Navigation Company, engineer, President of the local Agricultural Association, artist, musician, painter.
"My theory is that the man was a runaway convict, who had probably been living with the blacks, and had adopted their habits, the body being entirely naked."
Lovegrove retired in 1890 to Sydney where he died. (
Source
.)
O'Reilly, Dowell Philip - Poet, school teacher, cricketer, and 2nd lieutentant in the Parramatta Volunteer Rifles (colonial militia).
"May I suggest that the "marble man" is only one more instance of those terrible blunders so often committed at funerals... They buried the cherub by mistake."

In 1894 O'Reilly was elected a member of the
Legislative Assembly
for
Parramatta
and sat for four years. He moved the first motion in favour of women's suffrage carried in the New South Wales parliament, but was defeated at the 1898 election. He became a master at his old school, the Sydney Grammar School, and continued there for 11 years. In 1910 he again stood for Parramatta, this time as a
Labor
candidate with the encouragement of
Billy Hughes
,
but was defeated, and shortly afterwards obtained a position in the Sydney land tax branch of the Commonwealth Treasury.
In 1895, O'Reilly married Eleanor McCulloch and there were three children of the marriage. His wife bacame ill for many years eventually dying in August 1914. O'Reilly remarried his English cousin in June, 1917. Their letters were collected, and published in 1927 under the title of
Dowell O'Reilly From his Letters, an illuminating revelation of his interesting personality
. In 1920 O'Reilly made a small collection of his short stories from the
Sydney Bulletin
and other periodicals, and published them under the name of
Five Corners
. He died after a short illness of
cerebrovascular disease
and
pneumonia
at
Leura
in the
Blue Mountains
. He was survived by his wife, two sons and a daughter, afterwards Mrs
Eleanor Dark
, a leading Australian novelist.

Souter, Charles Henry - Medical practitioner.
"We can, therefore, entirely confirm the opinion of Dr. Sorter [sic], of Orange, who first examined the specimen, that it is certainly a piece of rude carving, and not petrified human remains as it has been represented."
Back in New South Wales they moved to Hillston, but, after the birth of a daughter, Jane died in 1889. Souter sailed to Hong Kong as ship's surgeon and then made a number of coastal voyages. In 1891 he went to Balaklava, South Australia, where he practised until 1905. He married Lucy de Neufoille Lucas on 28 April 1896 in Adelaide; she bore him a son. After a year in the city he was at Clarendon (1907-09), Prospect (1910-23), Whyalla (1923-24) and
North Adelaide (1925-44). His father and brother also practised medicine in South Australia.
With a wide brow, high cheekbones and a moustache, Charles had a warm smile and dapper appearance. From 1896 he contributed to the Bulletin, sometimes using the pseudonyms 'Nil' and 'Dr Nil'. Admired and supported by editors and critics as varied as J. F. Archibald, S. H. Prior, Vance and Nettie Palmer,A. G. Stephens and H. M. Green, he published four collections of verse: Irish Lords (Sydney, 1912), To Many Ladies (Adelaide, 1917),The Mallee Fire (Sydney, 1923) and The Lonely Rose (Adelaide, 1935). His work is characterized by 'a gentle humanity' and belongs with that of other popular balladists such as E. J. Brady, Will Ogilvie and 'John O'Brien'. Most of Souter's best verse depicts the daily life of small farmers in the Mallee district of South Australia and is sensitive to the experiences of both men and women. Yet he was influenced by Kipling, Newbolt and Noyes, and his poems of World War I are notable contributions to writing in this field. In 'The dialects of England' and 'The play' he commented on contemporary English and the vernacular. Much of his work reveals the difficulties he encountered in reflecting an authentic Australian diction. His ballads, shanties and poems like 'The Mallee Root', 'Old John Bax', 'Irish Lords' and 'O'Halloran' made a significant contribution to Australian writing.
While serving much of his time as a locum tenens, Souter found the leisure to write and sketch; he also composed and played bush songs, bird calls and shanties on his harmonica and flute. Another of his pastimes was 'manufacturing ornaments, clock stands and jewel boxes from mallee roots'. He belonged to the Adelaide Dual Club and was an expert on 5AD's radio session, 'Information Please'. Survived by his wife, daughter and son, he died at North Adelaide on 20 August 1944 and was buried with Catholic rites in West Terrace cemetery.

Bridon/Brydon, William - Co-owner of Quarry, Caleula.
"William Brydon's veracity

cannot be depended upon, as he is a partner of

Sala's in the marble quarry at Calenia, conse

quently he expected to share in the profits of

the marble man's exhibition, and he is most

anxious to have this quarry brought prominently

before the public."
Seeking further information...
Meyer, Oscar - Geologist, public servant, merchant.
"However strange my prescription or theory may scorn, I hope that eventually it will be found I am correct, and of course if it is proved that this petrified figure is nothing but a plaster cast, the presence of veins, incrustations, or any other hard veins, will be easily explained."
Meyer was an unpopular choice for the position of Executive Commissioner to the Mining Exhibition in London in 1890 (most preferring Charles Wilkinson although he may not have been in the best of health at the time). The exhibition was poorly attended and, to add injury to insult, Meyer was beaten and robbed when a mob rioted on Bow Street.
Meyer also represented New South Wales at exhibitions in Melbourne, Dunedin, and
the International Geographical Congress in Venice but, after criticisms of the appointment process, was recalled from the World Fair in Chicago in 1891. From 1892 he devoted himself to teaching and also as acting as an interpreter for foreign dignitaries. In 1895, Meyer became a provisions merchant but struggled to get his head above water and subsequently filed for bankruptcy in 1906. As a foundation member of the Italian Chamber of Commerce, Meyer was keenly interested in promoting reciprocal trade between Australia and Italy and continued to be a prominent member of Sydney's Italian community.
c. 1930
Buchanan, William Frederick - Co-owner of the Marble Man.
"W. F. Buchanan and C. Purnell, of Sydney, claimed to be the actual owners. The former, a New South Wales squatter, stated he instructed Stockdale to purchase the marble man on his behalf from the discoverer, Mr. Sala, of Cowflat, New South Wales, for £500."
What became of the Marble Man?
After his return in 1888 he published Australia to the Rescue (London, 1890). It gave facts
and figures of all the Australian colonies and some biographical details, and aimed to encourage suitable British emigration to Australia. Another patriotic gesture was his gift of £10,000 in October 1909 to the fund inaugurated to buy a dreadnought for the Royal Navy but later used to train for the land young boys brought out from England.
He died on 2 May 1911 at Mosman, New South Wales, predeceased by his wife and survived by a son William and four daughters. His estate was sworn for probate at more than £270,000.

Stockdale died in Sydney in 1919 aged 78.
The Marble Man Epilogue