Contact

Home
The Rottnest Monster
A SEA MONSTER?
Discovery at Rottnest.

The West Australian (Perth, WA)
Date: September 20, 1934
Page Number: 20
Details of a strange sea creature found on the shore at Rottnest Island on Tuesday were given, yesterday by Mr. L. C. Timperley, of the Customs Department, Fremantle, who discovered it. Mr. Timperley returned yesterday from Rottnest with his wife and son, who have been holidaying with him. "We were walking along the south side of the island," said Mr. Timperley, "and near Henrietta Rocks we saw something washed up on the beach and came to the conclusion that it was a dead sea monster. Its length was about 12 feet and its weight about eight hundredweight. It was about four feet wide immediately behind the ears and measured eight feet between the two flippers. The two main flippers were roughly two feet long and about 20 inches wide. In front and behind them were smaller, narrow flippers. The body was covered with white hair, which resembled soaked wool and was about six inches long. The mouth was about a foot long and was shaped like a quarter-moon. There were no teeth, but the lips could be made out. The head was bull-nosed, and stood nearly two feet high. The tail was about 4 feet 6 inches long and resembled more than any thing else a kangaroo's tail. At its narrowest part the body was nine inches in circumference. The flesh was cream coloured and when cut it had the appear ance of tough tripe." Mr. Timperley said that there was no sign of anything having, been taken away from the body and he was convinced that it was a perfect specimen. He was certain that it had lived as a mammal of some kind, but he had no idea as to what it was. It was believed on the island that it had been washed up on the beach during the heavy weather of September 10, and he considered that it would stay there until another big blow. The Curator of the Museum (Mr. H. Glauert) said that the fact the body was covered with hair or wool suggested that it was not a fish. Mr. Glauert said that he had heard from Rottnest that no eyes had been found on the body. When shown a photograph of the creature, Mr. Glauert was unable to identify it. He said that it was not a dolphin as the first description had suggested and, although he could not speak with any certainty until he had actually seen the object, he was doubtful whether it was any form of animal life at all. He would probably visit Rottnest on Saturday, when he hoped to be able to identify the object.

Ludwig Glauert (1879–1963)

Cultural Heritage: English

Occupation: conservationist, herpetologist, museum administrator, museum curator, museum director, natural history collector, palaeontologist, public servant, zoologist.




The Rottnest "Monster"
"PREHISTORIC" MONSTER
Imperfect Specimen Of Rare Dolphin?

Barrier Miner (Broken Hill, NSW)
Date: September 20, 1934
Page Number: 1
PERTH, Thursday.

Excitement reigned among residents and holiday visitors at Rottnest Island when it was stated that a "prehistoric" monster of unknown species had been washed upon the beach. It was described as having a huge barrel shaped body with a head like a bulldog and a tail like an elephant's trunk or a kangaroo tail. White in color, it had two flappers about four feet long and was estimated to weigh between six and eight tons.

The curator of the Perth Museum (Mr. L. Glavert) said that without more particulars it was difficult to form an idea of the species to which the animal belonged but it may have been an imperfect specimen of a rare dolphin.
ROTTNEST "MONSTER."
HOW DID IT APPEAR?
Theory of Marine Disturbance.

The Daily News (Perth, WA)
Date: September 20, 1934
Page Number: 1
Wide interest has been aroused by the report of a sea monster washed up on the south coast of Rottnest Island and discovered by Mr. L. C. Timperley, of the Customs Department, Fremantle. Many are the conjectures as to what the monster may prove to be and how it came to emerge from the sea. Neither photograph nor description has permitted its classification and it is just possible that the creature, which, as yet, appears to be "neither flesh, nor fowl, nor yet good red herring," may be a denizen of submarine depths as yet unexplored by man. The description of the monster, and the fact that its eyes are either embryonic or non-existent, strongly suggest this theory. Possibly it had been chased from the depths by one of its natural enemies and had reached safety in shallow waters only to die from the effects of the lower pressure, then to be cast up on the shores of Rottnest. It is also possible that the monster was cast up from the depths by some submarine disturbance. Until the Curator of the Museum (Mr. L. Glauert) has examined the find, its origin must remain obscure.

Previous Reports.

In recent months there have been several reports, notably on the Queensland coast, indicating the existence of hitherto unknown sea monsters. That discovered at Loch Ness, Scotland, has never yet been classified and still continues to be seen at great distances. Last month a party of Innisfail businessmen, while returning from a fishing expedition off the Queensland coast, reported seeing a monster measuring about 50 feet by eight feet, and having a turtle-shaped head, small eyes and protruding teeth. A second party, a week later, reported a similar experience. Further to these incidents the steamer Maunganui reports twice striking a sea leviathan. Mr. Zane Grey, the novelist and the experienced fisherman, who was a passenger aboard, was unable to identify the monster. Following the theory that the Rottnest creature may have been cast up from the ocean bed by some disturbance such as an earthquake, inquiries were made yesterday at the Government Astronomer's office. An inspection of the seismograph charts for each day of the last two months shows that September, to date, is particularly quiet, there being only three slight movements, and those at great distances. In August, there were ten tremors. Some of these were fairly close, that is, within 600 miles, but not really severe. The exact location is not known at present. Should the creature prove to be of deep sea origin, and if there are no signs, of wounds received in some marine battle far below the sea's surface, it is possible that the disturbance theory is the one most likely of acceptance. Much further light should be thrown on the history of the monster following Mr. Glauert's examination of the carcass during the week-end.
Coming soon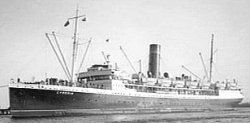 T. S. S. Maunganui
'Monster' Was Just So Much Blubber

The Daily News (Perth, WA)
Date: September 21, 1934
Page Number: 1
EXPERT investigation weakens, if, it does not dispose altogether of the theory that the curious object washed ashore at Rottnest Island is some mysterious denizen of subterranean regions. The Chief Inspector of Fisheries (Mr. F. Aldrich) examined it yesterday and believes it is part of the carcase of a whale.

Mr. Aldrich's report, which has been submitted to the Premier's Department, is in these terms:—

(1) I visited Rottnest Island yesterday afternoon, September 20.

(2) As deposited, or, as it now appears on the shore, the "monster" in general outline, suggests a creature with a body having pectoral fin and a relatively long tapering "tail." I could, however, find no trace of a bone or cartilaginous framework under the flesh. The mass appears to have been floating for some time, as attached there are a few barnacles and algae growths. The substance referred to as "hair" or "wool" appears to be fibrous portions of the flesh washed of its fatty substance by the action of the waves.

(3) In my opinion the deposit is portion of the flesh and blubber of a whale.

AN EMBRYO WHALE?

Mr. Alf Stewart, of the Rottnest signal station, said today that there were several points about the "corpse" which indicated that it was a young whale born prematurely. It was his opinion that what others had mistaken for a hairy substance covering the body was merely a peculiar action of decomposition of the flesh. There appeared to be no actual bone formation, but this was to be expected if it was, as he thought, an embryo whale.

Decomposition was now well advanced and each day would make, identification increasingly difficult, he said.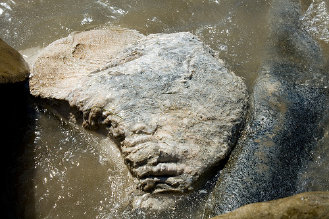 Whale blubber is fibrous, and when exposed, looks very much like hair.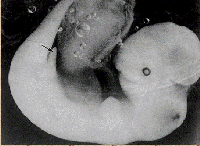 Whale embryo.
ROTTNEST 'MONSTER'
A Bus-load of Sightseers.

The West Australian (Perth, WA)
Date: September 24, 1934
Page Number: 13
The widespread interest in the discovery of what was believed to be a strange sea mouster near Henrietta Rocks, Rottnest Island, was shown by the number of visitors to the island durins the week-end. Yesterday morning a bus-load of those interested left the settlement at Rottnest and visited the scene. The general impres sion which they gained was that, while the find undoubtedly had the appearance of the complete body of some marine in habitant, the official opinion that it was merely a piece of blubber affected by the continual washing of the waves was probably the correct one. Among the visitors was the Honorary Minister (Mr. W. H. Kitson), who is chairman of the Rottnest Island Board of Control. He said last night that while the word of the Chief Inspector of Fisheries had to be accepted, that the 'monster' was only a mass of blubber, he was of the opinion that many people would find it hard to believe. The Curator of the Museum (Mr. L. Glauert), who stated last week that he hoped to make the trip to Rottnest during the week-end to inspect the 'monster,' was unable to do so.

W. H. Kitson
THE "MONSTER"

Sunday Times (Perth, WA)
Date: September 23, 1934
Page Number: 3 S
The mass of fleshy substance lying on a beach at Rottnest, described firstly as a "monster," and later by Chief Inspector Aldrich, of the
Fisheries Department, as "blubber and flesh of a whale.
The Finder in Reply.

The West Australian (Perth, WA)
Date: September 24, 1934
Page Number: 13
Mr. L. C. Timperley, of the Customs Department, who first reported the discovery of a "monster" at Rottnest, made a further statement on Saturday in which he replied to various points in the report which the Chief Inspector of Fisheries (Mr. F. Aldrich) presented to the Premiers' Department last week. He said that while he respected the opinion of Mr. Aldrich that the "monster" was portion of the flesh and blubber of a whale, he (Mr. Timperley) was of the opinion that the object seen by him was a complete creature and not portion of one. "Its shape was symmetrical; a mouth was located and a detailed inspection was made of the tail to ascertain whether any portion was missing," he added. "Mr. Aldrich reported that he could not find any trace of a bone or cartilaginous frame work under the flesh. I definitely located frontal bone on each side of the head. Two reputable residents of the island saw the creature the morning after I did and they said it was not similar to the "monster" reported to be found by Mr. Dan Holt in June. When I first reported my discovery to Mr. Starke, the officer-in-charge at the island, he conferred with a work man at his office who said that when Mr. Holt found what he considered to be a marine creature several months ago, pieces of the flesh were forwarded for classification to the Curator of the Museum (Mr. L. Glauert) who, I understand, reported that it was a marine growth and that it had no life. Mr. Starke accompanied me to Henrietta Rocks and satisfied himself that the creature on the shore there had lived. "I think there is still a possibility of the 'monster' which I saw being a deep-sea creature from antarctic regions." he concluded. "Residents of the island said that it was not found in the same place as Mr. Holt made his discovery. It would be interesting to inquire into whether or not there would be flukes on the tail if the creature were a young whale. The tail of the creature I saw runs to a point and shows no signs of damage of any kind."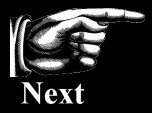 FIRST NOTICED IN JUNE.

The West Australian (Perth, WA)
Date: September 22, 1934
Page Number: 20
It was learnt yesterday that the "monster" was discovered as long ago as June by Mr. Dan Holt, an island resident, and his son, Arthur, while on their way to a fishing vantage-point near Henrietta Rocks. Mr. Holt said that he and his father, (the island barber) had thought that their "find" was the carcass of a young whale with marine growth on it.
Lured from Rottnest
The Daily News (Perth, WA)
Date: February 20, 1935
Page Number: 6
YELLOWDINE has cast its spell over the twelve miles of water between the Mainland and Rottnest and has claimed Dan Holt, the billiards and hair-dressing expert of the island. Dan has folded up his kit and at latest hearing was on his way to try his luck at the new field. With him, of course, it's not a new call bidding him try his pretence hand among the diggers for gold. He has had fields experience before and it's memory that is luring him back.
Dan has been four or five years only in Rottnest, and is therefore not of the old families, but his few years have been packed full of island life and story and he is known intimately to many hundreds of the holiday makers with whom Rottnest is an obsession. Apart from his crafts, and billiards and the hair-cut-and-shave he is a cricket enthusiast and has an uncanny knowledge of fish and facility in wheedling them on his line and into his bag. Of course he will go back to the island, but I am unselfish enough to hope that it will be as a visitor. With many more I shall miss his cheery Christmas greetings and his racy gossip while removing the face fungus and shampooing some life into the old bean "next morning," but, so long as he finds luck where Palmer unearthed gold I and others will be content either to let our whiskers go unshorn until the mainland beckons us back to work or to tune up the old razor and valet our selves.