Contact

Home
Innisfail Sea Serpent
"LOCH NESS MONSTER" AT MOURILYAN?
Launch Party Tells of "Sea Serpent"

The Courier-Mail (Brisbane, Qld.)
Date: August 14, 1934
Page Number: 13
INNISFAIL, August 13.

A fishing party of Innisfail residents is discussing whether the sea monster which created a sensation at Loch Ness, Scotland, has migrated to Australia's warmer waters for the winter months, or whether the Queensland coast has a serpent off its own. The members of the party who returned to Innisfail this morning say they sighted a sea monster early on Sunday morning between Mourilyan Harbour and Barnard Islands. The strange visitor, they declare, was nearly 50ft. long, and measured at least 8ft. across the back just below its head, which was shaped like that of a turtle, with small eyes and protruding teeth. There were large fins on the back, and the tail appeared to be serrated, and covered with large spikes. The back possessed what were apparently scars of old wounds. The fishing party comprised W. Chung, E. How Kee, B. Clark, P. Ogden, and R. Kimlin, the majority of whom are engaged in business in Innisfail. Leaving Innisfail late on Saturday night the party reached at dawn a spot known as "The Deep Hole," which is about 3½ miles from Mourilyan Harbour, and eight miles from Flying Fish Point. The sea was then as smooth as glass.

SNAKE-LIKE HEAD

The monster, they say, appeared suddenly about 30 yards from the launch, the long, snake-like head protruding several feet above the surface across which it gazed at the launch while its 40ft to 50ft body was easily discernible on lop of the water. It then began to swim slowly away, and when about 100 yards from the boat it submerged completely. Three minutes later it again appeared, much closer to the boat, and began to approach, but came to a standstill 30ft distant, swimming around in circles and emitting a peculiar half gasping and half-whistling sound. It remained in the vicinity for 20 minutes, on top of the water, practically motion less. Then it began to make slowly seawards, following the channel from Mourilyan Harbour, and within 15 minutes was lost to sight.

NO FISH CAUGHT

No fish had been caught for some time before the appearance of the monster, and none were caught later. A description has been sent to the president of the Cairns Naturalists' Club (Dr. Elecker), who is an authority on fish.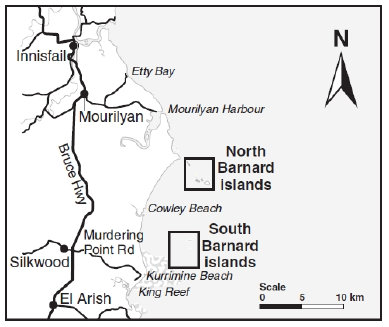 MYSTERY MONSTER LIKE UGLY SEA SERPENT
FISHERMEN'S DESCRIPTION.

Cairns Post (Qld.)
Date: August 17, 1934
Page Number: 14
INNISFAIL, AUGUST 15.

A fishing party comprising Messrs. W. Chung, P. Ogden, E. How Kee, B. Clark and R. Crimmin had a strange experience yesterday morning when they were at a spot about three miles from Mourilyan Harbor, and more than twice that distance from Flying Fish Point.

A GOOD VIEW.

The party aver that they sighted what was a specimen of sea serpent and in the light following the dawn they had a good view of this weird marine visitor. According to accounts brought by them to Innisfail the sea at the time was very calm, when without warning the monster suddenly appeared some little distance from their launch. It had a weird head, whilst its neck resembled a snake in its sinuous twistings.

The head waved backwards and forwards above the surface for some little time, and it was estimated that the full length of this marine visitor was about 50 feet. The rest of the body from the head down could be seen on the surface of the sea. After viewing the fishermen the "apparition" began to slowly swim and a few seconds later it was submerged, only to reappear a few minutes later. On this occasion it was in considerably closer proximity to the boat. The repulsive appearance of this denizen of the deep coming nearer to the party caused them some little apprehension. The sea serpent did not come right up to them but started swimming
around in circles during which it made some peculiar sounds which were distinctly heard. Then the strange thing stopped swimming and lay almost motionless on the surface of the sea, giving those on board the boat a very excellent view of it. A little later, the sea serpent started swimming out to sea and continued in that direction till it was lost to view.

Some of the party declare that the monster had a head like a turtle and its eyes were small, with protruding teeth. The back of this strange marine creature seemed to have a considerable number of spikes protruding
from it. It has been decided to send Dr. Flecker, president of the Cairns Naturalists' Club, a detailed description of this "apparition." Word was received also to-day that some people who were engaged fishing near Flying Fish Point yesterday morning some miles from where the big marine specimen was first seen also observed something very strange out to sea. It did not look like a whale, but was some extraordinary form of marine
life.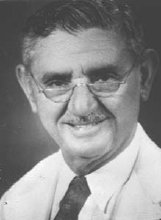 Hugo Flecker (1884–1957)

Cultural Heritage: Austrian, Hungarian.

Occupation: army medical officer, naturalist, radiologist, surgeon, toxicologist.

SEA MONSTER.
SEEN AT CLEVELAND BAY.

Cairns Post (Qld.)
Date: August 21, 1934
Page Number: 6
TOWNSVILLE, August 20.

Two men and a nine-year-old boy, residents of Townsville, while fishing at Cleveland Bay, sighted a sea monster similar to the one reported at Innisfail last week.

CAMERA SHY.

The party watched the creature from a distance for about 20 minutes, and then decided to return to town to get a camera.

Two pressmen with cameras joined the fishermen. The boat cruised about in the vicinity in which the monster was seen, but there was no further glimpse of it.
SEA MONSTER SEEN NEAR BOWEN
Raises Head Eight or Ten Feet
Looks Like a Huge Snake

The Argus (Melbourne, Vic.)
Date: August 25, 1934
Page Number: 21
BRISBANE, Friday.

Following recent reports from Innisfail and Townsville that fishermen had seen a sea monster, three men who were in a launch near Gloucester Passage, Bowen, say that they saw a dark object on the surface of the water, which they thought at first was a whale, but suddenly it raised its had 8ft. or 10ft. out of the water. Then they saw that it was like a huge snake, from 30ft. to 35ft. in length. It had a head like a turtle and a body like a ribbed
horse.

The men had no rifle or they would have shot the monster. When it was last seen it was travelling the opposite side of the harbour from Bowen.
SEA MONSTER SIGHTED IN MANY PLACES.

Advocate (Burnie, Tas.)
Date: September 3, 1934
Page Number: 7
BRISBANE, Sunday.

The sea monster which recently was sighted off the North Queensland coast by fishing parties at Innisfail, Townsville and Bowen, is apparently on a cruise. A wireless message from the master of the motor vessel Trentbank, which left Townsville at midday on Thursday for Montreal, advised having sighted the monster near Penrith Island, 37 miles east-north-east of Mackay.
UNIDENTIFIED MARINE MONSTER.

Cairns Post (Qld.)
Date: July 5, 1935
Page Number: 16
The July number of the "N-Q. Naturalist" quotes in detail the newspaper reports of the large marine object, seen first about three miles north of Mourilyan Harbor on August 14, 1934; then near the Fairway Beacon at the entrance to Platypus Channel, Cleveland Bay, on August 19, that is five days later, and finally in the vicinity of Gloucester Passage about August 23, that is about nine days after it was first sighted. It appears to have travelled about 350 miles in this time, so must have covered about 40 miles a day. No cameras were available on any of these occasions, but an eye witness, Mr. E. How Kee, of Innisfail, has made a good drawing of this creature, which has been reproduced in this journal. Each party appears to have had a good close up view in fine weather for a considerable period, its movements being quite leisurely. Though the several descriptions vary somewhat in detail, the length was given as 35 to 50 feet, each describing the head as turtle like. In the early nineties, a party of seven witnessed a similar large animal, perhaps the same species, in North Queensland, lying in shallow water for a considerable period, before it swam out to sea. A drawing of this creature appears in Saville Kent's book on the Great Barrier Reef. Unfortunately it has not been possible to positively identify either animal.
The Moha Moha
Coming soon...
Seeking Mr. E. How Kee's sketch from the "North Queensland Naturalist"...