Contact

Home
Barwon Crocodile
Crocodile In River?

Goulburn Evening Penny Post (NSW)
Date: March 28, 1935
Page Number: 2
Some time ago a large crocodile was reported to be in the Barwon River near Brewarrina. Different descriptions of it led to the belief that it was possibly a wild pig. It has now been reported from Bourke that something resembling a crocodile has been seen in the Darling River, which is a continuation of the Barwon. Speculation is rife in the river towns whether it would be possible for a crocodile to migrate via Queensland tributaries to the Barwon or the Darling, and a sharp lookout is being kept. Meanwhile the approach of floating debris, particularly logs, is viewed with grave suspicion by swimmers.

03-01-2014
"Some time ago a large crocodile was reported to be in the Barwon River near Brewarrina."
Yowieocalypse has thus far only found the following articles relating to crocodiles in the region:
The Gundagai Independent and Pastoral, Agricultural & Mining Advocate (NSW)
Date: March 11, 1920
Page Number: 2
Brewarrina is laughing over an alligator mystery, which has just been cleared up. The alligator had been seen by fishermen in the Darling River for months past and two local identities managed to capture it, after a most exciting struggle, the 'gator pulling them all over the river. At last it was got ashore in a wire fish net. Then it was discovered that the alligator had been dead for years.

FOSSIL MONSTERS.
THE QUEENSLAND FINDS. PROFESSOR DAVID'S VIEWS.

The Sydney Morning Herald (NSW)
Date: February 15, 1921
Page Number: 8
...
During this period of coolness and humidity, the Australian crocodile, popularly known as the alligator ranged as far south as the valley of the Torrens. A great repository of remains of extinct gigantic animals analogous to those of the Upper Condamine existed at the natural artesian or mud springs known as Cuddies Springs, near Brewarrina.
...

Nambour Chronicle and North Coast Advertiser (Qld.)
Date: February 16, 1934
Page Number: 2

The article on the left is another on the fossils (including giant crocodiles) from the Cuddie Springs site near Brewarrina.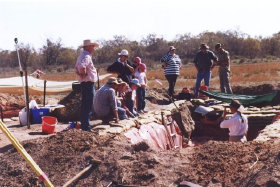 The Barwon "Crocodile" and other Outback Mysteries
By E. S. Sorenson
Goulburn Evening Penny Post (NSW)
Date: March 28, 1935
Page Number: 2
It is remarkable the number of "strange wild animals" that are discovered from time to time in different parts of the country, particularly New South Wales. The latest mystery is reported to be a large crocodile, which had startled many observers along the Barwon and Darling Rivers. It was first seen in the Barwon, and was presumably cruising down towards the Murray. The object started speculation in the river towns as to the possibility of a crocodile migrating by Queensland tributaries to southern waters.
In 1898 a 7ft. crocodile was found in the Brisbane River, and set a legion of scare yarns circulating around that stream.
The saurian had been captured when a baby by a sugar-grower on the Johnstone River, and sent to a friend in Brisbane to be sold to a menagerie, but it escaped from its tank and got into the river, where it remained until it grew into a formidable beast. When its presence became known, scores of riversiders swore off fishing and bathing, and the swagman who had to get water from the river dipped his billy from the end of a long stick.
The traffic in young crocodiles could introduce the creatures to other rivers, and, like the river tortoise, they can travel long distances across country when forced by dwindling water to emigrate.
In the 1902-3 drought the Flinders became a chain of waterholes, and in some of these, particularly near Clutha Station, crocodiles collected in great numbers. Scores were shot on the banks, and many that were
driven from dried up holes died far out on the downs. Several were found six miles from the river, still looking hopefully for a better hole.
A big crocodile is an ugly beast to meet on the overland, and when a traveller has met one he puts in some uncomfortable nights for a time afterwards, fearing danger at every sound, and viewing logs in a dim light with suspicion.
One that was shot far out from the Norman River, near the Fourteen-mile, during the same drought, measured 16ft. in length.
In New South Wales the scare animals were mostly tigers, lions and bunyips.
The "Tantawanglo tiger" was a prowling mystery for several years, and appeared intermittently in many places, including Springdale, Wallendbeen, Cootamundra, and Mount Harriett. It was described as cat-like, with big yellow stripes. It killed five pigs and a number of turkeys in the Temora district, and simultaneously, or thereabouts, it was seen by several sober residents of Running Creek, on the upper Mitta Mitta River.
The striped mystery was first reported from Cootamundra in 1927, when several dogs, sheep, kangaroos and a heifer were destroyed by it, and five years later it was reported from the Tantawanglo mountains and the Tantawanglo River. In the interval hunting parties had scoured various localities near Wallendbeen. One fired three shots at a beast that was 6ft. long and stood 2ft. 6in. high.
That was on Darah Station, between Stockinbingal and Wallendbeen.
The story was told that a couple of tiger cubs escaped from Bullen's circus and menagerie while the caravan was camped at Dingi in September, 1926, and many people believed that the tenors were prowling separately in different parts.
A beast that was known as the "Jamberoo Tiger," which had been a night terror for a considerable time among the local poultry, was shot at dawn in March, 1933, while raiding a fowlhouse at Albion Park, and proved
to be a fine specimen of a tiger cat, over 4ft. long from nose to tail-tip.
Some time previously there was an excited hunt in North Queensland for a "marsupial tiger," which also transpired to be a tiger cat. In those parts this formidable giant of the dasyures grows to a considerable size, and will attack and kill a full-grown kangaroo. It is mostly spotted, but some specimens are striped, and the head is not unlike a tiger's. It is the fiercest and most pugnacious of all Australian animals—dogs that will rush at a dingo don't like tackling the nocturnal spitfire.
A beast that had a long innings was the "Tantanoola Tiger," which prowled about Mount Gambier, Sth. Australia. It was reported but eluded capture for such a length of time that it came to be regarded as a
myth or a fantod, and was a standing joke with Sydney and Melbourne papers. But the scare persisted throughout the south-eastern part of the State.
Eventually, about 1896, the animal was shot a few miles from Mount Gambier by a Glenelg resident named Donovan, and proved to be an Assyrian wolf. It was 2ft. 8in. at the shoulder, and was supposed to have escaped from a travelling menagerie, or from some coastal wreck.
Donovan had the skin stuffed, and for years it was an attraction to visitors.
Harden (N.S.W.) had a "lion" scare, which was reported from Black Range—and North Devon, in Gippsland, had a "mystery animal" of a comic character.
A party of residents, who set out with guns to capture the latter, discovered "strange footprints" on the Tarra Valley road. They weren't expert trackers, but they followed the marks for a considerable distance, and discovered that they had been tracking the district mailman, who had lost his boots in a landslide caused by floods. Not long afterwards a huge wombat was captured in the vicinity.
An earlier scare was near the Murrumbidgee, in a region that has been productive of several fearsome beasts, most of them creatures of the imagination, including a leopard that evaporated and a bunyip that vanished in the river.
The "Murrumbidgee Bunyip" got a good deal of notice in 1902. Several scared residents reported having seen a weird amphibious quadruped near Gundagai and Kurrawarna. One described it as having a head like a rhinoceros, and spots on the neck and shoulders. It came out of the water after his dogs, which bolted from it in terror.
The "Tallong Bunyip" appeared some years later, a reputed denizen of a lonely pool in the Shoalhaven river, difficult of access, and with ages of tradition behind it. It is situated near Rose's Crossing, a place that was shunned by the blacks, who said that "big feller bunyip sit down there."
A French-Canadian recluse used to live in a small hut in the vicinity, and often fished in the pool. His body was found in it, and rumor had it that the mystery beast had dragged him in. This animal was said to have a piglike snout and a body as large as a horse.
Every strange creature, that is glimpsed or heard in the water, especially in deep pools in lonely places, is alleged to be a bunyip. It is popularly supposed that this is merely an Australian equivalent of the Irishman's "Banshee." But that the bunyip at one time existed in many waters over a good part of Eastern Australia is beyond doubt, and it was an animal greatly feared by all aborigines.
Eurombar Lagoon, Dawson River, was still shunned by the blacks as a bunyip water when I was there in 1895—so were certain big holes in the Burnett River, which no black fellow would enter or camp near.
Long ago, Dr. Hagenhauer, who spent many years among the aborigines, had a skin given him which the oldest blacks in his charge said was that of a bunyip, captured by their great-grandfathers among some Gippsland swamps. It resembles a huge otter.
There may be bones in the fossil beds, but the trouble would be to identify them with the famous bunyip. That great cemetery of vanished monsters, the Darling Downs, has produced koalas the size of cows, wallabies 14ft. high, lizards 20ft. long, besides several colossal beasts not represented to-day, including the diprotodon, marsupial lions, and an alligator 30ft. in length, which was named Palimnarchus pollens (old pool ruler) by Charles de Vis.
To-day Australia has two crocodiles, but no alligator, except at the zoos.
The marsupial lion had a wide range over New South Wales as well as Queensland and South Australia. Searchers find its bones deep in the beds of vanished lakes, particularly in the neighborhood of Lake Frome. From the evidence of the blacks it appears that the bunyip was a more dreaded creature than ever the old pool ruler. In some parts they speak of the Wahwee, a terrible beast that lived in big swamps and lakes, but Wahwee is possibly another name for the bunyip.
One striking commentary is that blacks who will swim rivers where man-eating crocodiles are numerous, and dive in shark-infested waters, can't be induced to swim in what they call bunyip waters, or make their camps close to such places.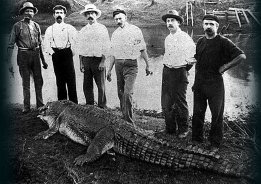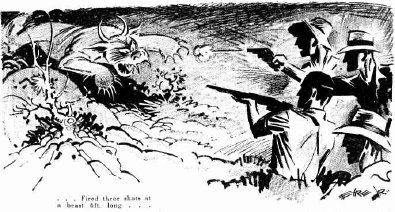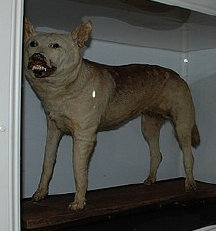 Tantanoola tiger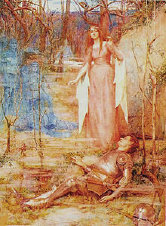 Banshee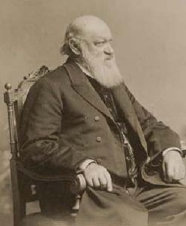 Friedrich August Hagenauer
Edward Sylvester Sorenson
(1869–1939)
Writer
Logan crocodile 1905
1898: Crocodile in the Brisbane River?
Tantawanglo Tiger? - coming soon...
Marsupial Tiger? - coming soon...
Harden "lion scare"? - coming soon...
STRANGE FOOTSTEPS
Mailman in Bare Feet
The Argus (Melbourne, Vic.)
Date: January 16, 1934
Page Number: 6
YARRAM, Monday.
Under the impression that strange footsteps discovered at North Devon were those of the "mystery" animal reported to be at large in Gippsland, residents armed with guns formed a party and traced the marks for a considerable distance along the Tarra Valley road. It was discovered that the marks were caused by the district mail-man, who, owing to the floods, had left his boots in a landslide and was finishing his journey in bare feet.

Murrumbidgee Bunyip?
- coming soon...
Tallong Bunyip?
- coming soon...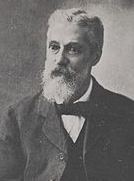 Charles De Vis
Wahwee?
- coming soon...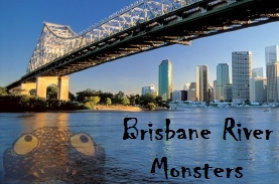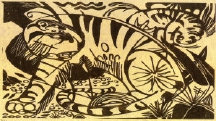 Jamberoo Tiger