Contact

Home
Jamberoo Tiger
The Kiama Independent, and Shoalhaven Advertiser (NSW)
Date: March 27, 1909
Page Number: 2
When returning from Kiama on Thursday evening Mr. A. J. Hill was unpleasantly surprised to meet half-way up Spring Hill a large animal similar to a tiger stealthily walking along the road towards the Pioneer Creek. It had a long body, short legs, and a big head shaped like a cat with short ears. Mr. Hill thinks in all probability it has escaped from a circus that is about. It passed by and he made no effort to molest it, and received the fright by its unexpected appearance. Every care should be taken by people on that road at night until the mystery is explained. The story from such a reliable source is not one concocted for a sensation and Mr. Hill relates it with regard for the publice welfare.

03-01-2014
THE MYSTERIOUS TIGER.
SEEN NEAR JAMBEROO.

The Sydney Morning Herald (NSW)
Date: March 27, 1909
Page Number: 12
Mr. A. J. Hill, bank manager, was driving home from Kiama early on Thursday evening when his horse stopped suddenly. The driver found it was confronted by an animal resembling a tiger in every respect, which stealthily and in a crouching position passed within a few feet of the vehicle, going towards Pioneer Creek. Some time previous the animal was reported to have been seen in Bulli Mountain.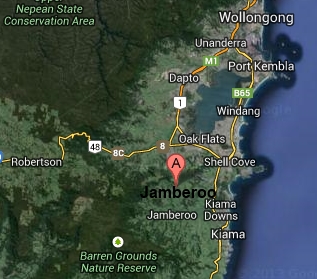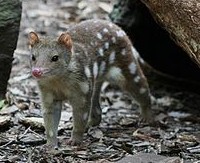 DISTRICT STOCK BOARD.
THE JAMBEROO TIGER.

The Shoalhaven News and South Coast Districts Advertiser (NSW)
Date: April 3, 1909
Page Number: 8
...
A letter was received over the signature of J. Jones, stating that he was a stock owner who had paid heavy taxes to the Board but got very little in return. He drew attention to the fact, as reported in the "S.M. Herald," that a tiger was at large in our midst, and was seen by a prominent resident of Jamberoo, whose word could not be doubted. He considered the Board ought to pay for the scalps of noxious animals, and offer £15 for that of the tiger.
Mr Craig said that although a good many were making light of the matter, if true it was a very serious thing, and as a letter had been written to the Board, they were bound to take some action in the matter. He considered the stock inspector, who was getting a big salary, should scour the country, and if necessary call out the volunteers to assist him. He had been speaking to the gentleman who was reported to have seen the beast, and he firmly believed he had seen a tiger on Spring Hill. £15 would be money well spent for its scalp, but in any case he thought Mr Campbell should make an investigation.
Mr Watts was of the same opinion.
Mr Campbell pointed out that tigers had not been declared noxious animals, and until they were bonuses could not be paid for their scalps. All he could do was to visit some of the most likely places and see if he could ascertain the brand of the tiger.
The chairman said he was sorry tigers were not included in the list of noxious animals, but he thought Mr Campbell should have a hunt round.
Mr Armstrong contended that the letter contained no information as to when and where the tiger was seen. "We had better proceed with the business, and let the tiger alone," he said.
...

Freeman's Journal (Sydney, NSW)
Date: April 22, 1909
Page Number: 22
Tiger tales of the Tantanoola type rapidly gain credence with the public, simply because they are mysterious. The South Coast folk have lately been discussing the appearance of an animal which has been dubbed the "Jamberoo Tiger." A resident in that district recently reported the appearance of the "tiger," and has given a very realistic and circumstancial description of the manner in which the animal appeared before his son. "As my son," he writes, "was returning home from Jerrar about midday, his attention was drawn to a large flock of crows about 300 yeards off, flying after what appeared to be a strange animal. It was about the height of a mastiff dog, long in the body, with a rather large head; its fore-legs were shorter than its hind ones ; the legs were stout ; its colour was jet black ; when travelling it went at a sort of canter into the lantanas, still followed by the crows; it had a long tail curled up at the point. My son strongly maintains that it was no dog. The animal may be the one Mr. Hill saw.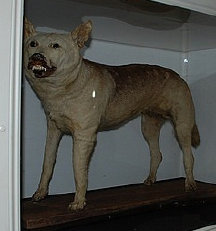 Tantanoola tiger
The Braidwood Dispatch and Mining Journal (NSW)
Date: February 28, 1903
Page Number: 2
A report that a tiger is at large in the vicinity of Marulun has caused some sensation. The school teacher from Kanyan Leigh was attacked by the animal on Sunday night, as he was riding from town on horseback, when six miles out. The horse was severely scratched, and the teacher is suffering from shock. John Feld, a settler, reports having seen an animal, supposed to be a tiger, on Saturday, while out shooting. The animal was lying down in the scrub four miles from town. Search patties have, observed traces of the beast, but have so far failed to capture it.

Goulburn Herald (NSW)
Date: March 9, 1903
Page Number: 2
THE TIGER.—Qute a scare was experienced, especially among the younger folk, on Wednesday morning, when news was brought to to town that the now famous Marulan tiger had been seen on Currandooley estate by one of the employes, who stated that a number of sheep had been killed by the animal. All sorts of rumours were circulated during Wednesday and Thursday, but so far they have not been authenticated.

The Tiger.

The Kiama Independent, and Shoalhaven Advertiser (NSW)
Date: March 21, 1903
Page Number: 2
The "Illawarra Mercury" reports that the tiger has again been seen at Dapto. This time it was in a paddock almost in the heart of the town. Marshall Mountaineers also claim to have been favored with a visit from the "striped one."
Not to be behind with sensation, Kiama comes next with the rumour that Harry Collombus (fisherman at the Minnamurra) has his lordship, the tiger, tied up to a sapling, and has been hand-feeding him for the last few days.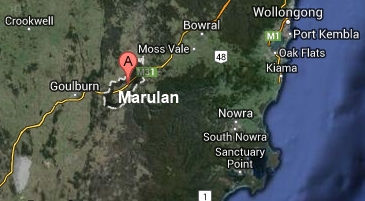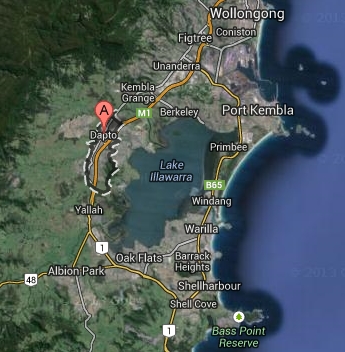 A Tiger, or What ?

The Braidwood Dispatch and Mining Journal (NSW)
Date: May 2, 1903
Page Number: 2
For some time past there have been stories going the rounds of the appearance of a tiger in various places, which is said to have been first seen at Marulan, and has since been spoken of as the Marulan tiger. The animal has been reported to have been sent in this district, and in places quite close to the town, where a number of sheep nave been killed in a manner quite different to that in which dogs kill them. However, tiger or no tiger, Mr. George Townsend, of Bendoura, informs us that he shot a tiger cat at Bendoura on Saturday last, which measured 4ft. 6in. from the nose to the butt of the tail and which stood 2ft. high. The skin, he informs us, he has preserved, and can be seen by anyone who likes to call. If there are many tiger cats about of the proportions of this one they may present a formidable appearance and be mistaken for the Marulan tiger.

The Kiama Reporter and Illawarra Journal (NSW)
Date: June 3, 1903
Page Number: 2
Another 'tiger.' Apropos of the Marulan tiger, it may be mentioned that a Mr. E. Healy reports having seen on the track at 'Vest Dapto, leading up to the Kembla Lookout, an animal, the like of which he never saw before. He describes it as about the height of a calf, of a grizzly grey colour, long tail with a bunch at the end and head like a monkey's. The animal darted into the scrub, and Mr. Healy did not feel inclined to make any closer acquaintance with it.

The Southern Mail (Bowral, NSW)
Date: July 3, 1903
Page Number: 2
The tiger excitement was responsible the other day for a rather untoward event. A gun clubist, who was out on the Dapto track after hares, perceiving the motion of an animal in the bush, fired, and laid out his own dog ! That "tiger" is responsible for a lot.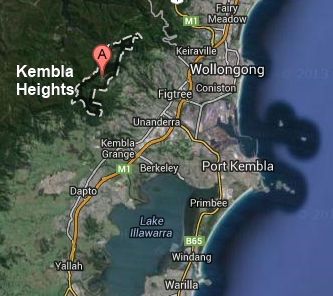 THE "TANTANOOLA TIGER."
REPORTED NEAR KEMBLA GRANGE.
MEDICAL MAN'S EXPERIENCE.

Barrier Miner (Broken Hill, NSW)
Date: July 19, 1909
Page Number: 8
DAPTO, Saturday.
On several occasions lately residents of West Dapto and Kembla Grange have reported having seen or heard what they believe to be a tiger.
The latest story concerning this mysterious beast is related by Dr. Scott, of Dapto. While visiting a patient near Kembla Grange last night in his motor-car he states that just after leaving the house he heard the roar of a tiger or leopard, and made a run for safety. Before he could get under cover what he believes was the wild animal struck him and knocked him down. When he got up he was in a dazed condition, and wandered about the paddocks for nearly an hour before he realised where he was, and what had happened. His wife was in a motor-car waiting for him. She also heard the roar of the beast, but as the night was dark neither was able to see what caused the unusual noise. It caused the dogs to bark loudly, and horses shook with fear.
The doctor attributes his escape to the odour of lint he had in an open bag, and that of his wife to the odour which emanates from a motor-car. The matter was reported to the police by the doctor, and Constable Wilson went out in search of the tiger, but failed to locate it. It is said that the animal has its lair in caves at the foot of Mount Kembla.

MOUNT KEMBLA MYSTERY.
ANOTHER MAN ATTACKED.
A VEGETARIAN "TIGER."
OLD SHIKARI'S OFFER.

The Sydney Morning Herald (NSW)
Date: July 21, 1909
Page Number: 9
WOLLONGONG, Tuesday.
The Tantanoola tiger, or the animal that has been causing considerable alarm to residents of Cordeaux River and Mt. Kembla by its weird noises at night time for some months past, which attacked Dr. Scott, of Dapto, on Thursday night last, again made its appearance last night in the vicinity of Kembla Heights. A miner, whilst on his way home through the bush, heard five distinct weird noises, within, as he states, 50 yards, and he at once made off. Before he had covered 20 yards, and just as he was getting through a wire fence, something knocked him over, and immediately made off into the bush. When he recovered he looked in the direction in which the animal had gone, and could distinctly see something resembling a tiger.
To-day a large number of Wollongong's crack shooters went out in search of the tiger, determined to thoroughly investigate the bush, in which the tiger is supposed to have his lair.
A letter was received by the Mayor of Wollongong (Alderman J. A. Beatson) this afternoon from a retired officer of the Bengal Civil Service, who has had considerable experience in tiger hunting, who offers to go out in search of the animal.
Strangely enough, there have been no reports of animals having been killed or wounded. The tiger, if it is one, would seem to be a vegetarian.

Evening News (Sydney, NSW)
Date: July 21, 1909
Page Number: 1
Constable Wilson, of Dapto, says he does not regard seriously the story of Dr. Scott that he had been attacked by a tiger at Mount Kembla.

STRANGE ANIMAL NOISES.
PORT KEMBLA SENSATION.
"LARGE ANIMAL WITH A LONG TAIL."

The Brisbane Courier (Qld.)
Date: July 22, 1909
Page Number: 5
SYDNEY, July 21.
That a tiger is roaming at large in the Port Kembla district is the firm belief of at least some of the residents. The story told by Dr. Scott, of Dapto, and tales by others who have since reported that they had been alarmed by noises of an animal strange to the district, have led to a requisition being presented to the Mayor of Wollongong to convene a public meeting for the purpose of taking steps to organise search parties. A butcher's carter who was delivering meat at Port Kembla this morning before day-break was so frightened at the strange noises and at seeing what he described as a large animal with a long bushy tail that he made for home with all speed. Other people, however are disposed to regard the whole thing as a practical joke as no losses of stock have so far as known, taken place.