Contact

Home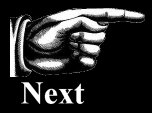 Australian Gorilla 1871
Yowie / Bigfoot
Empire (Sydney, NSW)
Date: February 25, 1871
Page Number: 4
...
The brain of the lowest savages and of the prehistoric races is, and was, immensely superior, both in size and in complexity of organization, to that of the highest animals, yet, the mental faculties of savages are but slightly superior, to these of animals. Here is a difficulty which the hypothesis of Natural Selection fails altogether to account for. Any process of development, or selective modification, would have given the savage a brain but slightly superior to that of the ape. Dr. Haeckel evidently felt this difficulty, and, in order to meet it, supposed the existence of a race of animals between the gorilla and the most ancient of the prehistoric races of man known to science. Mr. Wallace, however, gets out of the difficulty in a much more manly and satisfactory way. He says:
"The inference I would draw from this class of phenomena is, that a superior intelligence has guided the development of man in a definite direction, and for a special purpose, just as man guides the development of many animal and vegetable forms..."
SURPRISING ADVENTURE WITH A GIGANTIC ANIMAL AT MANLY BEACH.

Australian Town and Country Journal (Sydney, NSW)
Date: April 22, 1871
Page Number: 8
A SUPPOSED GORILLA AT ILLAWARRA.

Empire (Sydney, NSW)
Date: April 17, 1871
Page Number: 2
On Saturday a gentleman a prominent citizen of Sydney and who formerly held the office of mayor of the city, who was shooting in the Manly district, while walking along Curl Curl beach, saw under the bank at the north end what appeared at first to be the body of a dead horse. He walked towards it, and when within about three yards saw the three beagles he had with him smelling in a startled attitude what he thought was the carcass, when the supposed dead horse suddenly jumped up, which so astonished the sportsman that he fell backwards, dropping on his gun ; which, having one barrel at full cock, went off and wounded the three dogs. Meanwhile, the unearthly looking monster stood, with extended jaws, bristling with great tusks, snorting and roaring over the prostrate form of our friend, who says he was for sometime unable to move from his extraordinary position. The yelping of the wounded beagles, the gun-shot, and, perhaps, the attitude of the disabled sportsman, seemed to have frightened the monstrous animal, for he moved, on two enormous flappers, off a short distance, when our friend got up, and putting the other barrel of the gun close to the head of the animal, fired. The shot seemed to take no effect, for the creature moved a few paces only towards the sea. Our friend, thereupon, put in two more cartridges (wallaby shot 3A), and fired, both barrels close to the monster's head, neither of which appeared to have any effect. It then took to the water and swam out to sea, but soon afterwards came ashore again, when two more charges were poured into his devoted head ; still with no apparent effect ! The animal then again swam out to sea, and our friend went to the house of a resident of the district, and the two quickly returned to the beach, the resident having a heavy charge of powder and pistol bullets, they again found the animal lying on the beach, and got to within a few yards of him and fired the three charges at him, but he again got away to sea. He was badly wounded, for he had been bleeding much on the sand where he lay. A party of fishermen went down to search for him later the same evening, but saw nothing of him, though he will probably wash ashore on some part of the coast. It was an enormous seal, measuring about ten feet in length, with a long, thick neck, and will be a prize worth trying to get.

--Since the above was communicated to us, we have heard that on Sunday the seal was alive and flapping among the rocks at "Blue Fish." Another was tried to be captured by Mr. Skinner, near Manly Pier. The latter is described as being about seven feet long, with very shaggy hair, of a nut brown colour, with head and tusks like a pig. having four legs or flippers, leaving his foot-prints in the sand as large as a plate, with long tail and whiskers, and a mane like the lion.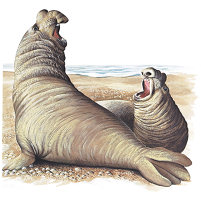 Southern Elephant Seal
My Adventure with an Illawarra Gorilla.
BY AN OLD SAILOR.

Empire (Sydney, NSW)
Date: February 25, 1871
Page Number: 4
We are indebted to the Illawarra Mercury for the following particulars supplied by Mr. George Osborne, of the Illawarra Hotel, Dapto, concerning a strange looking animal, which he saw last Monday, and which he believes was a gorilla. It is to be hoped successful means may be adopted to captare the animal (alive if possible), as it is quite evident it is one of the greatest natural curiosities yet found in the colony. Together with the interest attached to the peculiarty of this strange "monster in human form," there is something very remarkable and suggestive in the fact, that he should have presented himself to Mr. Osborne while that gentleman was going his rounds, collecting the census. The following are Mr. Osborne's remarks concerning the animal :--

On my way from Mr. Matthew Reen's, coming down a range about half a mile behind Mr. John Graham's residence, at Avondale, after sunset, my horse was startled at seeing an animal coming down a tree, which I thought at the moment to be an aboriginal, and when it got within about eight feet of the ground it lost its grip and fell. My feelings at the moment were anything but happy, but although my horse was restless I endeavoured to get a good glimpse of the animal by following it as it retreated until it disappeared into a gully. It somewhat resembled the shape of a man, according to the following description :--

Height, about five feet, slender proportioned, arms long, legs like a human being, only the feet being about eighteen inches long, and shaped like an iguana, with long toes, the muscles of the arms and chest being well developed, the back of the head straight with the neck and body, but the front or face projected forward with monkey features. Every particle of the body except the feet and face was covered with black hair, with a tan-coloured streak from the neck to the abdomen. While looking at me its eyes and mouth were in motion, after the fashion of a monkey. It walked quadruped fashion, but at every few paces it would turn around and look at me following it, supporting the body with the two legs and one arm, while the other arm was placed across the hip. I also noticed that it had no tall. It appears that two children named Summers saw the same animal or one similar in the same locality, about two years ago, but they say it was then only the size of a boy about thirteen or fouteen years of age. Perhaps this is the same animal that Mr. B. Rixon saw at the Cordeaux River, about five or six years ago. The query is, "Where did it come from?"
I HAVE kept my secret for many years, and I doubt if it would have ever been divulged, for reasons I will give before I finish this paper, had it not been for the confirmation of my experience contained in several paragraphs in the Evening News during the last week or two about the Curl Curl monster and the Illawara gorilla. The paragraph respecting the latter said "A supposed Gorilla," and that "supposed" has set me in motion. I suppose my word is worth something, and as the story I am about to tell can be confirmed in some of its particulars by two or three who are yet alive, hope to confirm the Illawarra gorilla--of course, only in reference to veracity, although I may have my opinion about the desirability of a mission to the gorillas, whose peculiarities are but little understood. There is generally too strong a disposition to ridicule anything unusual, and frightened people are only too ready to believe what they will call supernatural. Now, I do not believe in the supernatural, and if I had been at Curl Curl the other day, I have the impudence to believe that I could have turned that nondescript monster to account, and with sufficient help I would have had the fellow in a caravan by this time, and knocked out something decent. But I have to tell you about the Illawarra gorilla, and I might as well drop into it first as last.

It was about twenty years ago, when Sydney was a very different place to what it is now, and there was fun to be had before the town became busy and bustling, that I was on board the little surveying craft called the Alligator. That wasn't her name, you see, but I don't want to be identified, although my name is well-known to Mr. Editor, who has given place to not a few of my old colonial yarns. Well, let's call her the Alligator--that name will do as well as anyother for my purpose--and, as I was saying, surveying was our game, and a rare game it was--like a pleasure trip, and very few questions asked.

One night, after a pretty long spell in Farm Cove, we dropped out of the harbour, going south, and next morning, for some purpose or other unknown to us, we went into Wollongong, and a few of us got liberty for a run ashore to explore the beauties of the country round about. You may well suppose that we had a freshener in the town before we strayed into the bush away beyond Dapto, and there we came across a fellow doing nothing, so far as I could judge ; but he seemed a decontish chap in his way, and we soon discovered that he had some strongish stuff upon which the Customs gaugers had never set their mark ; and we wont in pretty deep for it, until at length we proceeded on our way, singing "Rule Britannia," "Hearts of Oak," and such like, getting well away into the bush. I began to feel independent of the Admiralty and all its works ; the trees began to waltz, and the crisp pure air had such an effect upon me that I tried to join in the fun, until I caught my foot in the stump of a grass tree, and down I went. Luckily, the bottle in which I had taken a pint, or thereabouts, of the real dew of the valley, was not broken, and although I was prostrated by circumstances beyond control, I took another wet and soon forgot my troubles. "O'er all the ills of life victorious."

How long I slept I don't well know, but when I woke up the trees were all as quiet and orderly as possible, and the shades of evening were commencing to close in. I was comfortably ensconced among some long soft grass, and above me, through the chinks of the trees that arched and met overhead, I could see that the sun was pretty well down, and left only a red reflection on the now rather dusky thicket about me. I am not naturally disposed to fear, but that evening I felt rather strange-like, and by no means clear in the think. The preoious stumps, some charred and others split into queer fantastic shapes, took forms in my imagination, and here I saw two desperate ruffians holding an unfortunate down ; and there seemed to see a beautiful young girl kneeling before a tomb. Of course it was all a delusion, but some of the delusions were pleasant, and others rather uncomfortable. I have often pictured the same kind of thing in the Australian bush, but I never saw those illusions so complete as upon the occasion I am referring to, and never in any other country, do what I would to conjure them up. I tried to calculate how far I could be away from the beach, and was rather uneasy about my leave. I was so fogged that I couldn't even make out the lay of the place, and there I was lost as certainly as though I had been 500 miles away in the country. I shouted, coooyed and made myself hoarse, and the only reply I got was the soft twitters from a few disturbed birds, followed by that peculiar crackling of the trees only noticed by fellows who are out in the bush at night alone for the first time. Left alone in the quiet, I thought of many matters I had up to that time forgotten ; and I verily believe I was disposed to say my prayers that night-- honestly, humbly and heartily--as I did when a child at my mother's knee ; and I fell to thinking about my mother and my boyish days, and the loneliness seemed to do me good. I did not care much about the stuff in the bottle, but took a good pull from a little stream near at hand, using my old wide-awake as a goblet. It was getting rightdown dark now, and all I could see above me was the glorious stars shining out as they only do shine in an Australian sky. I had no weapon of any kind about me, but this did not trouble me, because I had heard that no animals of a ferocious nature were to be dreaded in Australia. I trudged on without purpose, every footfall proclaiming to me that I was alone, and every step I took seemed to din the fact into my ears. The bush was getting thicker ; the giant trees were now more crowded, and the festoons of lovely vines draping the trunks of these forest monsters added to the frowning look they seemed to fasten upon me for my rashness in invading their solitude. In nautical language, I brought to--what use could there be in going on. I was in for it for that night, and all I could do was to wait for morning ; but sleep was quite out of the question, the snooze I had in the afternoon had settled that. The only solace I could master was a chew of tobacco, so I took a bite and began to think again of all the things I didn't want to think about, when all at once I saw two distinct lights, near to each other approaching towards me. The lights were so close to each other, that they could hardly be anything so common as a lantern, and besides, although they were always close to each other, they appeared to sway irregularly from side to side. On came the lights, and I began to congratulate myself that at last deliverance was at hand, and I gave a loud cooey which brought what ever it was to a dead stand. I gave another, and away they went into the thickest of the bush. I followed, and they receded, and so I went on double quick time, and I gave another shout, answered this time by a most unearthly noise, something between a groan of pain and a yell of defiance, and away went the lights up a big tree. Looking up, I saw--and, oh Lord ! there was the most extraordinary animal in the world surely :--About five feet high, long arms, legs something like mine, but not so handsome, feet about eighteen inches long, long toes covered with long hair, and as much like a gigantic monkey as possible. The begger mouthed at me in a very savage fashion, but so long as he was up the tree I didn't care much about him, so I thought I'd keep him there. I put my back against the tree, and remembering that savage animals are afraid of the human voice I struck up "Rule Britannia," much to the disgust of the beast, for he joined chorus in dismal yells and muttering growls. I had just got to the third verse, and was beginning to fancy how I should got on--because I couldn't well sing all night--I had just got to the chorus of the third verse, in that part where we all agree to "Never, never, never," when I found myself seized by the hair of my head, of which I always had a good share - of course its hair I mean. Well, as I was saying, just as the last "never" was coming out from my mouth up I went, with no more ceremony than you would show in pulling up a cat by the tail. Up he went and across a branch in no time, sticking me in front of him. I never did like having my hair pulled, so I let drive at him just between the eyes ; but it made no impression on the beast ; he merely passed his paw over the place, and sneezed as coolly as though I had handed him a pinch of Macaboy, and he turned to and pulled my hair again. I was wild, and fisted him until I was nearly off my porch. "Let me alone, you ugly thief," says I. "No I shan't," says he, in tones that terrified me more than anything he had yet done. "No I shan't." "I want to go down," says I. "Very well, go down," says he." How can I go down ?" I said. " The same way as you came up !" he says. What," I says, "by the hair of my head ?" He nodded. "If I do," says I, "may I be,-----" " Wait a bit," says he, "drop it !" "What," I says, "eighteen feet?--that's a drop too much." "Oh, all right," he says, "come on;" and grasping me by the middle, he had me down in no time, and I was on terra firma, wondering what was to follow.

"What are you," he says, after looking at me very closely, and feeling me all over and examining my clothes with a look of the deepest disgust. "I'm a stranger," says I. "Are you what they call a man ?" says he. "I am" said I, "and an Englishman, and I'm proud of it." "Are you ?" says he, "then it's a bad job for you. Whenever I meet a man I always finish him. You're one of those cunning trap-laying, gun-shooting villains, who are best rooted out and got rid of. Our tribe always kill a man whenever we meet one. You don't take much killing for all your banging and flashing. Just give their heads a spin or two like this,--so and so--and they're as dead as door nails." And the hideous wretch gave my head a half screw round that made my neck creak and made me look over my loft shoulder for a month or two.
"I should have screwed you so as soon as I caught you," said he, "only you are such a queer looking wretch, that I wanted to get some fun out of you. Is there any fun to be got out of you, eh? If not, you'd better tell me and there'll be an end of you." "Well, sir," I said, (for I thought it best to butter him up a bit), "the fact is, sir,"--
"Fact !" says he, "fact ! What's a fact ?"

"Well, sir," I says, "a fact is something that's not something else." He got into a horrible passion, and made a move towards my neck ; but I ducked and he missed me. "What," he said, "do you mean to say you would tell me something that is something else. You miserable wretch, is that what you men do !"

"I was only going to ask you what and who you are," I said, "since this is the first time I have had the pleasure of meeting you."

"I," said he, "am a gorilla, and owner of the forest upon which you are now trespassing. This is my garden, I laid it out and I have held it throughout its length and breadth over since it was first planted."
"Well, sir," I says, "if I may be so bold as to ask a question. I would like to know one thing."
"Speak," said he, with a gracious wave of his paw.

"I hope you won't be offended." I said, feeling my sore neck rather tenderly; "but I've heard of monkeys, apes, and gentlemen of your sort, but I never heard or read of one talking before."

"And pray," said he, in a sneering tone, "did you never hear any rumour as to the reason for that same?"

"Well, sir," I said, "I can't deny that I have heard a reason given, and without offence to you, I have heard that monkeys can speak and won't for fear they might be set to work, but that of course, I know is a mistake, because I have had the honour of hearing you talk."

"It's perfectly true," he said, winking one of his great green eyes in a very cunning manner ; "perfectly true. That's our great secret, and we always keep it under all circumstances."

At this I laughed outright. "Well," I said, "that's a rum start, you never let out your secret, and yet you've blabbed it to me straight away, and we haven't been together half an hour."

"And where's the danger of telling you? " he said, with a horrible chuckle that went to my marrow. "The secret is as safe with you as with this dead bough." As he spoke he seized me by the hair of my head with one paw, and putting out the other broke off a limb from a tree, grasping it with as much ease as a school-master would a cane. "You don't suppose," said he, "that I should have been fool enough to let out the secret if there was the least chance in the world of it going any further." And the bare idea tickled him so prodigiously that he fell into a horrible gutteral laugh of such long duration that I began to hope he would have a fit, but he presently recovered.

"It's many a long day since I had such a laugh as that," he said, "you are much funnier than the two legged black sort we generally fall in with about here : but there's more mischief in you, and that's why we never let you escape. Blabbed my secret did I ? Ho ! ho !" and off he wont again as bad as before, roaring over the pleasant joke. All at once he screwed up his ugly mug and lot out a yell denoting great pain.

I ventured to ask if he felt at all poorly. "Oh, no," he said, "it was only those infernal rheumatics." I ventured to say that I wondered that a gentleman of his experience had not discovered some means of relief, and told him that I was subject to the same disorder and always carried with me a specific, which I would willingly administer if he would give me some information as to the habits and life of his people.

His impatience was very great to have my remedy and his manner became decidedly unpleasant, so much so that I feared he would take effectual means to put me out of the way in order to keep his secret, as he called it. At length he said, "Well if you want to know why I came down upon you I will tell you, not that it will do you any good, because your game's about played. The truth is, that I took you for a census collector. Those fellows are awfully inquisitive, and we are rather afraid of them, because if they found us they would at once take means to leave their precious papers with us, so whenever we see one we frighten his life out, and you white wretches are afraid to come into the bush, and that makes us pretty safe ; but," said he, "what about the rheumatics?"

Upon this I produced the bottle, and informed him that it must be taken in very small quantities. He insisted upon my taking some, and he then followed my example. At the first sup he smacked his ugly lips, and water streamed from his eyes, and he had another drop, and another ; he first got regular jolly, and at length grew spitefully inclined. He danced about until he became frantic, and at last fell off the branch on which he had been sitting, drunk as blazes. I was afraid to venture on flight, and waited patiently for some time. At length I felt rather sleepy, and soon dropped off into a sound sleep, from which I awoke when the sun was well up. I looked round for my friend and found that he had decamped, leaving the empty bottle. My head was one large ache, and my neck was stiff and sore. I limped on as well as I was able and at length fell in with a cart track and following it had the satisfaction of once more facing the ocean and seeing the Alligator.

Well, of course, no one believed me, and my leave was stopped. They tried to make out that I had partaken too freely of unexcised spirit, that I had slept in the bush and got a stiff neck. As a proof, they called my attention to the fact that I had finished the bottle I took with me, and then tried to throw the blame on the gorilla. I knew better then, and I know still better now. The gorilla has been again seen at Illawarra, and it's not quite certain that the Curl-curl monster is not a gentleman of the same kidney. I have no doubt at all that the census collector was the cause of my Illawarra friends re-appearance there. The spot where he was seen, confirmed me in my opinion, and after the report published the other day, I hope my veracity may be henceforth regarded as established.

It is said that Mr. Rixon saw a gorilla at the Cordeaux River some years ago, and the query suggested is, "Where did it come from?" My answer is simply :--At that time the census was being collected. I am the more confirmed in my supposition that there is great fear on the part of the gorillas of being degraded to the level of humanity by the census collectors, from having met with the following paragraph in a Californian paper I received by the last mail, from a friend in San Francisco. I need hardly remind the intelligent readers of this journal that the census was being collected in California in December last, when the following singular confirmation of my story was published there. It is due to the ladies of the gorilla race to say that I was not introduced to them, and saw nothing of them, or of their domestic manners and customs ; probably they are very particular and exclusive, as regards etiquette and social life. I should not, if I were a census collector, like to ask a lady gorilla in the tenets of what religious sect she intended her youngest infant to be trained, or whether any of her family were suffering from an incurable infirmity of temper, or what not. Here is what the Californian paper says about the Californian gorillas :

"It has been rumoured for some time in California that in the mountains at Orestimba Creek are to be seen occasionally either gorillas, or wild men, so devoid of personal attractions that they may fairly be classed as gorillas. A correspondent of the Ledger, writing on the 16th ultimo, gives a description of one of these animals or persons, as the case may be :- 'It was in the image of a man, but it could not have been human. The creature, whatever it was, stood full five feet high, and disproportionately broad and square, with arms of great length. The legs were very short and the body long. The head was small, and appeared to be set on the shoulders without any neck. The whole body was covered with dark brown and cinnamon coloured hair, that on the head standing in a shock and growing close down the eyes like a Digger Indian's. As I looked he threw his head back and whistled again, and stooped and grasped a stick from the fire, this he swung round until the fire on the end had gone out, when he repeated the manouvre. Fifteen minutes I watched him as he whistled and scattered my fire about. I could easily have put a bullet through his head, but why should I kill him ? Having amused himself, apparently all he desired with my fire, he started to go, but naving gone a short distance he returned, and was joined by another--a female unmistakably--when they both turned and walked past me, within twenty yards of where I sat, and disappeared in the bush.'"
Hairy man:


ILLAWARRA, NSW
This article first appeared in
The Sydney Morning Herald
in February, 1871 and also featured in other regional newspapers in March.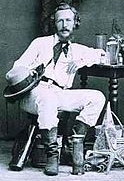 Ernst Heinrich Philipp August Haeckel
(February 16, 1834 – August 9, 1919)

An eminent German biologist, naturalist, philosopher, physician, professor and artist.


Alfred Russel Wallace, OM, FRS
(8 January 1823 – 7 November 1913)
British naturalist, explorer, geographer, anthropologist and biologist.
SEEKING FURTHER
INFORMATION

"the feet being about eighteen inches long, and shaped like an iguana, with long toes..."
The name goannas was given to Australian monitor lizards by the early European settlers. They thought our monitor lizards looked like the South American Iguanas.