Contact

Home
2012
Yowieocalypse To Do List:
- Update existing pages
- Analyse the 2009 Mt George Yowie sighting
- History of Yowie Research
- Yowie review 2009 – 2012
- Examine the Ern Malley hoax
- Explore pseudo-archaeology in Australia
- Collect more information on the Gympie Pyramid
- The Nunawading Messiah & other prophets of Oz
13/04/2012
Argh! When I put what needs to be done in a "To Do" list I realise just how much is on my plate. I'll get around to it when I get around to it I suppose…
Updating the existing pages can be done gradually – no drama.
There is enough information already in the public domain to adequately account for the 2009 Mt George sighting. It is just a matter of putting it all together.
I have all the information to complete the Yowie review 2009-2012 again it is just a matter of putting it all together in a coherent form.
I'm still gathering information on the History of Yowie Research – even when completed it will be far from comprehensive but will at least offer an alternative to the usual aggrandising by "researchers" and Fortean authors.
As stated above, I am kind of moving on from the Yowie – the entire phenomenon can basically be described as the Art of Misidentification coupled with good old fashioned Storytelling and, when based on an entire system of belief, it becomes a surprisingly powerful combination. It is classic
confirmation bias
.
Ultimately, there is no distinction between those who believe in Bigfoot and those who make-believe in Bigfoot. The evidence is the same - fakes, misidentifications, and more often no evidence whatsoever.
At best, the Yowie is a purely subjective experience. In some ways that makes the phenomenon even more fascinating because the Yowie is capable of providing valuable insights into who we are as a species. Oh, the irony...
Examining the Ern Malley hoax largely involves trawling the online newspaper articles and referencing various publications. Same for the Nunawading Messiah – a delightful, if largely forgotten, part of Australian history. If these topics interest anyone and they have time to assist then by all means get in touch.
Pseudo-archaeology in Australia is an interesting subject that is beginning to recieve a bit more online coverage. If you want to learn more check out "The Secret Visitors Project" and "All Things Woy" in the links section.
Collecting information on the Gympie Pyramid hoax will probably involve taking a few days to pour through the local newspaper archives at the Gympie library. Some time off work would be nice but there is no rest for the wicked…
I am easily distracted.
Coming soon will be "People Stories" which begins with family accounts of life in post-war Czechoslovakia, escape from behind the Iron Curtain, and a new life in a strange new land.
It will also feature some (hopefully) amusing anecdotes about life in High School at the fringes of suburbia in the 80s.
12/05/2012
The Great Moon Hoax
"They averaged four feet in height, were covered except on the face, with a short and glossy copper-coloured hair, and had wings composed of a thin membrane without hair, lying snugly on their backs, from the top of the shoulders to the calves of the legs...."
ES (NW) 21.7.2012
"A Sydney based scientist, Dr C. W. McCarthy, declared the 'marble man' to be an actual petrified human corpse… Sculptors who examined the figure declared it was definitely not a statue as some people had suggested."
ES (NW) 6.8.2012
The Essex Lion
"Residents living in the St Osyth area are being advised to stay indoors after police received reports of a lion being seen in a field. The large cat, believed to be a lion, was seen in fields off Earls Hall Drive in St Oysth, near Clacton, just before 7pm." – Essex Police statement
ES (NW) 22.9.2012
Treasure Troving: Be Your Own Investigator
& The Yengarie Lion
Take advantage of Trove - Australia's free online newspaper archives in order to search for mysteries in your own local area. Case Study: The Yengarie Lion.
ES (NW) 1.10.2012
"I make further note that on this journey, we passed by the place near to the river where it joins the lake as shown to us on the last expedition by the Dhilumi Clan of the strange rock ruins and ...(unclear)... and I ventured then to visit the small ceremonial Dhurs at the place of the rock columns and ruins. It was an eerie place..."
ES (NW) 2.11.2012
'All three world level universities have finished DNA analysis of the hair and said that the hair belongs to a creature which is closer by its biological parameters to Homo sapiens than a monkey. The Yeti's DNA is evidently less than one per cent different to that of a human.'
ES (NW) 16.11.2012
Hairy Humour
Poking fun at
various things...

ES (NW) 7.12.2012
Update: Source of Brett Green's Yowie Hoax Revealed!
NW (May 6th, 2012 at 7:31 pm): "if the images are shown to be fake that it represents the tip of the iceberg of the subculture of Yowie fakery in Australia"
ES (NW) 11.12.2012
Mike Williams (CFZAustralia): "The model, BASED on the book does not match the bookcover 100%. But that doesn't matter in wacky world of dumb pseudo "sceptics"…
"Keep digging that hole. Hilarious… :) "
ES (NW) 18.12.2012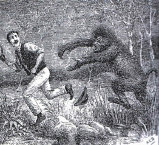 Reports of the Wild / Hairy Man
When did the stories begin?
What are the stories behind the story of the Hairy Man?
Did a Monster really exist or are there other more rational explanations?

The Yahoo 1842
Half-Man, Half-Baboon 1849
New Zealand Gorilla 1870
Australian Gorilla 1871
Updated: ES (NW) 28.09.2012