Contact

Home
The History of Yowie-Research
Yowie / Bigfoot
2007
Yowie hunter switches his search to the South Coast
By: Paul McInerney
Illawarra Mercury (NSW)
Date: November 13, 2007
Page Number: 12
REX Gilroy has spent 50 years searching for evidence of the Yowie - an elusive hominid he believes still exists today, as a surviving remnant of Homo erectus, our immediate ancestor.
His quest to prove the sceptics wrong is currently focused on the rugged escarpment country west of Dapto and as far south as the Nowra district.
Early South Coast sightings of male and female primitive hominids date as far back as the 1840s. And, according to Mr Gilroy, they are still being made.
"In March this year a 1.6m tall, animal hide-clad female was reported to me, having been seen in the dense scrub by a property owner inland from Dapto," he told the Mercury yesterday. Not surprisingly, his informant wants to remain anonymous.
Mr Gilroy describes himself as Australia's foremost "Yowie Man" and insists he and his wife - and fellow researcher - Heather are serious in their endeavour to show a sceptical world.
"Our aim is to gather good physical evidence to place before understandably sceptical scientists, to show the continued existence of these relic hominids," Mr Gilroy said.
He hates the way others have jumped on the Yowie bandwagon.
"Over the years, there has been a lot of nonsense thrown up about the Yowie and we have had to wade through a lot of hoax reports about hairy monsters and such like," Mr Gilroy said.
The name Yowie was used by Aboriginals who lived on the South and North Coasts of NSW and inland across the Blue Mountains to the Central West.
It means "hairy man" and alluded to the marsupial hide garments worn by them.
He said his field research teams had uncovered fossil hominid footprints of pre-Aboriginal age over a wide area of Eastern Australia, including the South Coast, since 2000.
His third book, The Yowie Mystery: Living Fossils from the Dreamtime, is released this week.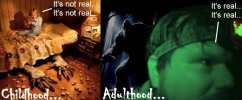 The History of Yowie Research