Contact

Home
The Wild Man of Tallarook
Yowie / Bigfoot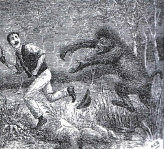 Contents
1880
Hairy man:

CENTRAL
VICTORIA
THE WILD MAN OF TALLAROOK.
Tippled Times (Vic.)
Date: May 5, 1880
Page Number: 3
[BY ELECTRIC TELEGRAPH.] (FROM OUR OWN CORRESPONDENT.)
TALLAROOK, Wednesday.

A wild man was captured this afternoon by Constables Shanahan and Eason, on Sunday Creek, Tallarook, on suspicion of being the wild man of Tallarook. When arrested he gave the name of Henricke Nelson, and is a Swede. He will admit nothing, and denies all knowledge of the cave and hut; but the property which was found on him corresponds, it is said, with pieces left at the cave and hut. When the police came upon him he was washing a shirt, which turns out to be made of the same material as the old shirt found in the cave on Sunday. He attempted to use a knife when the police were arresting him. They found in his possession a quantity of butter in a billy, also a quantity of new laid eggs, and about 56lb. of new potatoes. All the things in the prisoner's swag were very much smoked; 6½d. was all the money found in his purse.
A WILD MAN AT TALLAROOK.
The Argus (Melbourne, Vic.)
Date: August 3, 1880
Page Number: 6
[BY ELECTRIC TELEGRAPH.]
(FROM OUR OWN REPORTER.)
TALLAROOK, MONDAY.

For the past three years the Tallarook district has been possessed of a wild man of the woods. This mysterious individual was first seen about three years ago by Mr. Thomas Mullavey, a boundary rider on Mr. McKenzie's Mount Piper Station. Mullavey was travelling over the run, and at a rocky range about five and a half miles from Tallarook he observed a stranger, who immediately disappeared in the range. Two years elapsed and Mullavey again saw a strange man near the same spot. This time he came within speaking distance, and Mullavey asked him who he was. The mun replied that he was prospecting. Mullavey had a barney with him, and said he suspected that he was a sheep-stealer. The man protested that he was honest, and then Mullavey offered him some work, but he declined. Whilst they were conversing the man kept walking into the range, and when he got into a place on which Mullavey could not follow on horseback he ran away, and disappeared. Twelve months passed before anything more was seen of the wild man, as he came to be termed in the district. On Thursday last, however, a son of Mullavey's was strolling about the haunted spot, and observed a man, who suddenly disappeared from his view. The lad went home at once, and told his father. The strange man was seen on the same day in a different part of the range by a man named Meadows, and on being seen he decamped at a run. On Saturday morning Mullavey went to look for the man amongst the range. At one place he found a spring of water, from which led a beaten track up amongst the rocks. He followed the track, and on looking over a large boulder he saw a slab of broken granite. As there was an artificial appearance about the slab, he went up to it and raised it with his hands. To his great surprise he found a hole underneath with two steps in it, and heard a noise as of some one moving about below. He quickly lowered the stone, and retreated. When some distance away he made a dog he had brought with him bark. This was a signal he had previously arranged to procure assistance. His son and a man named William Kirby, who lives in the vicinity, at once responded, and came forward. They then went up to the cave, but found the stone thrown back, and the bird flown.

Mullavey's son was then sent into Tallarook with information to the police, and Constable John Shanahan at once proceeded to the range. Shanahan states - "When I arrived at the spot, I found that the entrance to the cave lay between two large boulders. I descended with a lighted candle. The cave is a regularly built house on the side of the range, covered over with soil and made to appear part of the range. The side of the range is one mass of rocks, and the roof of the cave forms a small level area. A quantity of stuff had been dug out, and the place was then built up substantially of masonry and slates. It appears to be 12 years old. After descending the two steps I found a turning on the left, and was confronted by a door. Entering by this door I found a room formed of posts and slabs, with a bark roof. There was a fire place built of brick, and a long chimney trending in an oblique direction. On the left hand lay a sleeping bunk, and on the floor I found several billy cans with wooden ends, a little bag of peas, two tins of white sugar, some early potatoes, baking dishes, frying-pans, knives, and other articles. A nice little stack of dry wood and a bundle of bark stood near the fire place. The stack of wood was evidently intended for fuel and the bark for lighting the fire. Of course, I found no one inside. On examining the chimney outside, I found its top a long distance from the cave , it was between two rocks, and a dead sheoak was thrown over them to conceal the discolouration occasioned by the smoke. I searched about the ranges on Saturday and Sunday without finding any one. To-day I discovered a second cave, quite near the first. A stream of water flows out of it, and I had to creep in on my hands and knees with a candle. After crawling some distance, about 10 yards, I was able to stand upright, and found myself in a long narrow hall. I went along, and came to two compartments, one on the right hand and the other on the left. I entered the one on the left first, and found there a box full of chaff, the bare bones of pigs' heads, beef bones, turkeys' legs, some slabs and bark where a still seems to have stood, wooden shovels, an empty flour bag, and some old shirts. The right hand cave was empty. It was so small that I had to get a boy to inspect it. The entrance to this cave was concealed by ferns. The cave itself is a natural formation. The turkeys' legs and bones were lying on a ledge of the rock. On making a further examination of the vicinity of the caves, I found what appeared to be signals. Fifty or sixty yards up the range there is a large rock, and a tree growing near its end. In the fork of this tree there is a prong like a skewer, on which is stuck a fresh piece of moss. A little further up on the same track two pieces of dead wood have been placed on a rock, and higher up still there is a wattle which has been cut in a peculiar style. The place where the caves are is known on the station as the Horseshoe Bend, and it was very seldom visited until about six months ago, when the man Kirby took up a selection on the flat below. What these caves were used for is not definitely known, but the police suspect that an illicit still has been carried on there by someone from the Reedy Creek diggings, about 10 miles from here, for a series of years.
THE TALLAROOK MYSTERY.
The Argus (Melbourne, Vic.)
Date: August 4, 1880
Page Number: 6
The re-appearance on Thursday of the mysterious individual who for a series of years has haunted the Tallarook Ranges, and the subsequent discovery of his caves, created quite an excitement in the neighbourhood. On Sunday upwards of 50 persons visited the gully and examined the caves. So identified had the stranger become with the place where his habitations have been found, that it was popularly known as "The Wild Man's Gully."

Mr. Mullavey, the boundary rider, who had a good look at the fellow some 12 months ago, describes him as a short thick set German, between 40 and 50 years of age, with long hair and long beard. When last seen he wore a sleeved waistcoat and a dirty blue cap. The mystery has, of course, been so far solved by the discovery of the caves, for the large quantity of sugar, peas, &c , found in them seems to show that the man must have been carrying on an illicit whisky still. No trace of him, however, has yet been found. The gully is situated in the Tallarook Ranges, about five miles south of the township. Until recently it was a most unfrequented place, but six months ago a man named Kerby took up a selection in the centre of it, and is now living there with his family. The ranges on each side are steep and rocky, and pretty thickly timbered. Ascending the range on the east side for about a quarter of a mile you reach a large sloping rock, with a small stream of water flowing from a fissure at its foot. By scrambling up through this fissure dropping into a hole at the end, and then ducking under a jagged lodge, the explorer finds himself in a rude passage of an irregular character. Striking off at a tangent is a lofty space about the width of a man, and about 20ft. in length. The walls are of solid granite and ascend to a height of between 20 and 30 feet. This cave had evidently been used as a storeroom, for here were found a barrel of brown sugar, a quantity of peas, large slabs of bark (used, apparently, for laying things on), a box of chaff, and a quantity of canvas or tarpaulin cloth, as also bones of pigs, fowls &c. There are several other passages in this cave, which have not yet been explored. Some thirty or forty yards further south there are three huge boulders of white granite. They rest upon or rise out of the face of the range, and are very conspicuous objects. They stand close to each other, almost touching, and enclose a small triangular area of pretty level ground. To a casual observer everything about the spot would appear perfectly natural, and any one might perch on the boulders, or walk about on the ground between them, without ever suspecting that underneath lay an artificial cave in the form of a small but substantially made and comfortably furnished room. Yet it is just underneath the sward here, and between these boulders, that the mysterious man spent a great deal of his time. The circumstances under which Mr. Mullavey discovered this place, by raising a slab and hearing a noise inside, have been already explained, and need not be repeated. A few further details about the cave or underground hut may, however, be interesting. Entrance is obtained by removing a granite slab, which lies in the angle formed by two of the boulders. You descend underneath about 4ft, by means of two steps like the rungs of a ladder, and pass to the right round the foot of one boulder. Pushing aside a slab of granite and a bark door, which fits into the passage very exactly, a comfortable little cabin is reached. The apartment measures about 9ft or 10ft, by about 6ft, and is between 7ft and 8ft high On the left hand stands a stretcher with bedding. On the right hand there ia a fire place and oven, and further on a recess, built of masonry and stacked with wood. The walls are substantially built of masonry, and lined on the inside with weatherboard. The roof is also formed of weatherboard, and slopes to one side. From the rafters iron hooks are hanging. The roof, as has been previously indicated, is covered over with two or three feet of soil and turf. Everything in the interior of the hut is black with smoke, the stones at the entrance are worn smooth, and altogether it seems to have been in use for many years. A great variety of articles were found inside, in- cluding clothing spoons, cans, a devotional book entitled 'The Tent and the Altar,' and a railway timetable, with the name "Henricke Nelson" written in pencil on one leaf Yesterday a small shot-bag containing powder and angular slugs, was found in the natural cave. No part of a whisky still has as yet been discovered, but the search is being continued.
The Wild Man in the Tallarook Mountains.
Kilmore Free Press (Kilmore, Vic.)
Date: August 5, 1880
Page Number: 2
...

Since the above was written fresh discoveries have been made which leave no doubt that an illicit still has been in operation, so that in some of the neighboring townships, he, the wild man, is not without some confederates. The country which has been the centre of attraction for the past week is replete with caves, affording full scope for carrying on anything of such like characters.
The Maitland Mercury & Hunter River General Advertiser (NSW)
Date: August 21, 1880
Page Number: 4
Heinrich Neilson, known as the wild-man of Tallarook, has been sentenced to 6 months by the Victorian Bench.
Kilmore Free Press (Kilmore, Vic.)
Date: September 9, 1880
Page Number: 2
The caves in the Tallarook ranges where the "wild man" had his abode, are still a source of attraction and is likely to continue so during the spring and summer months, a number of equestrians and others visited them on Sunday last.
Kilmore Free Press (Kilmore, Vic.)
Date: September 9, 1880
Page Number: 2
Now Tallarook must have its sensation. After the "wild man" story was almost forgotten there is your correspondent writing about a mad dog. The latter animal would certainly be an object much more to be dreaded than the former.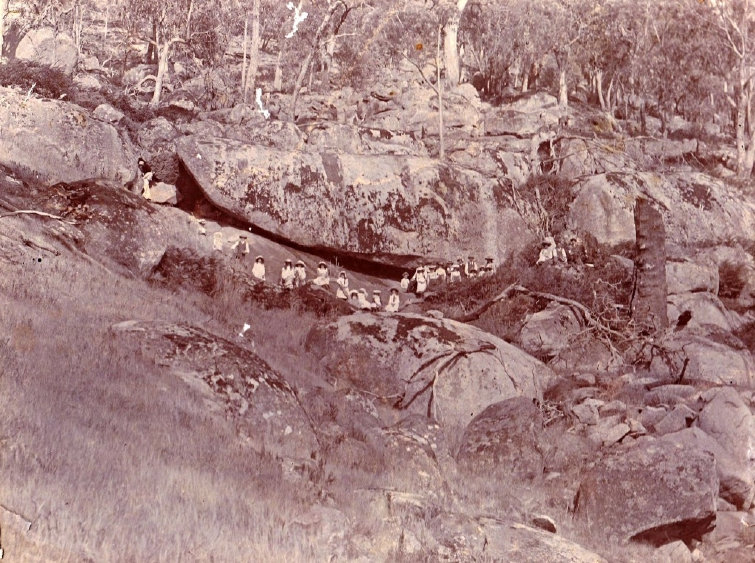 The original photograph (above) is in our Society's collection and on the back is written: "Wild Man's Cave, Sunday School Picnic, 1906." It shows a Sunday School Picnic group of 32 adults and children at the entrance of the "Wildman of Tallarook"'s cave hideout.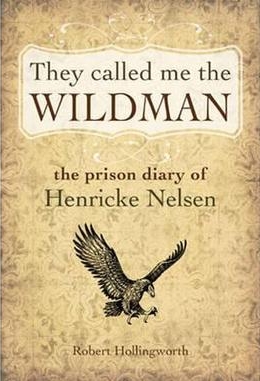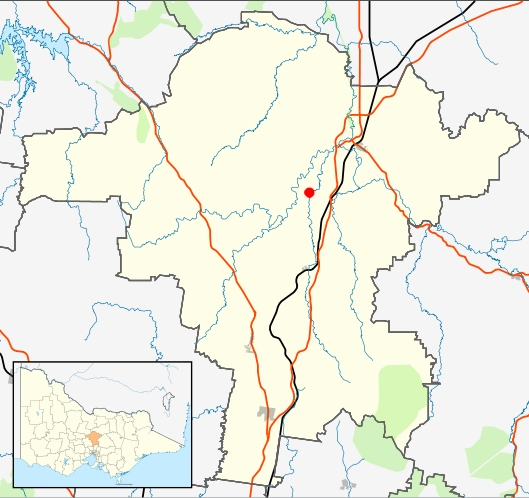 Tallarook
Henricke Nelsen came to Australia in 1861 and was not long in the colony before he began to live a secret life in Victoria's Tallarook ranges. There he built a secret underground dwelling and this mountain hideaway became his home for more than a decade. If he had chosen to, he could have been employed on any of the stations, or at the railway, tannery, paper or flour mills, he could have lived in Tallarook and gained work there – the record shows that he was a capable man. But instead he chose a secret, solitary life unnoticed by anyone on the plains below.

In 1880 his underground abode was discovered and Nelsen was arrested. Upon investigation, the authorities found he possessed 'every item necessary for a well-kept home' including one or two books in English, a torn Bible, and, nearby in a deep cave a well-stocked larder. Nelsen denies living there, but the evidence found on site was overwhelming and included a dated train timetable with his name on it. Nelsen was charged with vagrancy and sentenced to six months' hard labour.
Urbanite goes bush in visual and literal sense
Megan Backhouse
May 29, 2008

For an award-winning artist, a Kelly-country bushman's story portrays perceived events.
YOU could hardly dream up such a tale. A Swedish-born immigrant living underground in Victoria's Tallarook Ranges in a well-tended cave with a well-stocked larder, books and a dated train timetable with his name on it. But such a life really did unfold in the late 1800s just when celebrated colonial artist Louis Buvelot was working on landscapes of the same area and Ned Kelly was famously stoushing with police.
By the end of the next century, how everything had changed. Henricke Nelsen, as the man was named, was just a vague, tantalising mystery whose "wild-man" tag and outsider antics were occasionally dropped into conversations by the people of Tallarook. It was about this time that Robert Hollingworth found himself having Sunday lunch with his friends, writers Peter Timms and Robert Dessaix, at their then Tallarook weekender, only to end up buying land over the road.
Pretty quickly Hollingworth found himself more and more intrigued by Nelsen, a man who kept to himself, roaming this patch of hills 100 kilometres north of Melbourne for more than 10 years, only to be hunted down, arrested, charged with vagrancy and sentenced to six months' hard labour.
Hollingworth sought out newspaper articles of the day that described the interior of his abode, listed his possessions and discussed his appearance and character. He tracked down all sorts of other information, like the names of Nelsen's fellow passengers on the ship on which he came to Australia and, also, his fellow prisoners in jail.
Being a writer and painter, Hollingworth then came up with a fictional version of Nelsen's life in the form of a prison diary as well as a series of paintings of the Tallarook landscape "that attempt to reinvigorate something of Nelsen's sensibility". One of Hollingworth's paintings took out the $25,000 Mount Buller Art Prize at Easter and his recently published book, They called me the Wildman, has garnered a string of reviews.
As Hollingworth imagines it, Nelsen was captivated by the natural sciences. He had read Charles Darwin and spent long hours in museums taking notes on plants and people like Carl Linnaeus, the Swedish naturalist whose system for naming, ranking, and classifying organisms was used then, and is still used.
Hollingworth readily admits there is rather a lot of him in his version of Nelsen. Just as Nelsen spends much time just being in nature and can while away "a good hour" watching birds, insects and butterflies "floating in the air like flakes of coloured ash tossed in the warm currents", Hollingworth says he neither paints nor writes when at Tallarook. "Someone actually asked me once whether I do a lot of bush walking and I don't. I prefer to do a lot of bush sitting," he says. "If you just sit and wait in the landscape, things come to you.
"I don't have a studio there; I am never inside, it's nice to look out through the glass, I suppose, but I much prefer to be in the environment really. I keep detailed notes on the flora and fauna. I know all the fungi, the frogs, the insects and the grasses. I am a bit of a list-maker as Henry initially was."
When Hollingworth wants to get down to writing and painting it's in his Brunswick studio. Having given up teaching at RMIT five years ago, he is in there nine-to-five most days. While the book was borne from his extensive research of life in colonial Australia and his own experience of the Tallarook landscape, the paintings (shown recently at the Geelong Gallery, and last year at the Maroondah Art Gallery) stem purely from being at Tallarook. He rarely does studies and they are all about the experience of being engulfed in fire, or lying below a night sky or in a field of wildflowers.
"It's all integrated in the way that Aboriginal people tend to look at the landscape, and the way I think Nelsen looked at it," Hollingworth says. "The experience of being there is more crucial than a photographic representation of it. My art has always been concentrating on the notion of trying to paint the world around us without painting the fact of it. It's trying not to objectify and is more about the sensation of it."
Hollingworth, one of six children, was born in Lorne and, except for a couple of years spent on a Gippsland dairy farm, he grew up close to the beach. He was interested in art and writing as a child and he talks about how he wrote poetry and made charcoal sketches for a magazine he and his brother were wanting to produce when he was 10. His memoir of growing up in rural Victoria, Nature Boy, was published four years ago but because, he says, we live in such an "ageist community" with the gallery scene focused on youth, he will only give his age as being "between 50 and death".
"Why we judge people by the revolutions of the planets I will never know."

28.02.2016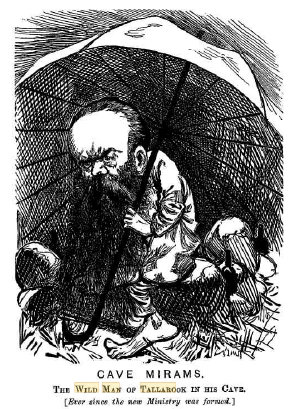 Melbourne Punch (Vic)
Date: August 12, 1880
Page Number: 1