Contact

Home
Suburban Monkey Madness
Monkey madness descended upon the Top End on Friday after a bus driver and passenger reported seeing a monkey dash across a road in the northern suburbs.
Following the report, the Northern Territory environment department warned people to stay away from the animal as it could turn aggressive.
On hearing the news VICKI KERRIGAN immediately went into MONKEY WATCH mode, alerting listeners to the situation and seeking the latest information. Graham Phelps, Executive Director of Parks and Wildlife told Vicki "We've no idea where this monkey has come from, they are a prohibited entrant in the Northern Territory - any monkey here would have a permit, so we'd know where it is and who it belongs to."
Asked by Vicki for a description, Graham Phelps said "a small monkey, with a white face."
Shortly after the sighting Parks and Wildlife staff door knocked the area hoping someone could help them track down the origins of the monkey.

DISEASE CONCERN

Parks and Wildlife also warned that there is a possibility the monkey may have been brought in to the Territory from Asia - Graham Phelps said "it could have come from a boat , maybe a pleasure craft or commercial cruise, it's not impossible - they can carry with them diseases that we don't find in Australia, one of particular concern is rabies."
In response to the sighting the Australian Quarantine Inspection Service have declared a quarantine order on the monkey, meaning that if captured it would be isolated immediately.

NO FURTHER SIGHTINGS

After a weekend of a hotline operating, Graham Phelps was asked if there were any sightings reported, "no more sightings" he told Vicki, "I'm not sure if it's a mis-identification, I'm becoming a bit suspicious after a few days without sightings." Asked if he was surprised he said "I am a bit, we took it quite seriously, the witnesses were credible, we would have thought others might have seen it - all we can do now is wait for a decent sighting and go out and catch it if we can."

The search continues.
Suburban Monkey Madness
By Mick Murdoch
105.7 ABC Darwin (N.T.)
Date: February 9, 2010
Source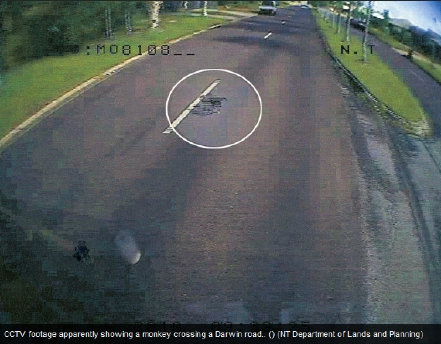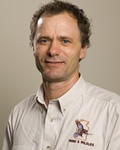 Graham Phelps

Executive Director of Parks and Wildlife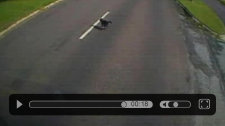 Above: Security camera vision captures a brief image of a monkey thought to be running wild through the suburbs of Darwin.

Available Formats
• Windows Media (Broadband)
• Windows Media (Dial-up)
• Real Media (Broadband)
• Real Media (Dial-up)

Vicki Kerrigan

ABC Darwin
"That was a monkey, wasn't it?" the bus driver can be heard saying in the background.

"It bloody was."
A monkey has been sighted roaming the streets of Darwin's northern suburbs.
The Northern Territory environment department said the monkey was spotted earlier today.
"A bus driver and other witnesses spotted the monkey at 9.45am this morning in front of a bus that was travelling on Henbury Avenue near the Lyons Estate," the department said in a media release.
They have warned people to stay clear of the animal.
"Monkeys can be aggressive and bite," the department said.
"It's not known where the monkey has come from therefore as a public health and safety precaution we urge all members of the public to be cautious."
The department said monkeys are a restricted species in the Northern Territory and can only be kept with the relevant permits.
Parks and Wildlife director Graham Phelps says the monkey was probably brought to the Northern Territory illegally.
"Any monkey that's in the Northern Territory should legally have a permit and we'd know where it is and whose it is," he said.
"The only institution in the Territory that's got a permit to hold monkeys is Crocodylus Park and they've assured us that they've got all their monkeys at the moment so no, we don't know where this one's come from."
Monkey spotted roaming Darwin streets
By Jano Gibson
ABC News (Darwin, N.T.)
Date: February 5, 2010
Source
IS THIS the proof we have been looking for to confirm the Darwin monkey sighting?
This is the security camera footage from the bus two men were on when they said they saw a monkey.
The driver of the bus, Geoff Ryan, said he had no doubt it was a monkey, as did passenger Jock Baker. "I was right at the front and saw it. It was about the size of a cat... It was definitely a monkey," Mr Baker said.
Acting chief wildlife ranger Peter Phillips said it could not be confirmed from the image whether or not the animal was a monkey.
"It's hard to say at this stage, but I don't want to discount it," he said.
"If it is a monkey then it would have been held illegally and there are serious consequences for that."
Mr Phillips said door knocks had been conducted in the Tiwi area it was sighted, but so far no one else has seen the monkey.
"If we established it was real, we would endeavor to try to catch the monkey and would put as much resources as needed in to catching it," Mr Phillips said.
He said the greatest concern is protecting the local flora and fauna from diseases the monkey might carry.
Mr Phillips said the last monkey sighting in Darwin was about 15 years ago at Casuarina beach by a vet, but the animal was never found.
Monkey puzzle deepens as beast caught on CCTV
By Lauren Crawley
NT News (Darwin, N.T.)
Date: February 9, 2010
Source
REPORTS of an Indonesian monkey roaming the streets of Darwin are a mystery to authorities in Canberra.
In a Senate estimates hearing yesterday, Australian Greens Senator Christine Milne had been questioning biosecurity authorities about several recent incursions, such as Asian honeybees, and the deadly plant disease myrtle rust.
Senator Milne then turned to reports an Indonesian macaque had been spotted roaming the streets of Darwin's north.
"Can someone explain how we had one of the Indonesian macaques wandering the streets of Darwin ... and what are we doing about talking to the Indonesian authorities about the likely spread of those into northern Australia," she asked.
The Northern Territory's environment department issued a public warning in February when a bus driver and his passengers saw the creature scurry across the road.
Geoff Ryan said he saw the monkey run across Henbury Ave from the new suburb of Lyons and in to a house yard in Tiwi.
"The front legs were shorter and it had a really long curly tail," Mr Ryan said when questioned on how he determined it wasn't a cat or possum.
"Its tail was sticking straight up with a hook on the end like a walking stick," he said.
The department said the monkey could bite and posed a health risk, and there was speculation it had been brought into Australia illegally. It later released CCTV footage of the animal.
But Australian Quarantine and Inspection Service deputy secretary Rona Mellor said authorities never got to the bottom of the story.
"We saw a range of media (reports) about that but I don't have evidence that it actually occurred," she said.
Senator Milne said she intended trying to confirm the reports.
Senate questions NT monkey puzzle
NT News (Darwin, N.T.)
Date: May 26, 2010
Source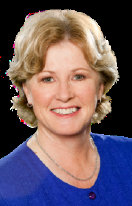 Christine Milne

Australian Senator and leader of the parliamentary caucus of the Australian Greens.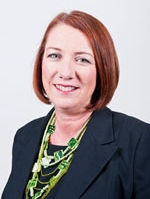 Ms Rona Mellor

Australian Quarantine and Inspection Service deputy secretary .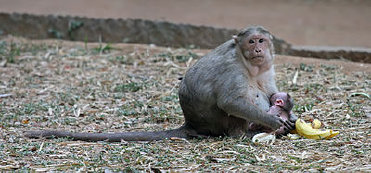 Crab-Eating Macaque

aka Long-tailed macaque, Indonesian macaque
Who was on the monkey bus in Darwin?
By Matt Cunningham
Courier Mail (Brisbane, Qld)
Date: February 10, 2010
Source
MORE evidence has emerged of the elusive monkey running around Darwin.
The NT News yesterday published a grainy photograph of the money as it ran across a road in Tiwi.
The footage was taken from a camera on a Darwin bus.
But Peter Miller from Leanyer yesterday contacted us and explained how to remove the "inter-field" movement from the television frames. The result was a much clearer picture of the mysterious creature.
The Department of Lands and Planning has also provided video footage of the monkey.
In the footage the creature flashes up for a brief moment before someone can be heard saying "That was a monkey, wasn't it?".
The driver of the bus, Geoff Ryan, said he had no doubt it was a monkey, as did passenger Jock Baker.
"I was right at the front and saw it. It was about the size of a cat,'' Mr Baker said. ''It was definitely a monkey."
How long before the monkey in Darwin tries to get into cars, like this one in Nadani, India / A Source: AP

Peter Miller

Former ABC cameraman
A MONKEY is on the loose in Darwin's northern suburbs.
The NT News has been contacted by several people this morning saying the monkey is on the loose in Tiwi.
Bus driver Geoff Ryan said he saw the animal near the Tracy Village Social and Sports club about 9.40am.
It is believed police have been informed about the runaway monkey and are making plans to catch it.

Have you seen the monkey? Let us know.
Monkey on the loose in Darwin
By Jano Gibson
NT News (Darwin, N.T.)
Date: February 5, 2010
Source

In the early hours of Christmas Day 1974, Tropical Cyclone Tracy struck Darwin with devastating high winds and torrential rainfall causing massive destruction of buildings and services and a death toll of 65.

As part of the reconstruction project "Tracy Village" was established on a large RAAF base on the outskirts of Darwin to provide housing and support amenities for the workers who came here from many parts of Australia to help rebuild Darwin. Tracy Village Social Club was founded in 1975 to provide a clubroom for those workers (predominantly young single men) and Darwin residents.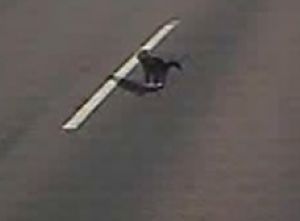 MYSTERY BEAST: CCTV footage of Darwin's elusive northern suburbs monkey, now the subject of a Senate inquiry instigated by Greens Senator Christine Milne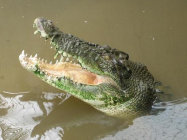 Crocodylus Park: Traveller Reviews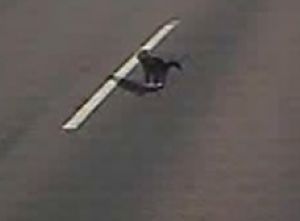 And this is where the story ends.
Multiple witnesses described as being "credible" and were confident in what they saw. Parks and Wildlife staff doorknocking to find further information. Environment Department issues public warning. The issue raised at a Senate estimates hearing on biosecurity.
All for a cat?
How could things get so far?
If you examine the subjective evidence by itself this case seems pretty impressive – there appears to have been some sort of monkey, possibly an Indonesian macaque, on the loose in Darwin's northern suburbs. Yet when you examine the objective evidence – the CCTV image – you really have to wonder what all the fuss was about.
Similar to the recent "Essex Lion" scare.
This, for me, is the true essence of cryptozoology. The subjective evidence can be so compelling in both its volume and conviction yet the objective evidence, when there actually is any supporting evidence, is often worse than terrible because it reveals that something else entirely is going on. Something that is both psychological and social in nature rather than some exotic beastie on the loose. It is these little-understood processes represent the real mystery, the true hidden aspect of cryptozoology.
Cryptozoology is fascinating because it has much to teach us about ourselves, about who we are as a species...