Contact
Home
Straits Tiger
ANIMAL "RESEMBLING TIGER"
Reported at Mornington

The Argus (Melbourne, Vic.)
Date: January 30, 1937
Page Number: 18
MORNINGTON, Friday.

Interest was aroused in Mornington to-day at the reported appearance of a strange animal. It was described by a local resident and his wife, who saw it on a ledge of rocks at Fossil Bench, as being much larger than an Alsatian dog, with a head resembling a cat, a long thin body, and a long striped tall. Those who saw it were Mr. and Mrs. W. Cox, of Beach grove, who were walking on the bench. They were convinced that the animal much resembled a tiger. It look no notice of them.


The Incident was at once reported to the police, who immediately went to investigate, but did not see any trace of the creature. Residents, Including a big game hunter who has had experience in the jungles of India, took part in the search.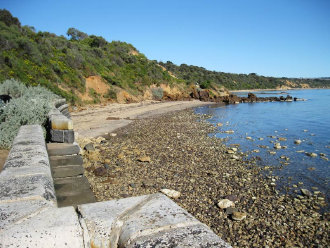 Fossil Beach has a rocky shoreline in front of a sea wall along most of the beach which protects the unstable cliffs.

This is a significant fossil site with evidence of Australia's sea life from 10 - 15 million years ago. The fossils were discovered in 1854 when government geologist, A.R.C. Selwyn, reported on a fine collection of fossils in the limestone cliffs. The site has since been depleted by enthusiastic fossil collectors and excursion groups.
MYSTERY ANIMAL.
Victorian Claim.

Townsville Daily Bulletin (Qld.)
Date: February 1, 1937
Page Number: 2
Once again Victoria's determination to possess a mystery animal unlike anything else on four legs in any part of the world, has been shattered. Mornington people were sure the honor would belong to them, for this week they have been alarmed, by a creature "with a large head like a cat, but much bigger; a long thin body, and a striped tail." The town turned out on Thursday to hunt down this fearsome creature, but it could not be located. The townspeople were not satisfied. They told the local policeman, and Senior Constable Nolan took up the search. To-day Nolan said he was convinced the strange creature was nothing more than a "decrepit coastal fox." He added that gaunt, hungry foxes roam close to the shore along the coast, and this was one of them.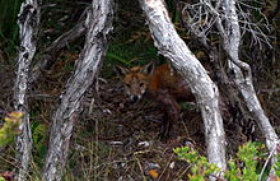 An exotic fox in Mornington Peninsula National Park with Mange.

Strange Animal

The Argus (Melbourne, Vic.)
Date: February 6, 1937
Page Number: 18
Sir,--I hope that people do not kill the little animal reported to have been seen at Mornington. I understand that these animals were plentiful at one time. We found one dead some years ago on the rocks below Mt. Martha House, killed by dogs, I think. It was about the size of a fox terrier, but longer in the body, and with a fur pelt like an opossum. Some years after I saw the some animal in the Launceston Museum. I was told it was almost extinct. It was called the Straits tiger.

Yours, &c.,
G. P. ROBERTSON.
Toorak, Feb. 4.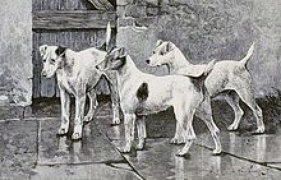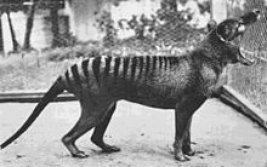 Fox Terriers
Thylacine
STRANGE ANIMAL AT MORNINGTON

The Argus (Melbourne, Vic.)
Date: December 3, 1937
Page Number: 11
Mr. F. Freeman of Mornington who saw a strange animal in Balcomb street near Government road and thought it to be a panther said that the animal was white with black markings. It stood about 2ft. in height was 3ft. in length and had a head like a cat.
Mr. Freeman was riding a bicycle when he noticed the animal lying near the side of the road. It reeled at him for a few seconds and then crept away. An unsuccessful search was made.
It was reported that a resident saw a fox in the same locality but Mr. Freeman is convinced that the animal he saw was not a fox. Some children are said to have seen a white animal with black markings near the same place to day.
"MYSTERY ANIMAL"
Said to Be Large Dog
Advocate (Burnie, Tas.)
Date: September 25, 1937
Page Number: 9
MELBOURNE, Thursday.
If the assumption of a Tasmanian visitor is
justified, Mornington residents need have no fear of the large mystery animal reported to be at large there. He says he saw a large dog, obviously a cross between an Alsatian and a greyhound, near the beach. It was feeding on scraps, and appeared docile. Its color was dirty light brown, with white on tho back of the head, and it weighed 50 or 60 lbs.