Contact

Home
International Sea Serpent Reports
The Sydney Gazette and New South Wales Advertiser (NSW)
Date: July 17, 1819
Page Number: 4
GLOUCESTER, AUGUST 20th, 1818.—"The following advices from the expedition fitted out to take the "Sea Serpent," were received on Friday last, from an authentic source:—
As I thought it would be interesting to you to hear from Rich, I will give you some particulars of his cruise. On Monday he sailed from hence with a large boat, and two whale boats well manned ; my brother was Captain of one of them, and Captain Rich of the other. Yesterday they met the Serpent of Squam, and chased him about seven hours, when they closed with him, and he passed directly under the bow of Captain Rich's boat—He immediately threw a harpoon into him about two feet ; he run the boat a considerable distance, but went with such velocity that he broke the part of the boat through which the rope passed, and drew the harpoon out immediately. He has no scales on him, nor no bunches on his back ; but his skin is smooth, and looks similar to an eel. In the attack Captain Rich had one of his hands wounded severely by the rope. These particulars I have just received in a letter from my brother."

SQUAM RIVER, THURSDAY, 12 O'CLOCK.—The following is Captain Rich's report of his proceedings:—
"After several unsuccessful attempts, we have at length fastened to this strange thing called the Serpent. We struck him fairly, but the harpoon soon drew and he has not been seen since ; and I fear the wound he has received will make him more cautious how he approaches these shores. Since my letter of yesterday, we have been constantly in pursuit of him, but a few hours since I thought we were sure of him ; for I hove the harpoon into him as fairly as ever a whale was struck ; he took from us about 20 fathoms of warp, before we could wind the boat, with as much swiftness as a whale could do. We had but a short ride, when we were all loose from him, to our sore mortification. Now I suppose you will like to know my opinion of him. Be assured it is what is called the Serpent.—In that opinion all my Cape Ann men agree. It is the same that was in Cape Ann harbour. Be assured that all has been done, and we shall still continue to do all in our power ; but he is a difficult thing to strike with a harpoon, as he can lay down as long as he pleases, and seldom shows himself, except in a calm."
Serpent of Squam 1818 Colonel T. H. Perkins relates in the
Boston Daily Advertiser
of November 25, 1848, the trick of Capt. Rich as follows (copied from the
Zoologist
of 1849, p. 2361).
"As it happened, a circumstance took place which did not do much credit to the actors in it, but which served to fortify the unbelief of our southern brethern. Believing that the possession of the sea-serpent would be a fortune to those who should have him in their power, many boats were fitted out from Cape Ann and other places in the neighbourhood of his haunts, armed with harpoons and other implements, and manned with persons used to the whale fishery, in hopes of getting near enough to him to fasten their harpoons in his side. Among others a Captain Rich (not Benjamin Rich), of Boston, took command of a party, which was fitted out at some expense, and went into the bay, where they cruised along shore two or three days without seeing the serpent. With a view, however, to keep the joke from themselves, they determined to throw or attempt to throw it upon others, though at theexpense of truth! They spread a report that they had caught the serpent, or what had been taken for one, and that he was to be seen at a place mentioned in the advertisement."
"Thousands were flocking to see this wonder, when it was found to be no other than a large horse macquerel, which (though a great natural curiosity, weighing sometimes 600 or 700 pounds) very much disappointed those, who had been induced to visit it. Those who had declared their disbelief of the existence of the Sea serpent amongst ourselves were delighted to find their opinions were confirmed, and gave themselves great credit for their judgment and discrimination. The report spread from Boston to New Orleans, that what had been thought by some persons to be a sea-serpent had proved to be a horse macquerel, and even those who had been believers now supposed that those who had reported that they had seen the serpent had either misrepresented or had been themselves deceived. As no report of the snake having been seen after the capture of the macquerel was made, during that year, Captain Rich had the laugh with him, until circumstances, which have transpired since, have borne rather against him. Thus much for the transactions of the past years."
Hoax: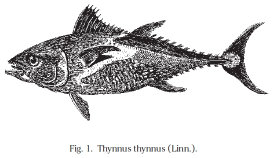 Atlantic Bluefin Tuna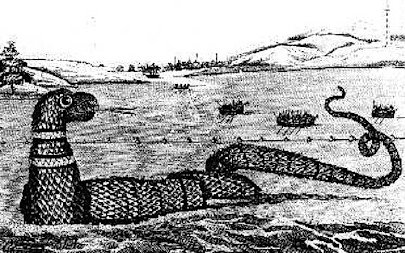 Debunking a Great New England Sea Serpent
by Elizabeth Fama