Contact

Home


THE WILD MAN OF THE WOODS.
Portland Guardian and Normanby General Advertiser (Vic.)
Date: November 12, 1856
Page Number: 2
Horgan, the man who attempted to shoot the Warringal constable under the circumstances described in Monday's Herald, still remains in the gaol, and has not been brought up for exanination at the Police Court. He has been visited by some of the detectives, and is quite an extraordinary character. Some two years ago he served a sentence of vagrancy, and as far as is yet known, there is no other charge except the late outrage against him.
POLICE COURT.
The Star (Ballarat, Vic.)
Date: December 30, 1856
Page Number: 3
Eugene Glover, a man of color, who only wanted a little more hair to make him pass for a veritable wild man of the woods, said he " didn't know what to say" to the charge of being drunk and disorderly, but "supposed he was drunk." He had been in gaol for some time, and was discharged upon the payment of 5s. for hire of dray that brought him to the lock-up.
Review.
The Courier (Hobart, Tas.)
Date: March 9, 1857
Page Number: 2
"William Buckley, the Wild White Man, and his Port Phillip Black Friends," by James Bonwick. George Nicholls, Collins-street West, Melbourne.

TIME has not arrested the meandering propensities of Mr. Bonwick's mind. The public lecturer, indifferent to the means by which he sought to attain popularity, whose views in many instances were singularly erroneous, for he decided upon first contact, and never took the trouble to test or reverse his opinions by subsequent observation, has not left off his old habit. In the work before us, which for the most part consists of quotations from Australian geographers, curiously interlarded with little more than a detached bundle of common places, the author has commenced in his usual system of self-sufficient detractation--a line of conduct which demands some exposure at our hands to prevent similar injustice being perpetrated when he publishes (vide Preface) his 'reliable accounts of the poor Tasmanians.'

The first step by which Mr. Bonwick seeks to establish his book in the confidence of his readers is to take weighty reasons of objection to the authenticity of the Life of Buckley, which our readers recollect was published some years ago in Hobart Town, by Lieut. Morgan, from the dictation of William Buckley himself.

The principal reasons adduced are as follows :-

"All those whom we have consulted, who knew Buckley both in Port Phillip and Hobart Town, repudiate the book. They all agree in saying that he was so dull and reserved that it was impossible to get any connected or reliable information from him."

Several authorities are then referred to in support of these views, and we are also told that the author himself, "not being divested of curiosity, often endeavoured (when in Hobart Town) to gain from some one of his acquaintances a little narrative of his savage life, but utterly failed in doing so."

With these hits and a random shot at the 'newspaper folks of this city, the author concluding he has completely settled the Tasmanian work, proceeds to take that book itself as an authority for the leading facts of his history (pages 8-11), succeeded by Mr. Wedge's report to the Government of Van Diemen's Land in 1835, and the official documents in reference to Buckley's pardon by Colonel Arthur.

Mr. Wedge's testimony is of some value, as afford ing direct evidence of the reliability of the work published by Mr. Morgan, and to show that Buckley was not the 'mindless lump of matter' which Mr. Fawkner, according to Mr. Bonwick, considered him to be. Mr. Wedge not only says that Buckley 'on every occasion evinced the greatest desire to be of use,' but that he gave him 'a general outline of the character of the different natives as they arrived;' in fact, his information was considered to be of the most reliable character.

The subsequent appointment of Mr. Buckley as a Protector to the Batman Expedition also serves to
contradict the views of Mr. Bonwick.

It is also exceedingly singular, no less as an illus- tration of the prevailing fashion of popular book-grinding, than as the power of 'conscientiousness' upon the mind of the author, that Mr. Bonwick himself, whenever it suits his speculative vein, quotes the work he condemns in illustration of his views.

Discarding, however, these considerations, which we have only mooted in justice to Mr. Morgan, we have simply to observe that the work before us is not of that serviceable short anchor class of literature so much required in Australia, and which we are inclined to recommend.

Drawing of Ashton's Circus in Clermont, 1873
Bathurst Free Press and Mining Journal (NSW)
Date: January 14, 1857
Page Number: 3
William Buckley was a giant - six foot six in stockinged feet. But his story is even bigger.

More on William Buckley:


CAPTURE OF A WILD MAN IN MISSOURI.

The Argus (Melbourne, Vic.)
Date: June 9, 1857
Page Number: 6
A St. Joseph's correspondent of the St. Louis Republican tells the following story:

"A wild man was caught last week and brought to town. He was surrounded in a sort of lair beneath a dense cluster of undergrowth, like the habitation of a wild beast, and filled with the bones and skins of cats, which seem to have constituted his principal article of food. For this strange diet he has a particular penchant, and eschewed almost every other. He hunted cats with an avidity prompted by an extreme voracity, and it was in the pursuit and slaughter of these animals that he was first discovered. Frequent attempts were made to capture him, but his agility and speed were such that he appeared to run upon the tops of the bushes, and the fences offered no impediment to his headlong course. At length a number surrounded and secured him. He attempted battle, but was overcome. When brought to the Court house, he presented the strangest appearance conceivable. His height was about five and a half feet, his hair long, reddish brown, and matted; his eyes large, grey, and restless; his finger nails as long as the claws of a tiger; his deportment crouching, half-timid, half-threatening; and his garments consisted of a thousand tatters of cloths, barks, catskins, &c, bound together by catguts. He said he was from the state of New York, and had been in the woods thirty-six years. While he was being examined, and was permitted to stand unbound, he made a sudden spring over the heads of those who surrounded him, and darted away with the speed of the reindeer. The crowd pursued him, but in vain. Over the hills he fairly flew, before both footmen and horsemen, until he was quite lost to them. Nothing has since been heard of him." He is certainly a strange being, and is literally a wild man. His age can hardly exceed forty, and yet he has lived so much away from the society of men that he has nearly forgotten his language, and has the most vague recollection of things. He remembered New York, but did not know where he was born, or the form of government under which he lived."


WILD MAN OF THE WOODS.
Portland Guardian and Normanby General Advertiser (Vic.)
Date: July 31, 1857
Page Number: 2
Yesterday a man was brought into town in custody of one of the Harrow Police, on a charge of vagrancy. The man had been living some time with the blacks in the Mallee Scrub. The poor fellow appears, we are told, deranged, and was at times so violent, that it was found necessary to handcuff him, and chain him to the dray it which he was brought in. He was brought up at the Police-office this morning, and committed to jail as a vagrant.


The Star (Ballarat, Vic.)
Date: April 6, 1858
Page Number: 2
A "wild man of the woods" is living near Palmyra, N. Y. His home is a cave burrowed in the earth.



THE DICTIONARY OF THE BIBLE
The Sydney Morning Herald (NSW)
Date: January 4, 1861
Page Number: 3
…
Elijah is, however, the promptest and sternest of his country's seers. He starts up with his sentence of fate in the face of his enemy, or, to use the expressive Scriptural phrase, he "stands before" him with the suddenness of motion to this day characteristic of the Bedouin from his native hills. Prophet of woe, and, still more emphatically of vengeance, he comes and goes like a spectre with superhuman powers. He runs with girt loins before the chariot of Ahab ; he goes in the strength of a single meal a weary journey into a waste, and he avoids the walled cities to find solace in the wilderness. He casts in his lot, with the fiercest elements of nature, and fire and tempest go with him to vindicate his awful auguries. His part in the sublime drama which confounded the priests of Baal is hardly, a subject for secular criticism; but we may note the fact, that his personal appearance was a striking auxiliary to his denunciatory mission. Gaunt, slender, and supple, clad lightly and roughly, with hair especially streaming about him in profusion, we can make out from a combination of scattered texts that such was the character of the apparition which stood, suddenly before kings on the wayside, or sent his messages of doom through their affrighted servants. His chief characteristic was evidently his extraordinary hair. "And Ahaziah said unto them, What manner of man was he which came to meet you, and told you these words? And they answered him, He was a hairy man (literally 'a lord of hair'), and girt with a girdle of leather about his loins. And he said, It is Elijah, the Tishbite." Mr. Grove has added his illustration of this wild characteristic, an ingenious hypothesis as to its effect upon the beholders. They got so to associate the hair of Elijah with his office, that the children of Bethel taunted his successor with his baldness or rather with the shortness of his back hair, as a sign that he was not a genuine prophet.
…



Yowie / Bigfoot

Contents
Reports of the Wild/Hairy Man part 4
1856 to 1862
Journal of an Exploring Expedition to the Eastward of Northam.
The Inquirer and Commercial News (Perth, WA)
Date: September 11, 1861
Page Number: 2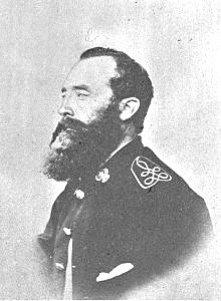 Hairy man:


Western Australia
The party consisted of—
Messrs. C. E. Dempster—2 horses.
A. Dempster—2 horses.
Their native servant Correll—2 horses.
B. Clarkson—2 horses.
C. Harper—2 horses.

...
July 19.—This morning our friendly guide, who joined us at Killaburing, who is known as a great traveller by the name of Ginguitch, gave us the slip while collecting our horses. This man gave us to understand that a long time ago his friend Boodgin, who is also a rambler, related to him that three white men, with horses, had come to some large body of salt water, a long way to the eastward, and after traveling some time along the shore, they turned back again, when they were killed by the Jimbars, which they describe, or perished from want of water. He believes their bones still remain there.

...
July 31.— At noon we came upon a party of natives... The men were asked by Correll if they had ever heard of white men being in the far east. They said they had; that many years ago three white men had perished at some large inland sea or lake, they supposed from want of water. This confirmed what the former native had said relative to these three men, and they also named the great traveller Boodgin, as having more knowledge on this subject than themselves. This man Boodgin had done something or other for which his friends were going to spear him ; he was therefore absent, which was mucn to be regretted.

...
August 1.— This morning on further conversation, these men gave us an account of some strange animal they call Jungra and Jimbra, male and female, which they describe as a very large strong animal of the monkey tribe, very fierce, and will attack them when single, kill them, and eat them. They were asked if the Jimbra or Jungra in any way descirbled Ginka or the devil. They replied that the devil was never seen, but that the others were both seen and felt by some of them.

...
18.03.2016
Yowieocalypse wishes to advise Aboriginal and Torres Strait Islander visitors that the article below contains names of deceased people: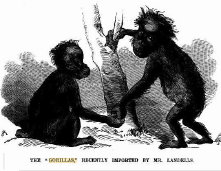 THE PREDECESSOR OF THE MAORI.
Empire (Sydney, NSW)
Date: 4 September, 1861
Page Number: 3
THE real aborigine of those islands is not the Maori, but a Nigretto, more nearly allied to the African than the Asiatic in colour, feature, and hair; much inferior to the Maori in stature and intellect, and occupying a far lower elation in the scale of civilisation, and most probably identical with the native of Australia and Tasmania.
From Maori traditions it appears highly probable that, when their canoes arrived from Hawaiki, this ancient race was thinly scattered over the entire group of the New Zealand isles; that being inferior to the new comers, they were subdued, and either reduced to slavery or destroyed ; and from the admixture of race seen in the Maori, they may still be traced in the woolly hair, short stature, and chocolate colour, which is not unfrequently met with, especially amongst the Ngatikehui, and to which the derisive name of Pokerekahu, "black kumara" is applied.
Some portion of this aboriginal race may have long survived in the Northern Island, and maintained its independence amongst the mountain ranges, where they are still remembered as the maero, or wild man of the mountain ; they are supposed even yet to survive on the Tararua range, but their existence is imaginary. It is in the Middle lsland that the remnants of this race are to be looked for, amidst the natural fastnesses of the Maori Alps, where they were known as the Ngatimamoe. In former years, such was the dread which this degraded race had of the fierce Maori, that immediately they beheld them approach they fled; they were, however, occassionally captured and made slaves, for which purpose they were much prized...
23-01-2017
Hairy man:


NEW ZEALAND [I]t was commonly, but erroneously, believed that the Moriori were pre-Maori settlers of New Zealand, linguistically and genetically different from the Maori, and possibly Melanesian. By the late 20th century the hypothesis that the Moriori were different from the Maori had fallen out of favour amongst archeologists, who believed that the Moriori were Maori who settled on the Chatham Islands in the 16th century. The earlier hypothesis was discredited in the 1960s and 1970s.
NOTES OF A JOURNEY TO THE HEAD WATERS OF THE AORERE AND TAKAKA RIVERS, OCTOBER, 1856.
Nelson Examiner and New Zealand Chronicle (NZ)
Date: 22 Aug, 1857
Wednesday, October 8. — Started from Pakawau, accompanied by Mr. John Clark, with the intention of finding a plain which was described by the natives as lying between the head waters of the Aotere and Takaka rivers. It was stated by the natives as being a large grassy plain running towards the Kawatiri or Buller river. None of them had been to it ; they had an idea that it existed from the reports of the Ngatihapa and Ngatitumatakokiri tribes, who formerly inhabited Massacre Bay. At noon, reached the Aorere pah, and after getting strict injunctions from the Maories to look out for the Maero or, Wild Man of the Woods, a gentleman described as having very long arms...



24-01-2017
MACDONALD RIVER.
Northern Times (Newcastle, NSW)
Date: 23 May, 1857
Page Number: 3
There is a rich story at present in circulation here, to the effect that four parties, residents on the river, having recently met for the purpose of manual multiplication, whilst engaged upon its mysteries were suddenly brought to a stand by the appearance of something very terrible and mystic, which had the instantaneous effect of affecting the four professors simultaneously, and so sensibly were they all impressed by the signal warning that, rushing from the scene of practical illustration, profit, loss, and fractions were alike discarded and forgotten ; and eagerly enquiring for, and obtaining, a Book of Common Prayer, they each there and then registered a vow to eschew such exciting exercises in future, and to resume the neglected characters of home-keeping and loving fathers and husbands! There are some wags who say that the apparition was no other than a drunken fellow who had fallen amongst the charcoal, and consequently awoke disordered, with his face blackened ; others imagine that it possibly might have been a stray blackfellow in search of a night's lodging ; some guess it was our old friend the Yahoo, who be it remembered, first appeared in this part of the country ; others think it was the "Wandering Jew," while many speculate upon the ghost of the late Mr. Crockford, of West End notoriety ; nearly every one supposes it must have had a being, but our own and many others' opinion is, from what we hear, that it was found necessary, as in the instance of the British Bank, to wind up, and that the occasion was taken to veil the real intention in mystery—a supposition which we are the more inclined to cling to from the fact of a sly and meaningful smile invariably playing upon the features of the Dramatis Personæ, whenever the reality of an apparition is talked of.

May 16,1857. 11.02.2017
ORIGINAL POETRY.
Bathurst Free Press and Mining Journal (NSW)
Date: 30 November, 1861
Page Number: 2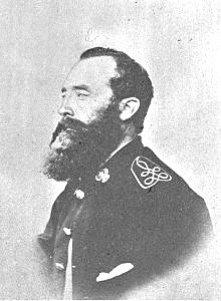 THE HUNTERS OF THE WEST.

(Tune—*Everleen's Bower.)

We're the Hunters of the West,
And we always fare the best,
For our cattle thrive upon the sweetest grasses O.
Then we score another point,
Knocking SYDNEY out of joint,
For it's we can rear the brightest lads and lasses O.
We sport the fleetest "stud"
Out of pure Australian blood,
While mountain-range and gully form a park—park—park.
And when inclined to race
We put "Home-bush" out o' face
By rushing over chasms for a lark—lark—lark.
We chase the dingo too,
And the old-man kangaroo,
And now and then the Ya-hos, when too thick—thick—thick.
So, if Foreigners should come
With their Fife and Kettle-drum,
When charged by Western troops will "cut their stick"—stick—stick.
We can show the strongest bull,
And our sheep the finest wool,
While our diggings, with the miners, are the best—best—best.
And they mean to delve their way
Into Parliament some day,
Just to prove that WILLOW PATTERNS are a pest—pest—pest.
We can travel up and down
Twixt the Bush and Sydney town,
So, for Council roads we do not mean to pray—pray—pray.
If our Railways only flam
Let them keep their dirty Tram,
And we'll do our usual journeys by the dray—dray—dray.

BEN. BOW-BELL.
November 22, 1861.
* Better known as "The One-Horse Shay."
11.02.2017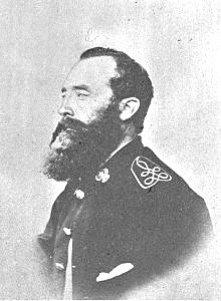 The YO-YO.
A LEGEND OF THE LACHLAN DISTRICT.
Sydney Mail (NSW)
Date: 21 December, 1861
Page Number: 2
By the Author of "My Holiday"
CHAPTER IV.—THE MEN'S HUT.

... Bob was up like a lamplighter, and was on his horse in a crack, when the monster raised himself up with a savage grin that showed a range of sharp white teeth, and cried——"
"Blessed Virgin! what's that?" said Mickey, falling on his knees and crossing himself rapidly.
At the same instant a gush of wind of fearful violence shook the hut, and scattered myriads of sparks from the fire, and as its violence died away, a faint, melancholy wail was heard on the ridge above, which sounded in the distance like the words, "Ya-hoo ! ya-hoo !"
"The devil himself has taken the words out of my mouth," said the storyteller ; but the incident had had its effect, and there were none willing to continue the conversation. In a few minutes afterwards all in the hut was quiet.
...
11.02.2017