Contact
Home
Queensland's Miscellaneous Creatures
The Queenslander (Brisbane, Qld.)
Date: June 15, 1912
Page Number: 9
While Mr. Thos. Coleman was after cattle in his back paddock, near Ottaba, Toogoolawah, his dogs set out after a strange animal, which upon being killed, was found to be a full-grown fox.
1912
Chronicle and North Coast Advertiser (Qld.)
Date: August 8, 1913
Page Number: 5
It has been known for some time past (says the "Queensland Times") that there is a strange animal prowling about in the Cabbage Tree Ranges. Several of the people who have occasionally to go out in that vicinity state that they have frequently noticed the tracks of some large animal coming from the direction of the scrub to water; others say that they have at eventide heard loud roars, similar to those of lions. The latest report is that the strange animal has been seen and recognised as a lion. We are informed that so persistently have reports been circulated of late as to some strange animal being seen in the vicinity of the Cabbabe Tree Mountain that a large and well equipped party is bieing organised for the purpose of endeavouring to ascertain the identity of the "stranger."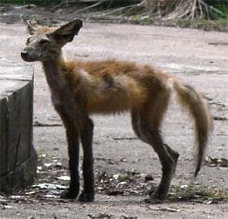 Mangy Fox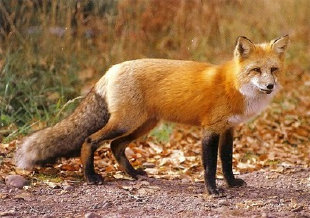 Healthy Fox
1913
Cabbage Tree Ranges
now known as
D'Aguilar Ranges
A Strange Marsupial.

The Queenslander (Brisbane, Qld.)
Date: June 3, 1899
Page Number: 1028 S
Sir.--Recently, while travelling through the bush in the vicinity of Adavale, I found a strange animal—what I would term a miniature pig. It was about the size of a rabbit, with very fine whitish-coloured hair, and the exact shape of a fully developed pig. It had four young ones, each attached to a teat the same as young marsupials are ; they were thrown across the mother's back, those on the right teats hanging on the left ride, and vice vena. It was very tame, easily caught, and not at all shy when handled. It had a squeaky voice, similar to that of a rabbit. Circumstances would not permit my bringing it to town, or I would have done so. Since than I have been told that an animal similar to it was caught by a drover some years ago near Winton. My Informant says it was easily domesticated, and would eat breadcrumbs freely, but seemed more partial to odd tea leaves. He kept it in confinement for some weeks, when it died. I am rather curious about this strange animal. Would you kindly inform me through your columns if it is known to naturalists, and, if so, its name, habits, &c.

I am, sir, &c.,
AGRICOLA.
Avadale, 17th April.

("Agricola's" letter has been shown to the Brisbane Museum authorities, but they are unable to identify the animal from the description given. Possibly it is a bilby, a sketch of which was published a few months ago. (Mr. C. J. Pound has a specimen in spirit. Perhaps some of our readers can throw some light on the subject. There are several varieties of the bilby, or, as it is more commonly called, the rabbit rat—Ed. "Q.")
1899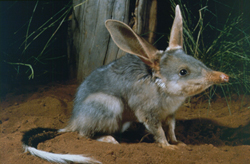 Bilby

WHAT IS IT?
A TERRIFYING ANIMAL.

Chronicle and North Coast Advertiser (Qld.)
Date: August 8, 1913
Page Number: 5
A strange story has been told by a resident of the Beaudesert district, to the effect that while riding home on Sunday a strange animal — dark or brown in colour with glaring eyes, a spring at his horse's head and then followed him for about 20 chains and snapped the equine's hindquarters. Afterwards it became lost to sight. The man arrived home in a state of collapse, and the horse was terrified. It has been stated that another resident of the locality recently saw a wild bear or tiger lying down asleep. The police investigated, but no trace of the animal was discovered. The police do not consider it necessary to pursue enquiries further, although a request has been made for half a dozen rifles to be sent to the locality.
1908
A bear or tiger?

No. The extra rifles are for the wild dog problem.
"Mysterious Aquatic Monster."

Cairns Post (Qld.)
Date: January 9, 1934
Page Number: 6
A mysterious monster, similar to that seen in Loch Ness, Scotland, has made its appearance in Lake Barrine. Rising out of the water on Christmas morning, to a height of approximately thirty feet, it spurted boiling water (brought from the bottomless depths of the lake) on to the dance hall on the foreshore. Its head resembled that of a turkey, with a snout like a sucking pig; barnacles like bottle-tops clung to its neck. It was the color of plum pudding, and emitted a pungent odour. It sent terror into the hearts of the party who were rudely awakened from a fitful sleep on the grassy bank. Four out of the party of five swear they saw the brute at various intervals— the fifth member was away at Yungaburra, getting more beer. —Our Gordonvale correspondent.
1934


Loch Ness Monster