Contact

Home
Yowies, ghosts and UFOS at Maitland Gaol for Paracon 2014
Yowie / Bigfoot
16-05-2014
Yowies, ghosts and UFOS at Maitland Gaol for Paracon 2014
By: Belinda-Jane Davis
Newcastle Herald (NSW)
Date: May 9, 2014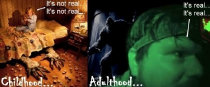 The History of Yowie Research
Rex Gilroy, who has devoted 57 years to investigating the yowie, will address this weekend's Paracon Australia conference at Maitland Gaol, along with speakers on other disputed topics such as ghosts and UFOs.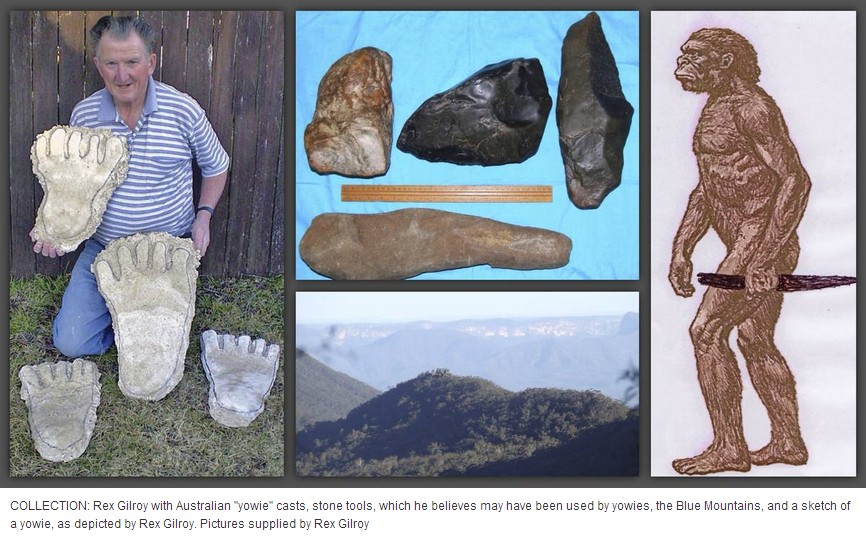 COULD legendary creatures such as yowies and black panthers be lurking deep in Hunter Valley bushland?
Scientists insist there is no proven evidence for either while some ''cryptozoology'' experts will try to convince you otherwise.
Reported sightings of such mythical beasts over the past 200 years have kept the debate alive that they might be out there.
The sceptical will say the sightings have always been a case of mistaken identity, and mock or shake their heads at anyone who suggests otherwise.
Among the believers is Rex Gilroy, who has devoted 57 years to investigating the yowie.
He will address this weekend's Paracon Australia conference at Maitland Gaol, along with speakers on other disputed topics such as ghosts and UFOs.
Mr Gilroy reckons he has solved the mystery surrounding the yowie – that it is a homo erectus species flourishing in the bush, wearing animal hides, lighting fires through friction, making primitive tools and communicating in its own language.
He has recovered stone ''tools'' he thinks that the yowie made, and found a skull in 2005 he suggests is 2million years old.
Mr Gilroy claimed the yowie had been seen throughout the Hunter, particularly around Maitland and the Barrington Tops.
''The yowie lives in the most remote sections of the eastern mountain range, and they have a very long history in the Blue Mountains,'' he said.
Mr Gilroy said he had a five-minute encounter with a yowie in 1970 when he was walking in the Blue Mountains between the Jamison and Burragorang valleys.
''It was moving slowly with a digging stick, it kept on going, I'm not sure if it saw me, but if it did it kept minding his own business,'' he said.
''Some journalists over the years have made fun of me about this, but I know what I saw.''
Mr Gilroy has done extensive research about how he believes the yowie came to Australia, its genetic make up, and how the species has evolved.
He says the yowie is very similar to the American Big Foot.
Author and researcher Paul Cropper, who has spent 39 years looking into the yowie, has spoken to almost 300 people who claim to have seen the yowie.
He receives one or two reports of possible sightings every week and says that while it is highly unlikely they exist, anything is possible.
Professor Michael Archer from the University of NSW has spent much of his career researching Australia's megafauna. While pointing out that new species are still being discovered, he says a fossil of a yowie or black panther has never been discovered.
The world is a very big place, so could there be creatures lurking in the bush waiting to be discovered?
Not according to Professor Colin Groves from the Australian National University, who is convinced that each reported sighting – even in colonial days – was a case of mistaken identity.
His research into crytozoology, the study of hidden animals, has failed to uncover any evidence that the creatures exist.
''Very often people see something, misidentify it, and put it down to being some other creature,'' Professor Groves said.
''People see a feral black cat and get a wrong impression of its size and think it's a black panther.
''The myth of the yowie has grown from the first white person who saw something and were mistaken about what they were seeing.
''Any odd disturbance in the bush is usually put down to the yowie.''
The earliest reported sighting of the yowie is believed to have occurred in 1795.
Questions about the existence of the creature were raised in the Australian Town and Country Journal in the 1800s after Aboriginal people warned British settlers to be aware of them.
Descriptions of the creature have continued along the same lines since then – a hairy, ape-like creature that is very tall.
It is believed to be between two and 3 metres tall and some say they have backward feet, which confuse trackers.
Royal Australian Navy surgeon Captain Peter Cunningham who farmed near Mount Sugarloaf in the 1820s is arguably the first to have written about the yowie.
He never saw it, but he did hear cries during the night in the summer months that echoed through the mountains, and believed it was the yowie.
He wrote in his memoir Two Years in New South Wales, which was published in 1827, that the Awabakal people believed in a creature called ''puttikan'', which ate humans and had tough skin that spears could not penetrate.
The creature was apparently afraid of fire and roamed the bush at night, he wrote, although not all early settlers believed in the yowie legend.
Aborigines told Alexander Harris about the yowies that were north of Newcastle in the 1830s but he thought it was a hoax, writing in his memoir An Emigrant Mechanic, Settlers and Convicts or Recollections of Sixteen Years Labour in the Australian Backwoods that the Aboriginal people were trying to frighten them.
In 1986 at Bian Bian Plains in the Barrington Tops, Burris Ormsby, an American academic, and an Australian tour guide, found large human-shaped footprints in a remote section of the bush. Each footprint was reportedly a size 12 or 13 and much wider than a human foot.
Mick Stubbs believes he saw a yowie 60 kilometres north-west of Gloucester during a pig hunting expedition in 1979.
He reported that a ''big hairy man'' moved away from him, and then he heard its footsteps circle behind him. That night he heard frightening screams from the bush.
Another sighting is reported to have taken place near Gloucester in 1993 – long before the murderer Malcolm Naden was a fugitive in those parts.
The yowie has played a part in Aboriginal mythology for thousands of years, and has many names, depending on which tribe is talking about it.
Wonnarua Nation Aboriginal Corporation's Laurie Perry said the story of yowies, also known among Aboriginal people as the medicine men, was told to the children.
He remembers hearing the story as a child and said children would not stray away from camp for fear they might encounter the creature.
''We called them medicine men and they were big and hairy and their feet were backwards,'' Mr Perry said.
''We were told they were dangerous and we were scared of them.
''We were told they roamed the land at night; it was a way of teaching the children to stay at the camp.''
Nowadays, the Newcastle indigenous representative rugby league team is nicknamed the Yowies.
Mr Cropper has written two books about the yowie and seen and photographed its footprints in the bush.
He saw 30 footprints in an isolated area near Kempsey in 1995, a fortnight after two boys said they saw a yowie standing upright in the bush.
Mr Cropper said the footprints were two-centimetres deep in the ground, and a wildlife expert he took with him said the footprints had to have been made by an animal that weighed half a tonne.
''I don't think I was being hoaxed – it was a remote area of bushland, and when I walked on the ground you couldn't even see my footprint,'' he said.
The scepticism Mr Cropper holds about the yowie is because no one has hit one on a country road or while driving through the bush.
''Thirty years later I'm still sceptical but I'm impressed by the consistency of the stories over that 200-year period, there are a lot of eyewitness accounts and that is impressive,'' he said.
''In saying that, it's surprising to me that no one has run a yowie over in a car given if what we are dealing with is so large, and given the amount of four-wheel-drives that are driving across the country in the bush.
Mr Cropper is doubtful the mystery of the yowie will ever be solved. Nevertheless, he keeps an open mind.
Professor Archer's research into Australia's megafauna has looked at what might have caused animals including kangaroos, koalas, and lizards to become considerably larger.
His research has concluded that animals grew larger through natural selection after a severe weather change that made food and water resources less nutritious.
During that time grey and red kangaroos were 30 per cent bigger and koalas were 20 per cent larger.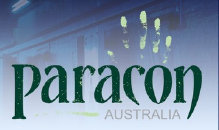 Rex Gilroy is an Australian who has written articles and self-published books on cryptids and unexplained or speculative phenomena. His work has focused on yowie reports, 'out of place' animals, UFOs, and propositions regarding a 'lost' Australian civilization.

Yowieocalypse sees the Yowie as a human phenomenon - a world where storytelling, honest misidentifications, and bush theatrics blur the lines between fact and fiction...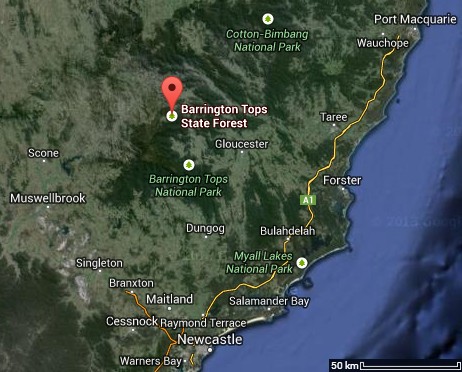 Rex Gilroy: "I know what I saw"
Rex Gilroy's Evolving Yowie Sighting
Yowieocalypse agrees that the Yowie is very similar to the American Bigfoot
ie - the result of the same human processes within a very similar culture...

Paul Cropper is the co-author of two books on Australian cryptozoology and is a key promoter of the Yowie within the media. See: Bexhill Yowie


Professor Michael (Mike) Archer AM, FAA, FRSN (born 1945, Sydney, New South Wales) is an Australian paleontologist specialising in Australian vertebrates.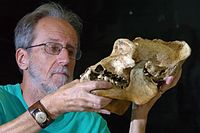 Colin Peter Groves is Professor of Biological Anthropology at the Australian National University in Canberra, Australia.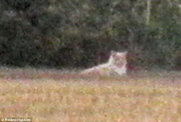 For a wrong impression of size
see the Essex Lion.
"The earliest reported sighting of the yowie is believed to have occurred in 1795."
What was that first sighting? Some settlers were out on a hunting trip and claimed to have seen a 'man- sized hairy beast' dashing away from them through the scrub.
The claim of 1795 being the earliest Yowie sighting was first appeared in an article from 1976 and is most likely fiction. It was not substantiated then nor is it now.
...

Reports of the Wild\Hairy Man
(1800's)
"Potoyan strolls about after dark seeking for his prey, but is afraid to approach a fire, which serves as a protection against him"
Was Cunningham describing a real creature or one of folklore?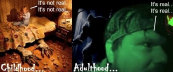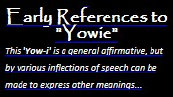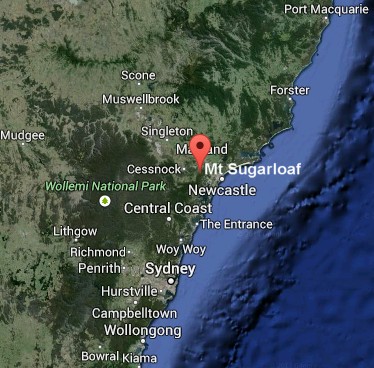 Peter Cunningham
Alexander Harris
Is this footprint "much wider than a human foot" or well within the standard human range?
Healy & Cropper's (2006) The Yowie: In Search of Australia's Bigfoot (p257).
Healy & Cropper's (2006)
The Yowie: In Search of Australia's Bigfoot
(244-245).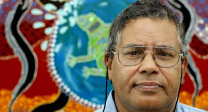 Medicine Man = male shaman
The spirits, though invisible to ordinary men and women could be seen by the Wonnarua men who had attained positions of high degree — these medicine men were called Karardjees.
[
source
]
The Kuradji is often depicted as anthropomorphic
(half man/half animal).
The Yowie as Aboriginal shaman is an interesting angle that deserves further exploration...
Yowieocalypse
Yowies in Hunter Valley mountains
By: Rebecca Berry
Maitland Mercury (NSW)
Date: April 30, 2014

In the remote mountain ranges surrounding Maitland, the yowie or hairy man, woman and child hunt, gather and live secretly.
So says Rex Gilroy, aka the yowie man, who has spent 57 years in the field searching for physical evidence of these mysterious creatures.
Mr Gilroy will present his research called The Yowie Mystery - Solved at Last at the annual Paracon Australia Conference at Maitland Gaol on May 10 and 11.
He continues his search of the Australian bush for the yowie, or relict hominin, and has no doubt the creatures still exist in all remote areas of Australia, including Mount Royal Range in the Hunter Valley.
"Stories about hairy men came out of the mountain country stretching from Maitland to Singleton," he said.
"Early timber getters and settlers believed in the hairy men and they carried guns because of what they had seen on the Mount Royal Range.
"It is a very eerie place."
Mr Gilroy said the yowie would only be found in the most remote regions today because he had been forced to retreat with the arrival of modern humans and clearing of bushland.
"The yowie[s] are four to five metres tall, keep to themselves, they live off native animal life – they are omnivorous – eating marsupials, kangaroos, berries and witchetty grubs.
"They are skilled at bush craft, they have fire, tools and implements and live in rock shelters.
"They are called hairy people because they wear marsupial hide garments."
Aboriginals living in the area from Maitland to the Hawkesbury called them datrumenas – giant fellow, taller than the tallest gum tree.
"That is how I first came across the mystery of the yowie. I read a book of Aboriginal myths and legends and one of them was the story of the hairy man."
Mr Gilroy is determined to prove that the ancestors of the yowie, or hairy people, inhabited Australia in pre-Aboriginal times and that Australia, not Africa, was the birthplace of modern humans.
"I have been called crazy since 1970 when I saw a yowie at Mount Solitary [in the Blue Mountains], but I know what I saw," he said.
"With my scientific approach I seek to restore credibility to Australian relic hominology.
"I ask that everyone keep an open mind about the yowie's existence."

After nightfall, it was found, that he always had a pair of loaded pistols at hand, with a disposition to use them if attacked by that prowling biped...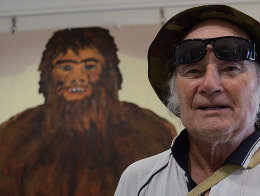 Cardwell resident Brad Booth proudly boasts of being a "UFO fanatic" but says on a number of issues the public has been fed "a pack of lies."
He says flying saucers are manmade and claims bigfoot is a homeless man.
"I know a guy up here who is an Aboriginal, is about six feet tall; I bought a very high-powered telescope to view him," he said.
"There is also one near the Innisfail tip, you smell him before you see him."
Mr Booth says the bigfoot footprint discoveries in Canada were faked.
17-05-2014