Contact

Home
New South Wales' Miscellaneous Creatures
Strange Animal Combats Staged

Barrier Miner (Broken Hill, NSW)
Date: February 11, 1935
Page Number: 2
"MOST CURIOUS of all animal combats are the amous fish-fights of Siam."
1935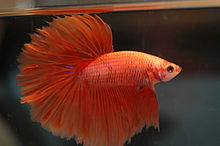 Siamese Fighting Fish

The people of Siam and Malaya (now Thailand and Malaysia) are known to have collected these fish prior to the 19th century.

In the wild, bettas spar for only a few minutes or so before one fish backs off. Bred specifically for fighting, domesticated betta matches can go on for much longer, with winners determined by a willingness to continue fighting. Once one fish retreats, the match is over. Large amounts of money are wagered during these fights, with potential losses as great as a person's home.
Strange Animal Seen
Barrier Miner (Broken Hill, NSW)
Date: November 26, 1938
Page Number: 6
SYDNEY, Saturday.

Timber workers again report having seen a strange animal near Eurobodalla. This animal, which is said to be about 3ft. 6in. high, 5ft. long, and yellow, with black markings, was also reported to hve been seen some months ago. Timber men then refused to work alone in the bush.
1938
STRANGE ANIMAL REPORTED.
Singleton Argus (NSW)
Date: August 4, 1933
Page Number: 6
Nundah is the latest place to report having seen a strange animal in the bush, and local residents would like the mystery cleared up. According to de-
scriptions it is of the size of a big dog, but does not resemble the canine species, has large feet, and a long tail like a cow. From the description it would appear that the oft reported North Coast lion has wandered down to the pleasant Hunter Valley. Whilst not welcoming the intruder it must be admitted that the animal shows a nice discrimination.
1933
A STRANGE ANIMAL.
The Advertiser (Adelaide, SA)
Date: May 16, 1900
Page Number: 4
A large dull-colored animal with stripes on its back and white underneath, is the description of a beast that is scaring the inhabitants in the Kurrajong hills. It is possibily a tiger that got away from a caravan at Millthorpe some time ago. The animal is likely to thrive, as there are plenty of sheep in the district.
1900
Seeking evidence of an escaped tiger at Millicent. Yowieocalypse has yet to find it...
Kalgoorlie Miner (WA)
Date: May 31, 1900
Page Number: 7
Some considerable time ago, when a circus and menagerie were visiting Milthorpe, a tiger escaped from its cage and made into the, bush and evaded his pursuers. Nothing has been seen or heard of him since, until the other day, when three little girls, visitors from Sydney, out collecting ferns on the Kurrajong hills, saw the fresh footprints of what they thought was a very large dog. They, out of curiosity, followed up the tracks, until they saw, crouching along some rocks, a huge striped tiger with glaring eyes. They scampered back home as fast, as they could in a terrible state of alarm. Evidently his tiger-ship was not hungry or only two of them at most would have got back. He must have been having a good time of it, and imagines that he is at home in his native jungle. There are unlimited running water and as many sheep on the run as he likes to catch, so he has no occasion to eat little girls. The Kurrajong people will be able to inaugurate a tiger hunt, which will be quite a novelty in Australia.
STRANGE ANIMAL.
The Horsham Times (Vic.)
Date: June 13, 1931
Page Number: 2
GOULBURN, Friday.
On the Sydney road, nine miles from Goulburn, a man and two youths were cutting wood when a strange animal, apparently half dog and half pig, rushed at them from a creek.
One of the party killed it with an axe. One local authority declared it to be avery big wombat, but others think otherwise. The animals head resembled that of pig. It had short, squat legs, with a heavy coat of soft silvery grey fur. The animal was more than three feet long, and had no tail.
1931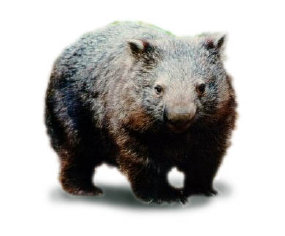 Wombats are short-legged, muscular quadrupedal marsupials, native to Australia, approximately 1 metre (40 in) in length with a short, stubby tail.
STRANGE ANIMAL CAPTURED
The Sydney Morning Herald (NSW)
Date: September 3, 1941
Page Number: 10
An animal like a deer with very large antlers was captured yesterday by Mr. W P. Heffernan, a well-known grazier, on his property near Junee.
Local residents are sure the animal is a reindeer, but an official of the Taronga Park Zoo said last night that this is impossible, and that, in any case, the captured animal did not answer the necessary description.
Many people reported having seen the animai in the Eurongilly disrict. It appeared to be reasonably tame. Yesterday Mr. Heffernan, finding it grazing near his sheep, chased it on horseback and succeeded in lassooing it. After a hard struggle he got it into a stable.
1941
REINDEER'S CAPTURE AND ESCAPE
The Argus (Melbourne, Vic.)
Date: September 4, 1941
Page Number: 3
JUNEE--The reindeer which was captured by Mr W. P. Heffernan on his Glencairn property escaped on Tuesday night when being fed on cabbage leaves by an employee on the station. It has not since been seen. The reindeer which had been seen in the district previously was captured on Monday. It is not known where it came from.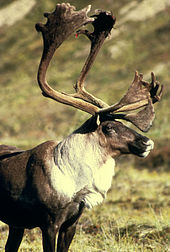 Reindeer
A Strange Animal.

Warwick Examiner and Times (St. Lucia, Qld.)
Date: March 26, 1904
Page Number: 7
A strange animal, resembling a tiger, was reported to have been seen on Tuesday near the Ten mile Creek, in the Albury district, by a boundary rider. The creature is described as 4 feet high, with bristles standing a couple of inches along its back, and having a tail 2ft. long with a big brush, and short, chubby head, with long nose, one ear pricked, the other locked. It had a staggering walk similar to a camal. The man had four dogs chasing dingoes at the time. The moment they sighted the beast they gave up the chase, and came back to the horse. When the horse saw the beast he became almost unmanageable.
1904
Albury
STRANGE ANIMAL SHOT.

Warwick Examiner and Times (St. Lucia, Qld.)
Date: September 17, 1924
Page Number: 6
Some days ago, writes our Tenterfield correspondent, Maurice Clark, the son of Mr. A. Clark, of Steinbrook, shot a strange animal near his home, which has caused considerable speculation amongst local residents. The boy was out shooting, when he noticed something move near a log. He fired a bullet into the animal, which immediately turned on him, and assumed such a ferocious aspect that he quickly returned home and informed his father. Mr. Clark went out and killed the animal, which was of the cat species, and about the size of a full grown fox. It was pure black in colour, and covered with a long fur, besides having a long, thin tail. No local bushmen have ever seen anything of the kind before. What is believed to be the male of the animal, which has been destroyed, can be heard at night in the vicinity of Steinbrook howling weirdly. Residents in the vicinity are somewhat afraid of it, and many shooting parlies have been organised in the hope of destroying it, but without success so far. Some members of Wirth's Circus have expressed the opinion that possibly the animal was a young puma.
1924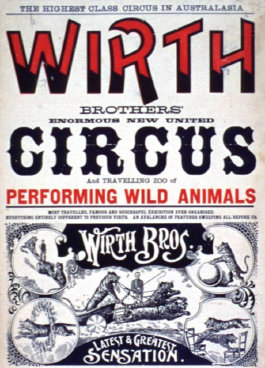 A STRANGE ANIMAL.

The Cumberland Argus and Fruitgrowers Advocate (Parramatta, NSW)
Date: June 1, 1910
Page Number: 2
A Wuuluman correspondent writes to the "Wellington Times": —
"While some of our local rabbit trappers were going their rounds on Saturday night last one of them had to go through a thick scrub on Mr. L. Crawley's property. He had just secured a rabbit, and was re-setting the trap, when he was startled by the growling of his dogs. Looking round he was rooted to the spot with horror to find a strange-looking animal gazing at him. It is described as being something in the shape of a man, with long shaggy hair; tusks, resembling those of an old boar pig, projecting: about four inches from the mouth. On his hands and foot were long horny spikes, resembling a goat's horns and a long smooth tail. The trapper seized his lantern and bolted towards Mr. Crawley's homestead. Coming to the top of a steep hill, he paused to get wind, being exhausted, when he discovered the animal close behind him. He put the dogs on to it, but the animal, throwing out his leg, pinned one of the dogs with his spikes and started devouring it. Seeing his chance the trapper made good his escape. This fierce animal was seen again on Monday in the rough hills of Mr. A. Tucker's property, east of the Federal gold mine, by a party of prospectors."
1910

A tall tale?
the "strange animal" is described with an impossible array of features
alleged witnesses ("trapper", "party of prospectors") are anonymous
no follow-up or related articles