Contact

Home
Erskin Gap Monster
Mountain Beast Reported

The Sun-Herald (Sydney, NSW)
Date: October 11, 1953
Page Number: 87
A group of Army officers and men who began a cross-country march from Ingleburn to Katoomba last night, have been alerted to watch for a strange animal.
Army officers organising the march have been told the animal might be a lion which escaped from a circus at one time or a huge dingo.
lt has been reported prowling af night through bushland in the Blue Mountains between the township of Warragamba Dam and Katoomba.
The troops have been issued with arms and ammunition in case they encounter the animal.

Shaggy Hair

Woodcutters working near Mount Harris, about 15 miles from Katoomba, told the officers that the beast was covered with long, shaggy hair.
They called it the "Erskine Gap monster."
Capt. R. Thompson said yesterday that officers investigating the reports had found large pawprints on rough bush tracks in the Mount Harris-Erskine Gap region.
"They could well have been those of an animal the size of a large lion," he said.
The men in the march are from the Fourth Battalion. Royal Australian Regiment, and they are rounding off their training before leaving for Korea.
Strange Animals in the Blue Mountains

The Sydney Morning Herald (NSW)
Date: October 20, 1953
Page Number: 2
Sir,--It is possible that the Blue Mountains "lion" recently seen near Erskine Gap ("Herald," Oct. 17), is a survivor of the "warrigals" which caused considerable discussion in bushwalking circles some eight years ago.
At that time it was generally agreed that there existed a small pack of huge shaggy wolf-like creatures whose lair was some where between Breakfast Creek, Mouin Creek and Cox's River. Since before 1934 this area has appeared on maps as the Wild Dog Mountains and there are several reports of "warrigals" having been seen in this vicinity.
In October 1937 a party reported having seen on White Dog Ridge "the decaying body of a huge animal like a dingo, but about 5 feet long." which had apparently fallen over a cliff known as Kelpie Rocks. In April 1945 a party descending the Korrowal Buttress of Mount Solitary watched through binoculars four "warrigals" loping across Cedar Valley.
Cattle run half wild along central Cox's River and on two occasions in 1949, three months apart, I have come across the freshly killed and badly mutilated bodies of calves on the Cox's River near Konangaroo clearing. I have seen three photographs of "warrigals," but all were taken at so great a distance as to make them practically worthless for identification purposes.

Homebush. L. A. ADAMS.


Sir,--In 1895, when I was working in the Daylesford district of Victoria, it was rumoured that there was a tiger in the bush. When the animal was shot it was found to be a big dog.
In the same year in the Wahalla district a mailman reported seeing a tiger come out of an old mining tunnel and drink at a creek. He said it had yellow and black stripes and hair all over its face. Members of the local rifle club lay in ambush for it and when it appeared were about to shoot when one of them with fieldglasses recognised it as an elderly gold fossicker with whiskers and a black and yellow jersey.
A rabbit-trapper I knew once thought he had encountered a tiger when his dog showed fear in the night, and he himself saw two glaring eyes by a tree. But the tiger turned out to be a calf.
I am 79 and have roamed round Australia. I've found no tigers and I'm waiting to hear more about this Blue Mountains lion.

JACK DUANE. Hornsby.
Warrigal (Australian): 1 a dingo dog; 2 a wild or untamed horse.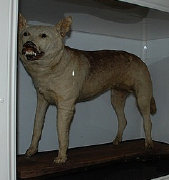 The Tantanoola "Tiger"
Bendigo Advertiser (Vic.)
Date: February 23, 1895
Page Number: 4
Seven-league boots are an element in European folklore. The boots allow the wearer to take great stridesóseven leagues each stepóresulting in great speed.

(A league is three miles, so seven leagues is 21 miles or just under 35 kilometres.)