Contact

Home
Burnett Bunyip
STRANGE ANIMAL.

Northern Star (Lismore, NSW)
Date: August 24, 1909
Page Number: 2
A peculiar animal has been seen in the Burnett River, near Gayndah. Recently some children, playing near the river bank, observed an animal near the water. It was about the make and size of a calf, with long, reddish, soft, silky hair. When it saw the children if immediately took to the water again, diving out of sight. Search was made, and the tracks were found, but no one appears to have seen similar ones. A few days later a person saw the animal swimming under the water. Search parties have been out night and day trying to capture the stranger,
but with no success. It was probably a seal and not a bunyip.
Queensland's warm seas are outside the usual range of seals and sea lions which prefer the cooler waters of Australia's southern coast. Individuals and small groups have on occasion strayed well outside their usual range.

A recent example from even further up the Queensland coast:
Sea lion spotted off Shoal Point
Daily Mercury
Date: August 15, 2012
THERE'S been whale sightings but has there ever been a sea lion sighting?

A group of three fishermen travelled out sea off Shoal Point when they spotted a seal frolicking in the water.

"He came up about five metres from the boat, it was like he was teasing us," the fisherman said.

To see the photos of the sea lion playing at sea grab a copy of tomorrow's Daily Mercury.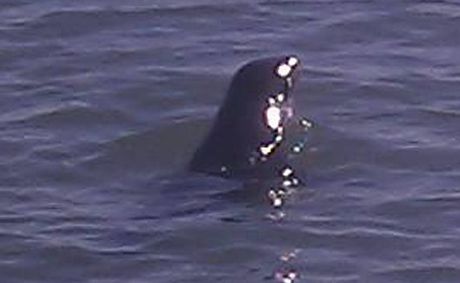 Shoal Point
THE BURNETT BUNYIP.

Cairns Post (Qld.)
Date: September 20, 1909
Page Number: 3
The reported existence of a strange fish or animal in the Burnett River at Gayndah has induced Mr. E. Williams, of Greenfield, to tell us (says the "Wide Bay News '") of a strange occurrence within his experience. Mr. Williams resides on his selection, "Greenfields," about eight miles from Torbanlea and twelve miles from Maryborough, and there are very large lagoons there of a depth in places of 60 to 70 feet. Four or five years ago this winter Mrs. Williams and her daughter, the latter 18 years of age, saw two animals about 3½ feet high and a smaller one come out of the water hole nearest to the house and run about 100 yards towards them and then run back and dive into the water. They called Mr. Williams, who ????????????????????????????????????????????
little men covered with long black hair. About a year later Mr. Williams' three sons, aged, respectively 19, 17, and 16 years, also reported seeing an exactly similar object erect upon the bank of the lagoon. When it was disturbed it plunged into the water and swam about near the bank distinctly visible for a short time. There were subsequently reports locally of others seeing something similar in the Brushwood lagoon, a few miles away, during the drought.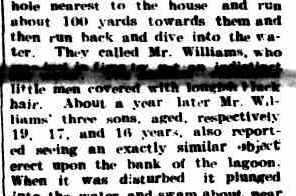 ???????????????

An entire line in this article is unreadable:
Gayndah
Farmer finds 'confused' seal among cow herd
The Age
Date: August 22, 2011
A WARRNAMBOOL farmer on his Saturday morning walk was shocked to find a seal among his curious cows.
After swimming up the Merri River, the female Australian fur seal crawled more than a kilometre across paddocks and Coghlans Road to end up at the Warrnambool saleyards.
The confused seal was reported to Department of Sustainability and Environment wildlife officers at 9am, who noticed a growth on her right eye.
Due to her age and sickness, the seal was put down.
DSE wildlife officer Stan Williams said sickly and run-down seals often swam inland through freshwater rivers to kill parasites.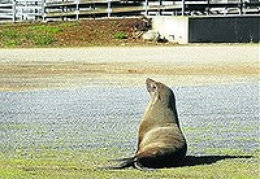 The female Australian fur seal made its way up the Merri River and into the Warrnambool saleyards. Photo: ROB GUNSTONE
"When they start heading off inland, in a lot of cases they're looking for somewhere to die," Mr Williams said.
"It had a growth on its right eye, which seemed to be on the cornea.
"It would've found it hard to forage with one eye and it had a fairly nasty disposition. It didn't have a lot of fat reserves on it.
"It moved for short periods and then headed for a puddle and sat in that for ages, so it was obviously fairly weak.
"Because of its age and the overall situation, the opinion was that the kindest thing was to put it down."
He said it was rare to find seals so far inland, but dolphins were also known to swim through freshwater when sick.
"It's amazing how far they can travel. The cows were very interested in it.
Seals are commonly seen near Warrnambool's breakwater, resting on rocks near the jetty as they recover en route to the colony at Lady Julia Percy Island, offshore from Yambuk.

The Warrnambool Standard


Read more: http://www.theage.com.au/environment/animals/farmer-finds-confused-seal-among-cow-herd-20110822-1j5n1.html#ixzz29iZyi8BA
Seals can also travel some distances overland as well:
Intrepid seal 'chases fish' 100km inland
SBS World News Australia
Date: November 4, 2009
A curious baby seal has slithered more than 100 kilometres across New Zealand farmland after an over-excited fishing expedition.

The super-travelling youngster was spotted by a shocked Kiwi farmer early on Tuesday as he trudged his way over to his milking sheds.
At first he thought his farm dog Sassy was chasing another dog or an odd-looking possum.
"But when I got a bit closer I wondered what the heck Sassy was chasing. This thing just turned around and snapped at her and it turned out to be a New Zealand fur seal," Nigel Buckley told the Waikato Times newspaper.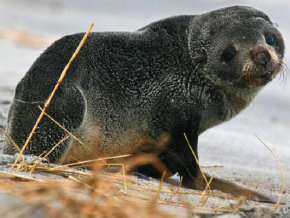 The young fur seal was spotted by a shocked New Zealand farmer(AAP)
His surprise was greater still considering that his North Island farm was more than 100 kilometres from the ocean.
Conservationists believe the three-year-old seal made its long journey from the sea through rivers and drains before shuffling its way across paddocks.

Seal 'chasing a fish'

Marine ecologist Kristina Hillock said seals that travelled this far were usually just curious and had probably been overenthusiastic in its mission to find food.
"It might have been just chasing a fish," she said.
Whatever the reason, the seal didn't seem bothered to find itself so far from home.
It frightened a paddock full of calves before making its way across the farm and sheltering under a tree.
It then crawled under a disused milk tank and took a nap lasting most of the morning.
The seal's adventure was brought to an abrupt end by conservation officials who captured the 20kg creature and drove it to the coast for release into the Pacific Ocean.