Contact
Yowie / Bigfoot

Home
'Bigfoot', Mission, British Columbia 1977
SASQUATCH HUNTER CAN'T BELIEVE MONSTER SIGHTING
IS JUST A HOAX


27.02.2016
Victoria Times
Date: May 24, 1977
New Westminster (CP) - Radio Station CKNW broadcast reports Monday that a Sasquatch sighted 10 days ago near Erroch Lake in the Fraser Valley was a hoax perpetrated by three persons, but veteran Sasquatch hunter Rene Dahinden wants proof.

The radio station said three persons faked large footprints using plaster casts and one of them dressed up in a fur suit. Dahinden said in an interview he'd like to see the suit. "If they can produce the evidence that this was a hoax, I would like to see it. The hoax would be more important than a real Sasquatch sighting...it would teach us a lesson to smarten up."

Dahinden said he heard similar reports of a hoax involving the legendary ape-like forest creature. "It (the report) claimed the three persons involved would also fake sightings in Washington, Oregon and California." "CKNW doesn't know whether or not it was a hoax because it doesn't have any evidence. Let them produce the fur suit and the material used to make the footprints."

Dahinden said he was in the Fraser Valley community of Mission when RCMP questioned Pacific Stage Lines bus driver Pat Lindquist who reported seeing the sasquatch a mile east of Lake Erroch on his run from Harrison Hot Springs to Vancouver.

"The questioning was very professional and I cannot see how Lindquist could have mistaken a man in a fur suit for the real thing." "Maybe my view was colored but if there was a hoax, let's see them re-enact the whole thing." Dahinden said Lindquist would have to be in a state of shock to make such a mistake.
The Canberra Times (ACT)
Date: May 17, 1977
Page number: 5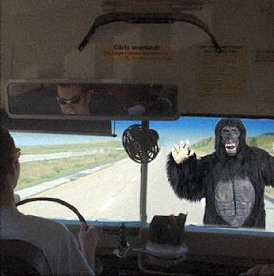 The Canberra region was pivotal to the rise of the Yowie craze in the mid 1970s. The above article was published but no further information nor follow-up was forthcoming. What actually happened?