Contact

Home
The Snake Lady
Slippery criminal is busted
By: Christie Anderson
Townsville Bulletin (Qld)
Date: July 10, 2013
A SLIPPERY criminal who 'broke in' to the Ingham St Vincent de Paul store early this week nearly escaped after Ingham police couldn't figure out how the culprit gained entry.
But the mystery was solved when staff turned up to work yesterday to find a 5.7m python among clothes racks.
Police arrived on Monday night after reports of a break-in.
Ingham snake handler Virginia McGrath was eventually called in to capture and release the visitor.
The ceiling was damaged and police suspected the criminal got in through the roof but were puzzled because there was no damage to the roof.
While nothing was stolen, it appeared the culprit had gone on a rampage through the store as several items had been knocked over.
What appeared to be vomit was also found.
Sgt Don Auld said the damage would have been caused by the 17kg snake moving around the store.
It is believed the snake would have gained entry into the roof through a hole before falling through the ceiling.
He added that police chose not to handcuff the culprit for logistical reasons and instead called Ingham snake handler Virginia McGrath who captured and released it.
The "vomit" also turned out to be snake urine and faeces.
Sgt Auld said the offender was let off with a warning.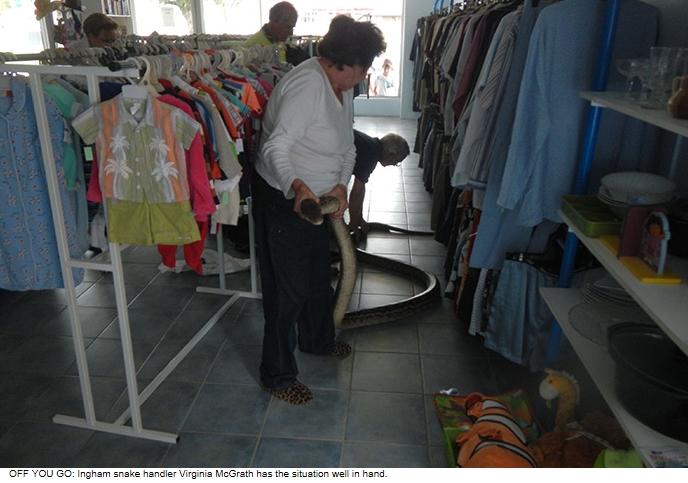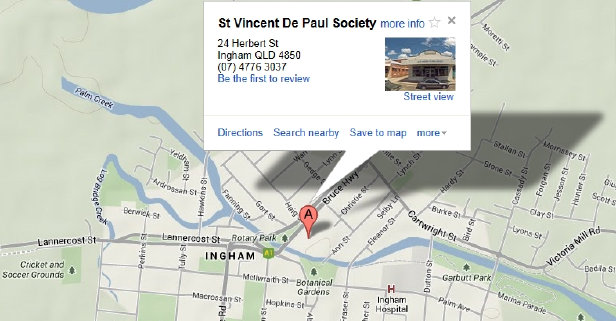 Ingham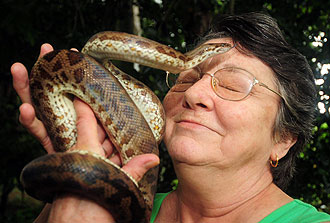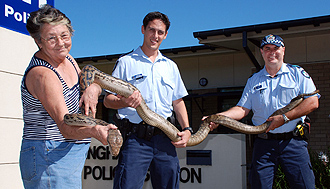 Sergeant Don Auld
Worldwide 'fang' club for Ingham snake handler
By: John Anderson
Townsville Bulletin (Qld)
Date: July 12, 2013
A SLIPPER-wearing snake wrangler has become an international sensation after wrestling a near 6m scrub python from a clothing store in Ingham earlier this week.
Grandmother Virginia McGrath, 65, was still in her faux leopard-skin slippers when she got a call early on Tuesday morning to "arrest" a scrub or amethystine python which had "broken into" the St Vincent de Paul store via the roof.
The former snake breeder turned handler, who is the sister of guitarists Tommy and Phillip Emmanuel, is not usually the one in the limelight. But her antics went viral via internet and television news - prompting phone calls lauding her for her snake handling skills from her two famous siblings.
"Tommy phoned from Milan on Thursday morning," Mrs McGrath said.
"He'd just flown in from Florence and switched on the BBC World News in his hotel room and there I was."
She said Phil, a snake enthusiast like her, phoned and congratulated her, telling her the python was "a good one".
Mrs McGrath said she had no doubt the 5.7m python police had called her to remove could have killed her if it tried.
"I thought 'what's going on'. The police said 'it's over there'. It was under a clothes' rack. I could see it. It ran the entire length of the shop. I got someone to hold its tail to stop it wrapping around me while I held the head. It was big, the biggest I've ever handled," she said.
Mrs McGrath said she knew that if her hand slipped or something went wrong the scrub python could get some coils around her and start constricting.
"It was dangerous stuff. He could kill me if he wanted to. They can get a couple of coils around you and you can't breathe," she said.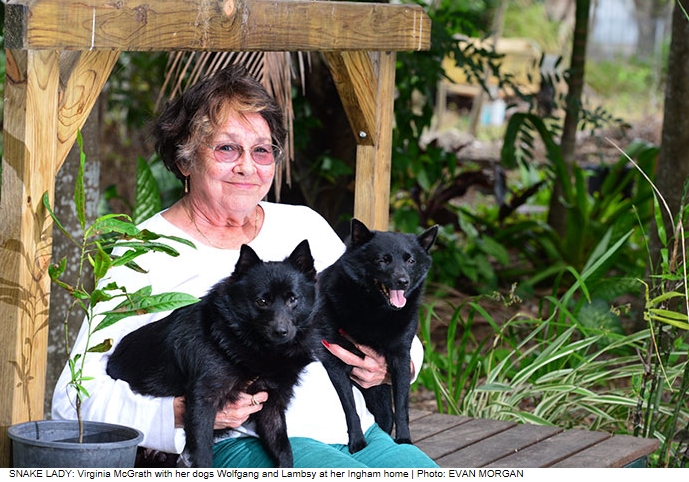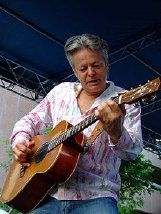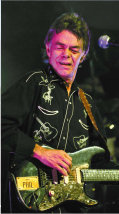 Tommy Emmanuel
Phil Emmanuel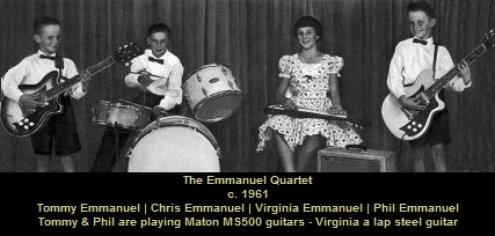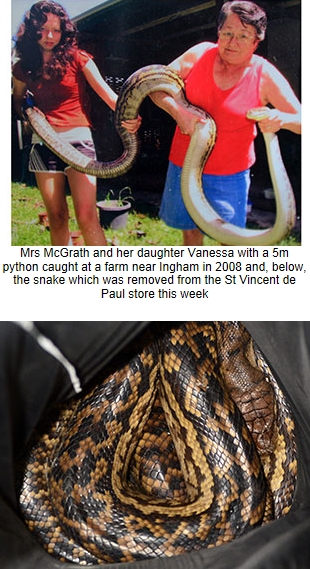 Earlier this year, Mrs McGrath had a 4m scrub python handcuff her wrists together with its coils.
She was in a remote location at Ingham's Tyto Wetlands, but luckily her 14-year-old grandson Wyatt was with her.
Like any dutiful grandson he took hold of the cantankerous python's tail and gradually unwound it from Nana's wrists.
"It was days before the imprint of my watch disappeared from where it had pressed it into my skin. I couldn't move my hands," she said
And then there was the constipated 3.2m scrub python. When she took it to the vet he removed 2.7m of faeces.
"He was all blocked up," she said.
The villainous python that broke into the Vinnie's store was still in Virginia's snake bag in her laundry yesterday. She intends releasing it back into the wild this afternoon.
And when does the fearless Ingham snake catcher intend hanging up her python wrangling kit?
"When I get too old," she said.