Contact
Legend of the Hairy Man

Home
OUR HOLIDAY RESORTS: AN ARTIST'S WANDERINGS IN THE BLUE MOUNTAINS.
Illustrated Sydney News (NSW)
Date: October 3, 1889
Page Number: 16-17
…

Talking of Lindon, which is situated some six miles from Springwood, reminds us that it has attained of late years considerable notoriety as the reputed haunt of a 'Great "What is It ?"' in the shape of - laugh not, gentle reader - a hairy MAN ! Germany has its legendary lore. Why should not the Blue Mountains ? Let us entitle it

THE LEGEND OF LINDON.

THE GRISLY DETAILS.

Once upon a time, about three years ago, or thereabouts, the peaceful little village of Lindon was shaken to its centre by the report that a monstrous and mysterious apparition had appeared to a lady, the wife of the caretaker of Sir Henry Parkes's property at Falconbridge. It seems that she was in the act of gathering a few sticks when a commotion amongst the fowls attracted her attention, and on looking up, before her stood a Thing about seven feet high. The black hair growing on its head trailed weirdly to the ground, and its eye-balls were surrounded with a yellow rim. It was the hairy man!! (orchestra, pizzicato, and bluefire.)

Now one would suppose that the reflected glory from so great a man as Sir Henry would have lent the lady courage to face the monster of the yellow-rimmed eyeballs and request its name and address ; but no, she just dropped her sticks and 'skinned out of that,' giving utterance to piercing screams. Her husband, on learning that a 'hairy man' was in the back yard, sallied forth with his gun to put daylight through him ; but he of the flowing locks, in order to avoid an unsought-for publicity, had disappeared, taking several of the fowls with him to soothe his lonely hours. But, and this was imparted to us with great solemnity, he left a track three inches deep behind him!

When a fowl, or series of fowls disappear mysteriously during the night, people at Lindon whisper with bated breath - 'The hairy man!' Parties who have seen his tracks institute search parties for his discovery. Mr. Cummins, of the Royal Hotel, Springwood, offers fifty pounds for him, in order to fasten him up in a hen coop and exhibit him to an admiring public, or sell him as an advertisement to a hair-restorative company.

*****

Down in the gloomy depths of the gorges, where vines are clinging to rocks that have survived the ages ; in that dim twilight where the sunlight never falls ; beneath the awful precipices that echo with everlasting clangour the ceaseless thunder of the cataract - keep your weather eye lifting for the hairy man !

It is a sweet little place, is Springwood, and they believe this delightful yarn. So they do all round the neighbourhood. Why, even the guard that took us to Lawson in the van poured into our ear the 'legend of the hairy man' and what made the tale doubly affecting was the fact that the narrator had partaken freely of the succulent onion.
…
The above section on the Hairy Man was taken from a double page newspaper spread promoting the Blue Mountains, west of Sydney, as a holiday destination. Here is the full article. Is this Australia's first example of mystery-based tourism?
Rex Gilroy

"Father of Yowie Research"
Early Katoomba residents during the 19th century claimed "hairy men and women" were to be seen frequenting the forests beyond the town, or in the Jamieson and Megalong Valleys, where they foraged for berries and other plants, or hunted game moving about singularly or in small family groups. Since those early times the Yowie has become an integral part of Blue Mountains folklore.

Yet early journalistic scepticism such as the above failed to have any effect upon the majority of the inhabitants, who from Lapstone to Lithgow accepted the existence of the "hairy men" of the Blue Mountains without question. There were too many sightings made by bushwalkers and isolated property owners; far too many footprints of the creatures found in remote valleys; and far too many Aboriginal traditions of these hairy giants, for the existence of the Yowie to be dismissed out of hand.

It was in a deep forested fern-covered gully east of Bullaburra one day in 1905, that a Sydney botanist, Mr C. E. Peel, was exploring for specimens, when he caught sight of a 5 ft tall, hairy, ape-like female creature grubbing for roots on the forest floor. Mr Peel kept quiet, hidden among ferns watching her every move.

He watched as she fed upon young plant shoots and roots, then she moved on, clambering over rocks. He followed her at a safe distance as the strange female moved on two legs deeper into the forest. However, she moved too fast for him and he soon lost sight of her.
Is the above story a genuine account describing a large undiscovered hairy man-like species?

Were such Australian Bigfoots seen regularly by residents in the mountains west of Sydney who accepted their existence without question?

Or is the Hairy Man simply a cherished part of the region's folklore – the stories, gossip, and practices that become traditional within a group of people - part of a culture of storytelling?

Are there any other explanations? Could the Hairy Man be just what it says – a hairy, unkempt man living wild in the bush?

Yowieocalypse shall examine the issue...
Fiction Masquerading as Fact
"[O]ne day in 1905 … Sydney botanist, Mr C. E. Peel, … caught sight of a 5 ft tall, hairy, ape-like female creature grubbing for roots on the forest floor."
A Yowie sighting by a trained botanist appears impressive. However, Yowieocalypse has yet to find any references to this alleged sighting in the archives nor, indeed, of any "Mr C. E. Peel" – botanist or otherwise.
Part of the problem of attempting to separate facts from fiction within the Yowie Phenomenon is that many alleged Yowie sightings are poorly documented and enthusiastic amateur enthusiasts, like Rex Gilroy, don't seem to mind adding their own layer of "fakelore" over the existing stories (folklore). As such, while Gilroy's "Sydney botanist" may appear to be a credible Yowie witness at first glance there is actually nothing to indicate that this person even existed or that this event ever occurred.
Definitions:
Fakelore - Fakelore or Pseudo-folklore is inauthentic, manufactured folklore presented as if it were genuinely traditional. The term can refer to new stories or songs made up, or to folklore that is reworked and modified for modern tastes. The element of misrepresentation is central.
http://en.wikipedia.org/wiki/Fakelore
Factoid - Something fictitious or unsubstantiated that is presented as factual; a canard, deception, or myth. Such disinformation is devised to gain publicity, and persists due to constant repetition.
Old accounts of The Hairy Man are often lumped together with modern (1976 onwards) Yowie reports which give the impression that this "Australian Bigfoot" has been regularly sighted throughout this country's history. However, this is not the case – The Hairy Man began as a Bunyip not a Bigfoot:
The traditional creatures of British folklore did not survive the long voyage to Australia and Europeans confronted folklore here that was far older than their own. This folklore captured the very spirit of the new land and its primitive allure took them into a new realm of strange imaginings. Their most overriding fear was of being lost in the bush and of being confronted by something monstrous there.

The bunyip, in fact, becomes the very embodiment of the white settlers' fear of the unknown. Here was a land, which did not yet have the comfort of history or heritage, or of family ties which created a sense of belonging. It is hardly surprising perhaps that parents embraced a folklore of fear to deter their children from straying into this alien bush and being lost or drowned in the billabong, as we read in Edward S. Sorenson's Life in the Australian Backblocks (1911):

"The average bush youngster has a horror of darkness, and talks in awe struck whispers of hairy men, ghosts and bunyips. This fear is inculcated from babyhood. The mother can't always be watching in a playground that is boundless, and she knows the horrors that wait the bushed youngster."

Colonial mothers thus used their own garbled versions of Aboriginal lore as a cautionary device: 'there is a bunyip in the lagoon ... and beyond that hill there, and in yonder scrub, there is a "bogyman"'.

At the beginning of white settlement the bunyip established a pre-eminent place in an evolving folklore of fear. However, as the nineteen th century progressed, various factors contributed to a dilution of this fear, not the least of these being the failure to capture any such creature.

On the one hand there were scientific scoffers who attempted to rationalise 'sightings' of the bunyip into bitterns, seals and other less exotic creatures. On the other there was a very marked strategy to trivialise this fear by ascribing it to the naïve imaginings of susceptible and credulous settlers easily duped by Aboriginal folklore. The bunyip eventually retreated into Australia's creative literature, usually depicted as an object of comedy, or as a melodramatic pantomime figure on the stage. Most often the bunyip was reduced to the level of a stock literary device, an elaborate practical joke often played on a new chum.

From the 1880s the place of the bunyip in our folklore of fear was supplanted by the yowie or wild hairy man of the Australian bush. Even today this ubiquitous anomaly still sufaces in reports from startled bushwalkers or isolated farmers on the east coast of Australia. Perhaps its final apotheosis came when May Gibbs introduced the Banksia Man as the most threatening entity in the otherwise innocent world of the gumnut babies.

As recently as 1973, as if to demonstrate the ongoing allure of this folklore, the town of Murray Bridge erected a statue of a reptilian-looking bunyip as a tourist attraction. This European concept was, however, dismissed by the local Aboriginal community as entirely inaccurate. According to them the creature should have been more like a giant ape, three metres tall, with 'long black hair, dark red eyes, large teeth and webbed feet and hands'.

We can only conclude that a deep seated folklore of fear is still a potent part of Australia's national psyche, black or white, and that Bunyips will engage a cross cultural audience of all ages. And who knows-if you are out alone one night, surrounded by the eerie sounds of the bush, you just might confront a bunyip lurking in the billabong!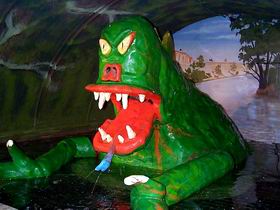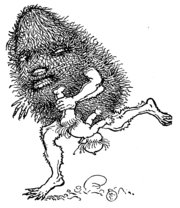 One of Mary Gibbs' Banksia Men.
The Bunyip of Murray Bridge.
Did British folklore fail to take root in the Great Southern Land? Beliefs are difficult to change so perhaps some of the imported British folklore merged with similar motifs from the indigenous folklore. The Kelpie is a Celtic shape-shifting water spirit which drags unsuspecting travellers to their deaths and can sometimes appear as a large hairy man.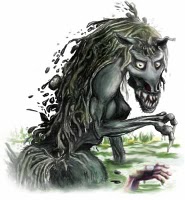 In Germany during the thirteenth and fourteenth centuries, groups of young men held a rite to welcome spring and entertain their neighbors after a long, hard winter. They dressed in sheep–or goatskins, wore their hair and beards long, and ran through the countryside talking gibberish and behaving wildly. This custom became known as Fastnacht (pronounced FAHS-nockt) or Fasnet (pronounced FAHS-net), meaning "night of the fast." It is also translated as "nonsense night."


In some areas of Germany, the custom was called Schembartlauf, meaning "run of the hairy men." This strange festival was abolished by local governments in 1339, but it was brought back in 1349 by members of a butchers' guild. Wealthy young men later adopted the tradition.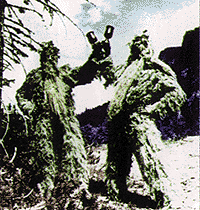 …

In the Black Forest region of southwestern Germany, the "hairy man" custom continued during the 1700s. Young men put on red rags and big bells, and they ran and leaped, hitting people and beating the ground. During the nineteenth century, a revival of German folklore brought about renewed Karneval celebrations in the countryside.


Rex Gilroy is an Australian who has written articles and self-published books on cryptids and unexplained or speculative phenomena. His work has focused on yowie reports, 'out of place' animals, UFOs, and propositions regarding a 'lost' Australian civilization.

Yowie / Bigfoot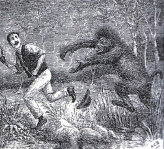 Contents