Contact

Home
Hoaxes & Pranks
Students' Hoax

The West Australian (Perth, WA)
Date: June 29, 1949
Page Number: 6
As a result of a hoax by University students about 450 persons filled the Winthrop Hall yesterday afternoon to listen to a talk on "Modern Sculpture - is it a Hoax?" by "M. Jean Leps." The lecturer was, in fact, a student of St. George's College. Publicity before the lecture included handbills, posters and announcements throughout the University of the coming talk. On June 17, the University news paper, "The Pelican," headed an article on the fictitious lecturer "Leps for Uni." and wrote of the "sculptor, author and philosopher" who was to be one of the "most unusual and attractive visitors ever to speak at the University." An example of "Lep's" work was arranged by the student conspirators—a rowing seat on a fence post-photographed and exhibited widely in University circles. Even after the talk by "Leps," the majority of those who attended were unaware of the true identity of the speaker. One person said afterwards that "it was a pleasure to listen to this great modern sculptor after reading his criticisms in many American magazines."



"Modern Sculpture - Is it a Hoax?" Hoax


Winthrop Hall

'LECTURER' HOODWINKS HUNDREDS
Mirror (Perth, WA)
Date: July 2, 1949
Page Number: 8
"JEAN LEPS," moustachioed, bespectacled, rugged up in overcoat and scarf, as he appeared on the stage at Win throp Hall to perpetrate the sculpture hoax at the University this week (story right). Student organisers of the hoax took pains to preserve the secret of "Jean Leps" real identity. Even his hair was dyed for the occasion. After the lecture he eluded clamoring autograph hunters and slipped away in a waiting taxi, driver of which knew about the hoax but couldn't identity the perpetrator again.





Many Uni. Faces Red Over 'Jean Leps' Hoax
LECTURER IN SMOKE

Mirror (Perth, WA)
Date: July 2, 1949
Page Number: 8
While most of the University is still chuckling over one of the greatest hoaxes ever perpetrated in this State, some of the ringleaders are not too happy about the official reception.
They are quite happy about the success of the hoax, which hoodwinked a very large percentage of the audience of 500 which went to Winthrop Hall to hear "Jean Leps," visiting celebrity presented by St. George s College Fine Arts Society.
But having perpetrated the hoax they are extremely anxious to keep the identity of "Jean Leps" out of the spotlight, just in case there are any "executions" in the wind.
It was a complete hoax from start to finish. Even the name of the society which presented it was fictitious, a touch of genius thrown in to give the whole escapade a ring of authenticity.

Main idea was, as one of the ringleaders expressed it to the Mirror, "to get down on the pseudo-arty types around the Uni, and a smack at Uni apathy."
"And," he chuckled, "we seem to have sucked in the people we wanted to suck in."
They went one better than that. They "sucked in" a lot of other people. Quiet corners of St. George's College discreetly echo hearty chuckling as the students recall some of the reactions, especially the rush for autographs when the lecture finished.
One bright young thing toddled along to the "lecture" in high glee, gushing to all and sundry: "I'll bet it's just a student dressed up." Those in the know maintained poker faces.
After the show the BYT was profuse in her apologies "I'm so sorry," she confessed. "I thought it was going to be a hoax. I'm really disappointed because it wasn't!"
A young lecturer rang the "St. George's College Fine Arts Society" after reading some of the advance publicity, declaring he had read some of "Jean Leps" works.
After the lecture he said he was mistaken. There was also the extremely keen type who decided to be a full bottle on the subject of the lecture and spent some hours in deep research in the library, looking up "Jean Leps" in the encyclopedias which fill several shelves. His research was unfruitful.
One of the "pseudo-arty types" was heard to whisper to his neighbor' during the tecture that he felt the same emotions which "Jean Leps" said had gone into his art.
The "art" in question was a picture of a seat from a rowing scull with a broom stick balanced at an angle, perched on a fence post!
During the lecture "Jean Leps" asked anyone finding real appreciation of his "work" to signify. About 50 sheepish hands crept above shoulder height—and someone clicked a camera in surprised faces.
Story circulates in the University and College common rooms that some members of the French Club were so impressed that they were think- ing of asking "Jean Leps" along to their functions.
Warden of St. George's College attended the lecture. He didn't know about the spoof, but he may have had an inkling that something was cooking.

74 In It

The whole student body, of the College, numbering about 74, was in it. But the secret was as closely guarded as the D-Day plans.
Three weeks of organisation and publicity went into the hoax, with posters, handbills and announcements over the University loudspeakers.
University paper "The Pelican" played up "sculptor, author and philosopher M. Jean Leps" in a special article.
"Like Byron, M. Leps awoke to find himself famous," blurbed the Pelican. "Two of his works, the college "La Juive" and the object "Symbole Mystique," are on their way across the Atlantic, one to the Victoria and Albert Museum, the other to a private collection in France. They are illustrated on plates 20 and 23 of "In My Little Finger," a book by (and about) Leps, recently published in an edition by Sprunz and Scribner, New York."
Every day for a week students sat outside the University Refectory, solemnly issuing tickets and marking off seats on a box-plan for the lecture. There was no admission charge.
"A gang of the Engineers tried to break up the lecturer," one of the organisers confided to the Mirror after it was all over. "I think that was because we chucked some of them in the pond here when they came through one day. They don't belong over here."
Idea germinated in a couple of bright minds while students were lamenting the lack of excitement. Painting a chimney sky-blue was thought too tame, so it was abandoned in favor of the "Jean Leps" hoax.
THIS IS WHAT HE TOLD THEM
Mirror (Perth, WA)
Date: July 2, 1949
Page Number: 8
Extracts from the speech delivered by "Jean Leps" (see story right) in this weeks art hoax at the University, which ranks with the sensational "Ern Malley" hoax in the literary world, advise everyone to "take a lump of clay".
"In sculpture as in all other things that matter are those you find out for yourself," said "Jean Leps" sagely. "You will find out nothing until you take a lump of clay. It will seem to you a formless thing ..."
And he launched into vivid details of what that lump of clay could mean and be made to express by a sculptor.
"Many of you will say: 'What possible connection can there be between abstract modern sculpture, which does not represent or portray "real" objects to us like a photograph, and our every day lives?'
"Well, take as an example of such abstract art the illustration of my work which you have seen in zose leetle pomphlets. It is called construction in wood and metal.
"Perhaps the best name for it is 'work it out for yourself' and, indeed, if you are going to find any value in it, that is what you must do; when you look at it a bit you see that the object possesses grace, and at the same time solidity.
"There are curves carefully combined with straight lines to produce a pleasing contrast. Did you notice the delicately curved semi-circle that projects from beneath this soaring rod (see picture above right).
"It echoes, in bolder lines, the soft double rise and fall of the base. . . . This ties them together as parts of the one object . . .
"Now this is not one of my monumental works . . .it is something delicate and intricate like the mechanism of a watch ...
"I venture to say that even in this example of my own work which you have seen illustrated, some subleties have been realised ...
"It is not the critics who decide in the final analysis what work is of true merit and what is not ... YOU are the real judges . . . YOU have recognised that this is ART.
"Of course, you have not appreciated everything about it, because you are not trained and sensitive observers. But your common sense has told you: 'This work has— something!' And you are quite right."
He concluded on a grand note: "And you ask me: Is modern sculpture a hoax? You have already answered that question yourself."






ART STUDENT BREAKS FROM THE CONVENTIONAL

The Daily News (Perth, WA)
Date: June 14, 1950
Page Number: 6
Work of art in plaster has been done in Perth by University student, Jean Leps, who is modest about the work, the first of this type he has attempted. He was asked some time ago by the University Dramatic Society, if he would do a figure for its Drama Festival play, Moliere's Hypochondriac. He considered the results so gratifying that he now hopes to continue with this sort of work rather than the more conventional types he had previously attempted. The figure represents a seated woman, done in plaster. Members of the cast of the play call the figure The Hypochrondriac after the play, but Mr. Leps calls it simply Composition.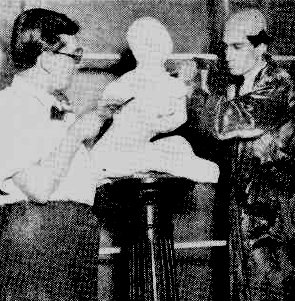 The Daily News (Perth, WA)
Date: June 14, 1950
Page Number: 6
Last week we read about a university student, one "Jean Leps," who seems to have become a sculptor (or some sort of chiseller) since we last heard of him as a lecturer last year.
On that occasion he put over a lecture (among other things) on a rapt audience of 450 people at Winthrop Hall. The lecture, entitled Modern Sculpture; Is It A Hoax? turned out to be a hoax.
A tip for any reporter seems to be to look before he Leps.
Anytime now I'm expecting the scholars of St. George's College to announce that Miss Jean Leps is a candidate for a beauty competition under the title of Myth University, 1950.