Contact
the Yowie-Ocalypse
Revelation in the Age of Bigfoot
A Naked Yowie Project Initiative
Articles, images, and published sources are reproduced in accordance with the Fair Dealing provisions of the Commonwealth Copyright Act 1968.

Portions of this website are reprinted under the Fair Use Doctrine of International Copyright Law as educational material without benefit of financial gain.
This proviso is applicable throughout the entire website.
Case Study of a Con-Artist
Home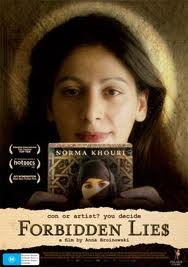 Writing Wrongs
by Phil Brown
Brisbane News
Date: March 26, 2003
Page Number: 9
Author Norma Khouri is on a mission to stop the `honour killings' in her native Jordan that claimed the life of her best friend.

Two people having lunch together seems like a fairly normal scenario.

Doesn't it?

But not to Norma Khouri, who relishes the idea as well as the food when we rendezvous for some Japanese nosh at Kabuki Restaurant at the Stamford Plaza Hotel in the City.

In her native Jordan an unmarried 32-year-old woman lunching with an older, married man would be an outrage and a very dangerous liaison indeed.

People there are bound by ancient customs that severely restrict women's lives and limit their rights. These restrictions are enshrined in laws shaped by fundamentalist Islam, and apply to people like Norma and her family even though they are Catholic.

The most horrifying manifestation of this is the practice of "honour killings". Jordanian men are legally entitled to kill the women in their families if they step out of line.

When Norma's best friend Dalia, a Muslim, met and fell in love with a major in Jordan's Royal Guard (he, like Norma, was one of the Catholic minority) and dared to meet with him without the blessing of her father, she was murdered by her father to protect family honour.

This sort of thing is an everyday occurrence in Jordan. And it's something that forced Norma to flee her home city, the capital Amman, her family and her country several years ago to begin a new life as a human rights campaigner.

The first step in her campaign was her book Forbidden Love, which is now a runaway bestseller here and in more than a dozen other countries.

Readers have been captivated as well as horrified by the story, not to mention inspired by the guts shown by its author.

"I believe it's doing well because it puts a face to the victims of this sort of crime," says Norma, grappling with chopsticks for only the second time in her life.

"I wrote it for that reason and so that people could know Dalia the way I knew her. She's not a number or a statistic - she was one of the real people who are being killed."

The book is a heartbreaking testament to the close friendship between the two young women.

They were like sisters and worked in a hairdressing salon together, trying to forge some sort of independence to break free from the chains of Jordanian custom which, Norma points out, has its roots in ancient Bedouin tribal practices, rather than the Koran, which she says is misinterpreted by fundamentalists to oppress women.

That oppression supports the honour killings, which Norma spoke out against. If she had continued to speak out at home in Jordan there's little doubt she would have outraged fundamentalists and been killed. So she fled to Greece and a year ago to Queensland, sponsored by her publisher.

"I loved Greece but it was a real culture shock," she says. "I'm still trying to figure out how the Greeks live without sleep.

"When I first arrived in Athens I thought I was in the middle of some festival, but I quickly realised that was just their way of life. They have an afternoon siesta and they are out all night.
"In Jordan, where I lived in Amman you could hear a pin drop after nine at night."

It's pretty quiet where she lives in Queensland too. (The location remains private because she regularly receives death threats.)

"They didn't tell me before I got there that it was mainly a retirement community," she says, smiling. "So I have a lot of wonderful friends there who are much older than me."

She laughs at the idea, but it suits her since she spends most of her time either travelling around the world on her human rights campaign (she was flying to New York to meet with United Nations human rights campaigners after lunch) or sitting in front of her computer answering the hundreds of e-mails she receives each day.

"I'll continue to write and fight until women in Jordan and that region have the same rights as I have sitting here today. I have a long fight on my hands."

A ring she wears that once belonged to her beloved friend is a constant reminder that spurs her on.

Forbidden Love, by Norma Khouri
(Bantam Books, $29.95).
Khouri's fake book withdrawn
smh.com.au
Date: July 26, 2004
The Australian publishers of Norma Khouri's controversial book, Forbidden Love, have withdrawn the book from sale and advised booksellers to do the same.
Random House Australia said today the book would not be available for sale again until it had been assured by Ms Khouri that it was a true representation of her life and experiences.
The book, which details abuse and hardship during the time Ms Khouri said she grew up in Jordan, contains claims that are untruthful, The Sydney Morning Herald said in an article at the weekend.
The newspaper said after an 18-month investigation it had discovered that Jordanian-born Ms Khouri had spent most of her life in the United States, rather than Jordan.
Forbidden Love has been published in at least 15 countries. It has sold more than 200,000 copies in Australia alone.
In a statement issued today, Random House said it had requested evidence from Ms Khouri that the book was a true representation of her life and experiences.
``This action has been taken because the company is very concerned about allegations raised on the weekend by The Sydney Morning Herald which cast doubt on Ms Khouri's true identity and her story as told in Forbidden Love,'' the statement said.
Random House said if Ms Khouri was able to satisfy them about the authenticity of the story, consideration would be given to reissuing it.
A spokeswoman for Queensland-based Ms Khouri, 34, has said the author was busy compiling evidence to counter the allegations that she had lied about her life story.
Ms Khouri lives in Australia on a temporary protection visa on account of the troubled past she says she has suffered.
The Herald article said Random House sponsored her visa and if claims her story was a lie prove true her residency in Australia could be threatened.
While the Immigration Department would not comment on Ms Khouri's case specifically, a spokesman said: ``In suspicious cases the department discusses the issue with the applicant and the sponsor.''
At home with Norma
by Caroline Overington
theaustralian.com.au
Date: September 1, 2007
Author Norma Khouri has been called a fake, a con woman and a thief. Now she tells her side of the story to Caroline Overington.
It is a hot night in Chicago, and Norma Khouri is sitting at her kitchen table. We've been drinking red wine together for a little over an hour -- red wine that Norma has poured over ice because it's so humid our clothes are sticking to our skin.
Norma is a little more than half-drunk and she's chainsmoking long, slim cigarettes. We've been seated like this – face to face, over the ashtray – sharing stories about disastrous love affairs, just as if we were old friends, although, in fact, it's the first time we've met.

Norma has just finished telling me how she will never – "never, ever, ever!" – get married again, when she leans forward, and the full glory that is her generous cleavage falls toward me.
"Norma," I say, "I know this is an outrageous question, but I simply have to know. Are they real?"

"Of course they are!" she says, laughing. She grinds her cigarette into the ashtray and, with her hands now free, cups and lifts more of her breasts toward me. "Look at them!" she says, trying to demonstrate their natural softness by kneading her flesh. "Believe me, if I took this bra off, they'd hit the floor! Really, if that's the worst thing people can say about me, that I've got fake boobs, well, I can handle it."

But, of course, it isn't the worst thing they say about Norma Khouri. No, what they say is this: Norma is a fraud; Norma is a conwoman; Norma is a thief, a liar, a breaker of hearts and a stealer of fortunes; she's as dangerous a creature as one can find – a manipulative, controlling narcissist, charming and alluring, but utterly untrustworthy. In short, a person best left well alone. She finds this hilarious.

"Look, I wrote a book," she says. "I changed a few details, to protect my kids. Now I'm the worst person in the world? It's ridiculous."
The book to which Norma refers is Forbidden Love, published by Random House in 2002. In the book, Norma claimed to be a desperate woman on the run from her home country, Jordan. She wrote about a unisex hairdressing salon she'd owned there with her best friend, Dalia, who was murdered in an "honour killing" after falling in love with one of the Christian clients. The book was a smash hit, with 500,000 copies sold. Norma – such an old name for a woman so kittenish – was granted Australian residency on the grounds that her life would be at risk if she tried to return to Jordan.
But the story was not true. Norma had never owned a hair salon in Jordan. She hadn't lived there since the age of three. She'd grown up in Chicago, married at 19, and had two children, Zoe and Christopher. Her real name was Norma Toliopoulos.

The story was broken by Malcolm Knox, who was then a reporter with The Sydney Morning Herald. I had a small part to play: in 2002, when I was working as a foreign correspondent in New York, I was sent to Chicago to gather physical evidence – birth and marriage certificates, school reports – that would prove Norma's real identity.

In the course of the investigation, it became apparent that Norma was involved in more than literary fraud. She was accused of myriad cons: stealing from the elderly, and from gullible men. In one case, she allegedly told a smitten fellow that she was a Jordanian princess who needed $40,000 to leverage herself out of a bad marriage. He gave her the cash, and she disappeared.

IN THE WAKE OF THE LITERARY SCANDAL, NORMA fled Australia, leaving her children for three months in the care of one of her neighbours. She declined interviews, except for one with Channel Nine's Ray Martin, in which she admitted to being a married mother of two, but insisted that her book was true.

Then she disappeared. Over time, the story faded. Occasionally, there were rumours that the FBI was closing in on Norma and she was soon to be arrested for conning an old lady out of her house, but nothing ever came of it.

By 2005, I'd pretty much forgotten about her when a filmmaker, Anna Broinowski, came knocking. She wanted to make a documentary about Norma's life and asked if I could help by providing her with some of the evidence I'd gathered. I agreed. I also sat down for two interviews, in which Broinowski asked me whether I was sure that Norma was a con woman, because, frankly, Broinowski herself had been conned. She'd met Norma and was completely bewitched. She was preparing to help her clear her name.

Broinowski's film, Forbidden Lie$, has been nominated for the Australian Film Institute's Best Documentary award. I saw a preview in Adelaide in February. In one scene, Norma emerges from the water in Jordan – she's taken Broinowski there – wearing a bikini, her breasts filling the screen. In the next scene, a lawyer named Dawn Lawkowski, who fought to get the old lady's house back from Norma, expresses disgust for her alleged crimes, saying: "I heard she spent some of the money on breast implants." The audience gasped.
In the foyer afterwards, a guest said to me: "She's a real piece of work, isn't she?" And I had to reply: "Well, I don't know." I'd never met the woman. On one level, I was grateful; I had heard stories about Norma's incredible charm and I thought, if I sit down with her, perhaps I'd be conned, too.

But now, with the film about to be released, maybe it was time. I sent an email to Norma and, to my surprise, she answered.

I TELL NORMA I'M PLANNING TO VISIT THE US and we arrange to meet at her new home in suburban Naperville, just outside Chicago. It takes a while to find it. She lives in an estate where every townhouse is pretty much the same.

I'm invited in, and we brush our lips against each other's cheek as a three-legged dog, Jo-Jo, dances between our ankles. I take a seat at the kitchen table. "So, let's have some wine," she says, and fills two tumblers with ice, pouring the red wine over it.

She is barefoot, wearing grey sweatpants. She has lovely, big, American teeth. Her hair is swept back. She isn't wearing any make-up. She stirs a few things on the stove. Finally, she takes the seat opposite mine. We haven't stopped talking since we walked in together: already, I know all about the dog (he was hit by a car and his owners didn't want a three-legged dog, so she rescued him from the shelter) and her children and her new job (of all things, she works in a car yard, helping people get finance for used cars).
For an hour, at least, we skip around the purpose of my visit, which is obviously to talk about the fraud, and the film. Norma watchedForbidden Lie$ for the first time in this house, with the blinds drawn, sofa facing the TV, and Broinowski by her side.
Norma says she gave Broinowski the name of a woman who was – no doubt about it – the victim of an honour killing. But it turns out that this woman was murdered in 2001, after Norma's book was written. So she couldn't possibly be Norma's friend from the hair salon. "But that's the whole point!" says Norma. "I wanted to prove to Anna that the Jordanian Government lies about honour crimes because it doesn't suit their image. I gave Anna the woman's name and told her to check with the morgue, and they said, 'No, that woman doesn't exist.' So they lied to her. It was the only way I could prove to her that they lie, and they lie, and they lie."

Broinowski concedes that morgue officials could not find the name of the victim in their records, "but let's be a little disciplined with the facts here. When Norma gave me that name she said the woman was killed in 1996, so of course they couldn't find it in their records because she was actually killed in 2001. Norma was trying to pass this woman off as Dalia, but the dates were all wrong."

In the film, Norma takes two lie-detector tests – and fails the second. She can explain that, too: "What they don't show you in the film is that I was strapped into this chair for six hours. The fire alarm went off. I was hooked up to this blood pressure thing, around my arm so tight my fingers were turning blue. The fire brigade turned up. There was water running down the walls. If you listen, in the background you can hear the fire sirens going off. A water pipe in the building broke. I had to pee. Later, Anna says to me, 'Oh, you failed.' I'm like, 'I'm not surprised!'"

Broinowski doesn't deny it: "An alarm did go off. It was a pretty creepy room. But I don't hang the whole case on the lie-detector test."

NORMA, IT SEEMS, HAS AN EXPLANATION FOR every confounding, apparently damning thing in the film. She is so utterly convincing that I have to force myself to remember she is accused of far more than lying about Dalia. She is also accused of stealing a house and $US408,000 in government bonds from a demented old neighbour, Mary Baravikas, who died in a nursing home.

Earlier this year, the US Treasury Department declared that a fraud had been committed against Mrs Baravikas. The government bonds were insured against fraud so the money was returned to her, but she died a day after it was credited to her account. The FBI says it is still investigating the circumstances surrounding the bonds. Norma has previously denied forging Mrs Baravikas's signature on the bonds, but not today. "Did I do the wrong thing? Yes," she says. "But I didn't benefit … I was in fear of my life."

Norma also claims – in the film, and to me – that she was a victim of childhood sexual abuse, which is why she fled the family home as a teenager, married young, had children early, and allowed herself to be coerced into fraud and other crimes. In the film, Broinowski visits Norma's father, but does not ask him whether he sexually abused Norma as a child. "See, that, to me, proves that she's not interested in the truth," says Norma. "I told her to ask him. But she was embarrassed, so she didn't ask him."

Broinowski confirms this, saying: "Look, I just couldn't do it. It was midnight when we arrived at his house and he did not know we were going to film him. He had been very welcoming and generous, he gave us food, gave us tea, and his new partner was there. What was I supposed to do, say, 'And by the way, did you f--k your daughter from the age of three?' I just couldn't do it."

It is a hurdle she should have jumped, because Norma is later able to produce court documents that show her father pleaded guilty to the sexual abuse, although he now says he did so only to make the case go away. "He's always denied it," says Broinowski. "I just don't know whether it's true or not."

Norma today lives only with her children. She has a boyfriend but isn't ready for a new commitment. She claims the kids are unaffected by the absence of their father, whom they have not seen since they left Australia in 2004. She also claims not to miss the literary circuit. "I just used it as a platform, to get attention for the problem of honour crimes."

In an effort to get to Norma's core, Broinowski asked psychologists to view footage of Norma and make observations. Some concluded that Norma was basically a sociopath, unable to discern truth from lies, a woman with an excuse for everything, and a desperate need to please.

And indeed, she almost has me – she's such good company, so funny, open and easy to like; but then, out of the blue, her phone rings. It is a telemarketer. Norma could easily have said, "Sorry, not interested", but the desire to charm is too powerful. She gives an extraordinary performance. Using only her voice, she is flirtatious, gorgeous, apparently smitten by this call centre employee. I can feel the poor fellow on the other end bending like willow.

Norma doesn't buy the phone plan on offer, but she ends the call by saying: "I've made your day? Well that's so sweet. Because you've made mine!"

She puts down the phone, and turns back to the pie she's baking. "Don't you just hate that?" she says, her mood suddenly dark. "They always call right in the middle of dinner."

Caroline Overington and Malcolm Knox won a Walkley Award for their investigation into Norma Khouri's life. Overington appears in the film Forbidden Lie$, which opens on September 13.

"I don't like it," she says, inhaling deeply. "When it was over, I said to her, 'After all that filming, this is what you came up with?' Look, I love Anna to death" – in the film, they are shown getting drunk and playing chess together – "but I don't think the film is fair." (Broinowski laughs when I recount this conversation to her, saying: "She's a naughty girl. She thanked me for making the film. She got up and hugged me. She said, 'We will always be friends.'")

Norma says the shots of her cavorting on the beach in a bikini have been taken "completely out of context". She explains: "What you don't see is that Anna begged me to do that, and finally I said I would only do it if you do it, and of course, she's cut all the scenes where she is standing right beside me in a white bathing suit."

Broinowski says: "Norma wanted to do that scene. She wanted to show how Jordanian women can't wear a bikini on a public beach, they get abused, and it's true, they do. And yes, we did it together, like, 'I will if you will', and then I did cut those scenes, partly because, well, I had post-baby body, and, well, I used my creative licence to chop myself out."

Broinowski says she set out to help Norma prove that Dalia was real, "but all bets were off when she couldn't prove it. She led me on a goose chase."

Norma disagrees: to this day she insists her book is true, or at least partly true. She says she changed the names to protect Dalia's family and her own children, and she had always intended to come clean about it. "I was always going to tell the truth," she says, tapping her cigarette. "I really thought we could get the laws changed, and then I would come out and say, 'Look, I'm married. I've got two children.' The woman in my book, her name was not Dalia but I had to lie because I was so terrified for my safety, for the safety of my kids."

The case of Norma Khouri gives an insight into the con-artists who have long been attracted to the crypto-realms – particularly that of Bigfoot and, to a lesser extent, the Yowie – and highlights the problems of taking alleged eyewitness accounts at face value.

Storytelling - tall tales, exaggeration, embellishment - has long been part of process by which mysteries and folklore are maintained and perpetuated. Mostly, it is all in good fun but some people seem to make a life out of it...